Entertainment
4 things we learned about Chris Evans from the writers of 'Avengers: Endgame'
"I know he has a mixed relationship with the limelight. It's harder for him."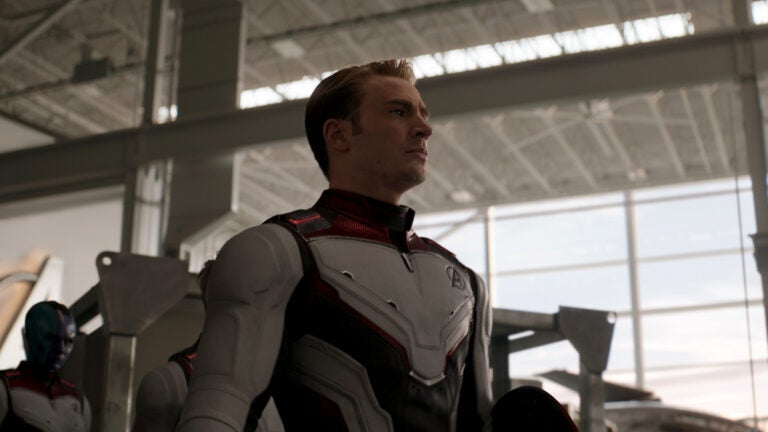 As the writing team behind all three standalone "Captain America" movies, the penultimate "Avengers: Infinity War," and the record-destroying "Avengers: Endgame," screenwriters Christopher Markus and Stephen McFeely have spent a whole lot of time with Chris Evans over the last decade. That includes countless days on set shooting single scenes over and over and over again.
Prior to a Thursday date at the Emerson Colonial Theatre to discuss the art of screenwriting and storytelling with WBZ-TV's Lisa Hughes, the duo told Boston.com about what it's really like to work with the actor from Sudbury (hint: it's a treat). Here are four things we learned from the conversation.
Evans defined, and then evolved, the role of Captain America
In Markus's eyes, Evans avoided the easy trap of playing Captain America as a one-note character, imbuing the superhero with depth.
"On a character level, to have somebody so thoroughly embody Captain America without resorting to knee-jerk stiffness is a testament to how good he is," Markus said. "Captain America is the beating heart of the Avengers franchise, and Chris really brought that to the role."
Markus also said that Evans frequently elevated the script that he and McFeely wrote. The screenwriter specifically highlighted an early scene in "Endgame" in which Steve Rogers leads a support group of people who are still coping with half of the world population disappearing thanks to a single finger snap from the franchise's chief villain, Thanos.
"That support group scene, where Steve Rogers is trying to get people through the grief of what has happened while he's clearly unable to do so himself?" Markus said. "That's sort of written on the page. But all the subtext — that Steve isn't keeping his head above water, that he's giving into his despair — that's all in what Chris Evans brings to the line read."
He most often wants less limelight for himself
In a movie franchise featuring dozens of superheroes and A-list stars that Markus said he and McFeely kept track of using index cards, it would be natural for "Avengers" actors to fight for their storylines and screen time. But when it came to discussing scene changes with Evans, Markus said the actor rarely sought additional time in the spotlight, and instead usually found ways to trim and focus the pair's writing.
"One of the things we're always fond of is that he's not a guy who wants more," Markus said. "He doesn't give a lot of notes, but when he does, it's usually paring down something to the essence of the scene and the character. He has such a good understanding of Steve Rogers that we often come away going, 'Oh, yeah, we wrote too much.' We've written five movies now with the guy, and so we have a close working relationship."
The actor has a "mixed relationship" with fame
McFeely said he believes Evans would rather be doing an off-Broadway show, like he did in 2018 with Kenneth Lonergan's play "Lobby Hero," than living the life of a Hollywood star.
"I know he has a mixed relationship with the limelight," McFeely said. "It's harder for him. He'd rather just go do off-Broadway. But he clearly uses his celebrity well. I've seen his Twitter feed, you know?"
Evans is a boisterous presence on set
Speaking of off-Broadway, McFeely said that the actor often rang out in song during filming down time.
"On set, it's like he's a Juilliard grad," McFeely said. "He just wants to do show tunes. He's an ebullient presence. You get he and ["Avengers" co-star Anthony] Mackie together, and it gets very loud on set."
Markus and McFeely will discuss storytelling and screenwriting at the Emerson Colonial Theatre on May 16 at 8 p.m. Tickets are available on the Emerson Colonial's website.