Entertainment
Starz will film a gritty crime drama in Provincetown, and it needs 250 extras
Want a chance to be on TV? Head to Provincetown this weekend.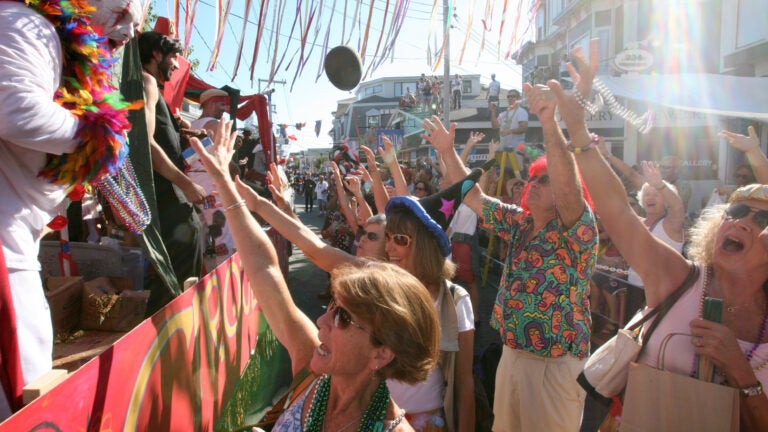 Provincetown's Carnival parade will arrive more than two months early this year. Or, at least, a re-creation of it will.
Local casting agency Boston Casting has put out a call for extras to audition to be a part of "Hightown," a Starz crime drama centered around the Cape Cod heroin epidemic that was first announced back in 2017 and originally titled "P-Town." The casting call will take place on Saturday from 10 a.m. to 4 p.m. at the Provincetown Inn in Provincetown, and filming is scheduled for May 31 through June 7. The agency is looking to cast around 250 extras, many of whom will be part of a scene filmed on June 4 that's meant to emulate Provincetown's annual Carnival parade, which will actually be held on Aug. 22 this year.
According to Starz, "Hightown" is "set amid the drug trade on Cape Cod" and stars Monica Raymund ("Chicago Fire") as Jackie Quinones, an "irreverent National Marine Fisheries Service officer" who discovers a body that washes ashore on Labor Day weekend and becomes determined to crack the case amid resistance from state police. Also set to feature in the show are Amaury Nolasco ("Prison Break"), Dohn Norwood ("The Sinner"), James Badge Dale ("The Departed"), and Riley Voelkel ("The Originals").
The show will be written and co-executive produced by Cambridge native Rebecca Cutter ("Gotham") and directed by Cambridge native Rachel Morrison, who became the first woman nominated for a Best Cinematography Oscar for 2017's "Mudbound" and worked on "Black Panther" as well. Also executive producing are Gary Lennon ("Justified") and legendary film and TV producer Jerry Bruckheimer ("Pirates of the Caribbean" franchise, "The Amazing Race," "CSI") through his company JBTV.
According to the Provincetown Banner, the aforementioned parade scene has been a cause of concern for the town's police chief, Jim Golden. The newspaper reported that filming the scene would close off a section of Provincetown's Commercial Street for six hours, and quoted Golden as saying he "just can't support shutting down Commercial Street for half the day or even a third of the day" in an April town meeting with the Provincetown select board and Starz senior vice president of production Amy Goldberg.
The town's select board later unanimously approved Starz's request to film in town, with residents voicing approval for the production at a town meeting and the Provincetown Business Guild asking its members to support the filming, according to the Banner.