Entertainment
Ryan Reynolds filmed 'Free Guy' in Boston this weekend
The Financial District became "Free City" on Sunday.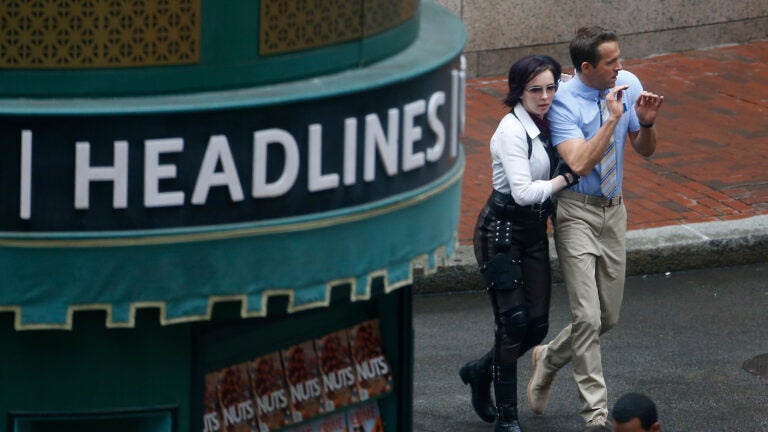 Financial District side streets are usually quiet on Sundays, with office workers away from their desks and many nearby restaurants closed for the weekend. That calm was interrupted this past Sunday with the filming of "Free Guy," an upcoming adventure-comedy from 20th Century Fox and Walt Disney Studios starring Ryan Reynolds.
A Boston Globe photographer captured the "Deadpool" star, who plays a lonely bank teller in the film, being marched through the street by Jodie Comer ("Killing Eve") during a bank robbery scene on set early Sunday morning. Two masked actors rode in a sleek orange sports car, which sat parked on Kilby Street when it wasn't in use for filming.
In the movie, Reynolds' character discovers that he is a background character in the open-world video game "Free City." If the set design in Liberty Square, which first began making an appearance last week, is any indication, "Free City" is a crime-ridden video game that seemingly shares DNA with the "Grand Theft Auto" series. A news kiosk placed in Liberty Square for the film featured a newspaper with the fake headline, "94-year-old woman robs bank for lover," and a magazine with the cover story,"Favorite ways to be mugged."
Storefronts in Liberty Square were redesigned to resemble a strip club, a gold and jewelry shop, and a fake ID seller, while another storefront featured fitness ads catered specifically to criminals, promising customers would "look better naked, no matter what your crime." A Free City Police Department squad car parked on Water Street showed off a bumper sticker with the half-hearted slogan, "We do our best."
Filming kicked off early in the morning on Sunday, with extras repeatedly moving in specific patterns as filmmakers captured numerous takes. Onlookers were few and far in between early in the day, but as the weather warmed up and more tourists moved through the area in the afternoon, a mixture of film crew members, private security, and Boston police officers kept pedestrians moving. One security guard said that despite the very centralized filming location, he hadn't had any issues with people attempting to sneak onto set.
"Free Guy" is scheduled to film in Boston during May, June, and July. The Liberty Square filming will occur exclusively on weekends, wrapping in the evening on Sunday, July 7.
Along with Reynolds and Comer, "Free Guy"features Lil Rel Howery ("Get Out"), Taika Waititi ("Avengers: Endgame"), Joe Keery ("Stranger Things"), and Utkarsh Ambudkar ("Mulan"), and is slated to hit theaters on July 3, 2020.