Arts
Everything you need to know for Boston Calling 2019
How to avoid long lines, what you can't bring through security, and more.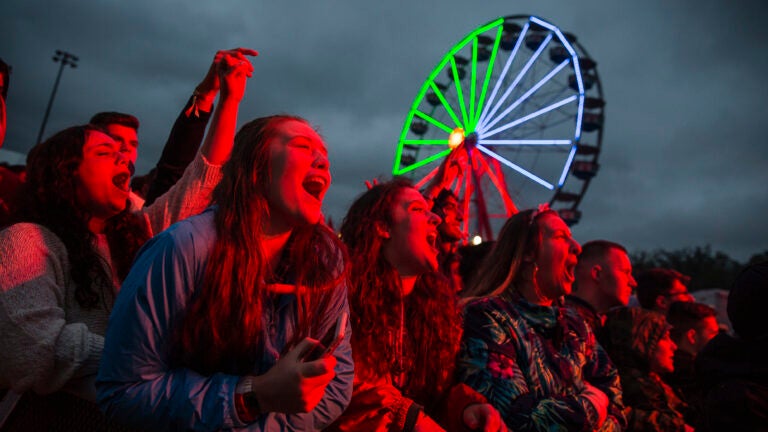 Believe it or not, Memorial Day weekend is already almost upon us, which means the 2019 Boston Calling Music Festival will soon bring jams, comedy, food, and art to the Harvard Athletic Complex.
Overall, 2019's music festival — the 10th edition — will see very few changes from last year's. There will be three music stages, an indoor entertainment arena, rows of local food and drink vendors, and a giant Ferris wheel. But not everything will be exactly the same: This year, the entertainment arena, which previously focused on comedy and performance art, will also welcome musical acts, and Lyft will have a fully furnished pickup spot right at the festival.
To help you get the most out of your 2019 Boston Calling experience, we've put together a guide to what you should know before attending the festival this Friday, Saturday, and Sunday.
How should I get to and from the Harvard Athletic Complex?
The long and short of how you should travel to and from Boston Calling can be summed up in two words: public transportation. The festival released a transportation video on YouTube that lets people know to take the Red Line to Harvard Square, then walk down JFK Street and across the Charles River to the athletic complex entrance on North Harvard Street.
This year, however, Boston Calling will also team up with Lyft, which is the official rideshare partner of the festival. Festival attendees using a ride-hailing company should use the main entrance address at 65 N. Harvard St., Allston, as their destination, as no stopping is allowed on Soldiers Field Road.
When exiting the show, festivalgoers can follow signs to a dedicated pickup location billed as the Lyft Lounge, which will have a concierge on hand to help you find the right vehicle, as well as furniture to relax on while your ride arrives.
As the festival begins to wind down, Boston police will once again close nearby streets to vehicles to allow safe passage for festival attendees into Harvard Square, according to Boston Calling co-founder Brian Appel.
"North Harvard Street, along with the bridge and JFK Street into Harvard Square, will be closed to vehicle traffic at the end of the night, so attendees can walk pretty easily right into the square," Appel said. "We target 9 p.m. as a closure time each night, but it's always at the police department's discretion. If they see egress happening quicker than anticipated or if they think it's time to shut it down early, they'll do that."
How can I avoid long lines?
One of the chief complaints of Boston Calling attendees in 2017 was long lines, with some concertgoers waiting more than an hour just to enter the festival, and others complaining about significant wait times for food and restrooms. According to Appel, 2018 was much better due to "five or six" improvements, including adding 50% more entrance lanes and increasing signage and staff throughout the grounds. Appel said the festival "felt good" about how the 2018 festival ran logistically, and that organizers made no changes of note this year.
"Attendees who came last year are going to be familiar with the layout," Appel said. "We haven't made sweeping changes to entrances, stage location, food vendors, or anything like that."
In terms of avoiding any lines that do crop up, consider checking out the festival map below before arriving on the grounds, and both registering your festival wristbands to enable cashless payments and keeping cash and a debit or credit card on hand in case the wristband system goes awry.
Who should I see?
With three music stages and the comedy/entertainment venue all operating throughout the day, plenty of overlapping set times will make for difficult decisions. In previous years, the festival's three headlining acts were the only artists whose sets didn't overlap with other performances. But with DJ sets being added to the indoor arena stage this year, even Twenty One Pilots, Tame Impala, and Travis Scott will have competition.
While personal tastes vary, here's one suggestion for each day of the festival: Scottish synth-pop group CHVRCHES was a late addition to the lineup, but if its September 2015 Boston Calling set is any indication, the group will bring big energy to the Delta stage on Friday from 8:20 to 9:35 p.m. Fresh off of a 2019 Grammy win for Best Rap Performance, Anderson .Paak and his band, The Free Nationals, will be on the green stage from 6:45 to 7:55 p.m. on Saturday. And alt-country singer-songwriter Brandi Carlile, who won three Grammys earlier this year, will play the festival for a second time, performing on the Delta stage from 8 to 9:15 p.m. on Sunday.
While local musicians have organized a separate festival called Boston Answering on the same weekend, there are still plenty of artists with local ties in the lineup. On Saturday alone, singer-songwriter Sidney Gish will play the red stage from 12:45 to 1:15 p.m., indie rockers Pile will be on the green stage from 1:15 to 2 p.m., Berklee grad Betty Who will take over the red stage from 2:05 to 2:50 p.m., and lo-fi pop singer Clairo will be on the green stage from 2:55 to 3:40 p.m. On Sunday, meanwhile, alternative rock band Guster will take to the Delta stage from 4:25 to 5:15 p.m.
The arena stage will have plenty of local representation as well, highlighted by comedian and Milton native Jenny Slate, on Saturday from 5:05 to 5:50 p.m. Local comedian Lamont Price will do stand-up sets all three days from 4:25 to 4:40 p.m., while Boston comic Sam Jay will make jokes on Friday from 4:40 to 5 p.m. Boston Ballet will perform twice on both Saturday and Sunday, from 12:25 to 12:40 p.m. and 4 to 4:15 p.m. Local DJ Frank White will hold it down from 7:30 to 8:15 p.m. on Friday, while Boston's DJ Joshua Carl will spin tunes during the same time period on Sunday. And if you want a break from all of this Boston love, see comedian and "Saturday Night Live" cast member Michael Che, who has upset some by calling the city racist in the past, on Sunday from 5:05 to 6:30 p.m.
What items can and can't be taken through security?
Even though Boston Calling is an outdoor festival, zero cigarettes, cigars, lighters, or tobacco of any kind will be allowed through security. According to Appel, the festival is a nonsmoking event in order to minimize damage to Harvard's Astroturf fields. And while marijuana use may be legal in a private residence in Massachusetts, it will not be permitted at Boston Calling.
"Basically, we're a law-abiding event," Appel said. "So we want to make sure that people know, 'Hey, if consumption is not legal in public gathering spaces, then that doesn't mean it's legal at Boston Calling, right?'"
Other banned items include vape pens, illegal substances, bags or backpacks larger than 12 by 12 inches, professional cameras and recording devices, squirt guns and spray bottles, laser pointers, chairs, strollers, picnic blankets, and umbrellas. For a full list of prohibited items, check out the Boston Calling website.
What should I eat and drink at the festival?
So many things. This year's Boston Calling vendor lineup is an impressive mix of gluttonous, cheese-drenched comfort food and healthy, vegetable-centric bowls to keep you properly fed throughout the weekend. Dine on bucatini fritti from the Arancini Bros., lamb gyro from the Chicken & Rice Guys, lobster rolls (both hot and cold) from the Shuck Truck, and miso bowls from Whole Heart Provisions. A few newcomers to keep an eye out for include Cafe Beatrice, the new all-day cafe from chef Will Gilson, and Sweet Cheeks from chef Tiffani Faison. Love Art Sushi will also be there, and will preview some of the new poke bowls from the upcoming Love Art Poke.
If you've purchased Platinum passes, food and drink options will be taken up a notch with full dinner experiences in the Platinum area each night. On Friday, Jody Adams (of Porto, Saloniki, and Trade fame) will be cooking a Mediterranean feast, followed by Jamie Bissonnette (Coppa, Toro, Little Donkey) serving foie bratwurst, Impossible burgers, and vegan paella on Saturday night. Jeremy Sewall (Row 34, Island Creek Oyster Bar) will serve a seafood spread on Sunday, with Maine lobster tacos, chilled shrimp salad, and crispy oyster sliders.
To drink, look for stalls selling Sam Adams, Miller Lite, and Sol Cerveza; a Mikkeller craft beer bar will also be pouring plenty of suds. Barefoot Wines will cater to wine fans, while those looking for an alcohol-free beverage will be able to sip on Honest Tea, Mojo cold brew, and Red Bull. VIP and Platinum festivalgoers will have access to Ketel One vodka and Bulleit bourbon cocktails. But everyone should remember to drink water — and plenty of it.
Can I still buy tickets?
You can still purchase tickets of almost any type on the Boston Calling website, with only three-day Platinum passes sold out at the time of this article's publication. Single-day general admission tickets for Friday, Saturday, and Sunday are available for $119 plus fees, single-day VIP tickets are $239 plus fees, and single-day Platinum tickets are $649 plus fees. You can also still buy a three-day general admission pass for $289 plus fees or three-day VIP pass for $649 plus fees, for those who want to see the full festival.