Entertainment
How to watch the 2019 Fourth of July Boston Pops Fireworks Spectacular on TV or online
How to enjoy the show even if you don't set up a chair on the Esplanade.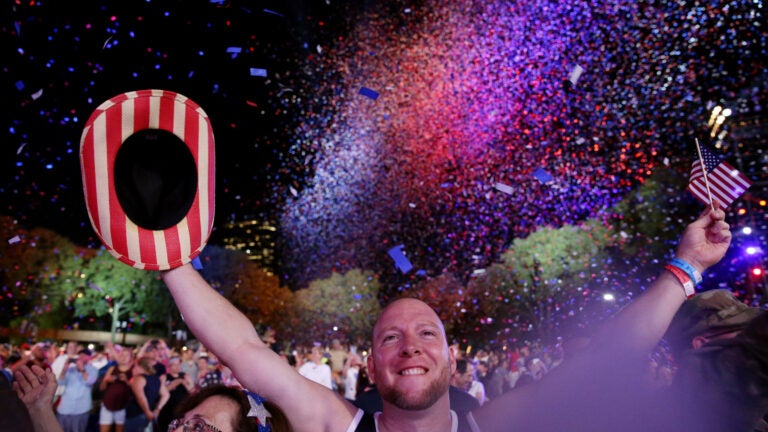 Brainstorm big Boston traditions, and the Fourth of July Boston Pops Fireworks Spectacular probably comes to mind.
At this year's show on the Charles River Esplanade, artist Queen Latifah will headline, joining conductor Keith Lockhart and the Boston Pops. Folk singer-songwriter Arlo Guthrie and two former acts from "America's Got Talent" — 16-year-old Massachusetts singer Amanda Mena the Texas Tenors — will also perform.
If you can't make it to the Esplanade on July 4 from 8 to 11 p.m., you're still in luck — there are several other ways to tune in to the show:
How to watch on TV:
The July 4 show will air on Bloomberg TV and WHDH-TV from 8-11 p.m., according to a press release. Bloomberg anchors Alix Steel and Carol Massar will co-host the live concert and broadcast, with additional reporting by fellow Bloomberg anchor Matt Miller.
How to live stream:
The broadcast will also be available for streaming on Bloomberg.com, as well as on Bloomberg's mobile and OTT platforms across Apple TV. For the digital streams, coverage will be led by Bloomberg anchor Janet Wu.
How to listen on the radio:
If you're in the greater Boston area, you'll be able to hear the concert on Bloomberg's flagship stations in Boston and Newburyport (106.1 FM, 1330 AM, 1450 AM, 92.9-HD2) and, new this year, on 99.1 WPLM-FM, which covers Boston's South Shore, Southeastern Massachusetts, Cape Cod, and portions of Rhode Island. The show will also be broadcast nationally on SiriusXM channel 119, at bloombergradio.com, and on the Bloomberg and iHeartRadio mobile apps.