Entertainment
What critics are saying about 'City on a Hill'
Read the good and bad reviews of the new TV show set in 1990s Boston and starring Kevin Bacon.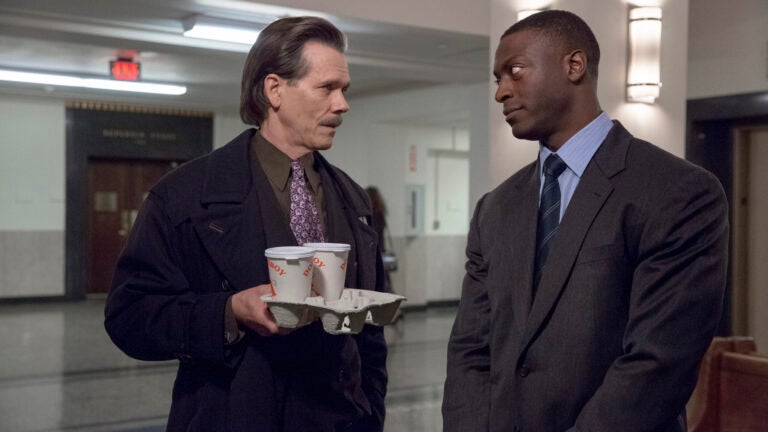 More than 20 years after jumpstarting their careers with a working-class Boston movie called "Good Will Hunting," executive producers Ben Affleck and Matt Damon have added another entry to the Boston on-screen universe with the Showtime series "City on a Hill."
Debuting on the premium cable network at 9 p.m., Sunday, June 16, "City on a Hill" takes place in a fictionalized early 1990s Boston, focusing on renegade FBI investigator Jackie Rohr (Kevin Bacon, "Footloose") and up-and-coming assistant district attorney Decourcy Ward (Aldis Hodge, "Hidden Figures") as they overcome their differences to take down a gang of armored car thieves.
Parts of "City on a Hill" were filmed in Boston, but the show's production was primarily based in New York, so viewers may have a fun time trying to figure out which is which. But aside from the thrill of seeing Boston on screen, is the show worth watching?
Critics are split on "City on a Hill," with the show earning a 63 percent freshness rating on Rotten Tomatoes at the time of this article's publication. That said, a single number can't adequately capture the range of critical response, and many of the reviews coded as "fresh" or "rotten" by the critic aggregation site have a bit more nuance. To help you decide whether to tuned in this weekend, here's what some of the top TV critics are saying, both good and bad, about "City on a Hill."
The Good
While The Boston Globe's Matthew Gilbert wrote that "City on a Hill" is not as "sharp" as HBO's "The Wire," he nevertheless found common ground between the two shows, and thought that "City on a Hill" was off to a good start, with the potential to get better. 
"The scope of 'City on a Hill' is more ambitious than most of the Boston stories we've seen, including Affleck's 'The Town' and 'Gone Baby Gone,' and that gives it distinction. The show aims, through its many plotlines set in different corners of the city, to do what 'The Wire' did in Baltimore — take a step back and look at how judicial, criminal, and political institutions work and, mostly, don't work."

NPR's David Bianculli enjoyed "City on a Hill," writing that viewers could "expect excellence" and crediting showrunner Tom Fontana with elevating the show above generic crime dramas.
"Just as the main characters in 'City on a Hill' fight against the status quo of corruption, Fontana, as a writer and producer, has fought just as diligently against the bland status quo of television."
The So-So
Mark Perigard of the Boston Herald wrote that "City on a Hill" is less a valentine to Boston than it is "a rock tossed through the window of City Hall."
"With a few exceptions, it avoids one of the most annoying pitfalls of Boston-set TV productions — the need to make everyone sound like a Kennedy after several concussions. Your appreciation will rise and fall on your enjoyment of seeing Boston and its people portrayed as profoundly racist and corrupt."

TV Guide's Liam Matthews wrote that "City on a Hill" had its bright spots, and that he expected it to improve in the future.
"City on a Hill isn't doing anything we haven't seen many times before, but it plays the hits well. … It will continue to improve as the writers and the audience get to know the characters better. This feels like a show that will really start cooking in Season 2. It also feels like a Showtime show in how it doesn't have the style or intelligence of the greatest cable dramas, and is more about being entertaining than having big ideas. But it's plenty entertaining, and it knows what it is."
The Ugly
Mike Hale of The New York Times wrote that "City on a Hill" was an ambitious show that aimed to be for Boston what "The Wire" was for Baltimore, but concluded that the series failed to reach its lofty goals in the three episodes made available to critics.
"The performances and production values may be enough to keep you around to see whether the story picks up steam, and whether MacLean finds more original ways to shape his ideas into drama. 'City on a Hill' keeps threatening to be interesting and exciting, but so far it hasn't pulled off the job."

Vulture's Kathryn VanArendonk wondered why "City on a Hill" even exists at all, writing that the show did little in the way of examining 1990s Boston with a fresh perspective and joking that viewers could just re-watch "The Departed" instead.
"Unless 'City on a Hill' figures out how to distinguish itself further, unless it sheds the nostalgic murk and lands on some sharper purpose than 'Hey, remember when people in Boston could say the N-word with impunity?' it's going to be hard to find a reason to keep watching."