Entertainment
'City on a Hill' is roughly based on Boston history. These people and events come up in just the first episode.
The Boston-set crime drama may be fiction, but it's loosely based on infamous events and people in the city's history.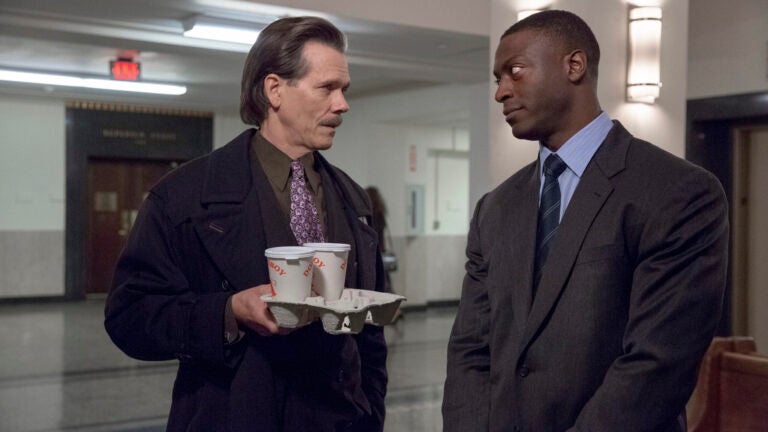 In the opening scene of "City on a Hill," a morally compromised FBI agent named Jackie Rohr (Kevin Bacon, "Footloose") complains that Boston has gone soft. He pinpoints the exact moment the city went downhill.
"It was the time that Mayor Flynn sent the cops on the ice, remember that?" Rohr tells a fellow law enforcement officer. "Bruins-Canadiens, the f****** fight went all the way up in the stands?"
Rohr is likely referencing to the "Brawl in the Hallway" on Nov. 20, 1986, between Boston and Montreal, but he doesn't get the details right. Unlike the 1979 Bruins-Rangers fight that took players into the stands, the lengthy Nov. 20 brawl largely took place in the hallway leading to the locker rooms, and then-Mayor Raymond Flynn only suggested that he would have sent police onto the ice weeks after the fight had already happened.
That's "City on a Hill" in a nutshell: A show about 1990s Boston that's inspired by true events and features numerous references to real-life occurrences, but is ultimately a work of fiction, a point that Showtime stressed during the run-up to the show's premiere on Sunday.
That being said, local audiences may find it fun to watch a fictionalized version of Boston from that era, and many members of the "City on a Hill" team, including producers Ben Affleck and Matt Damon, creator and executive producer Chuck MacLean, and actors Jonathan Tucker and Kevin Chapman, grew up in the area during that time period.
Here's a guide to some of the questions you may have after watching the first episode of "City on a Hill," and what real-life events or individuals helped to inspire the show.
Was the series actually shot in Boston?
Just like the story of "City on a Hill" is only loosely based on real events, the physical location of the show is only partially real Boston; the lion's share of the production took place in New York. The first episode, however, was shot almost completely in Massachusetts, with filming in Boston, Chelsea, Lynn, Medford, Newton, Quincy, and Revere.
Location manager Ryan Cook named several shots  that were done in Boston, including a bar scene filmed at the downtown bar Last Hurrah, courtroom scenes filmed in various courtrooms in Government Center, and a police station scene that was shot on a set built inside the now-closed Rogers Middle School in Hyde Park.
That said, Cook said that filming exterior shots in Boston proper was difficult because of how much the architecture has changed since the '90s.
"Even between the time when I did 'Black Mass' and now, everything has changed," Cook said, referring to the 2015 Whitey Bulger biopic starring Johnny Depp. "Change is good, and development can be good, but it's definitely not 1992 Boston anymore."
Instead, film crews headed outside the city for a '90s feel. One scene was filmed at the Medford Police station, which is slated to be replaced soon. Bar scenes where the armored car robbers plan their heists were filmed at Bill Ash's Lounge in Revere. A scene at a supermarket where one of the robbers works a day job was at Compare Supermarket in Lynn.
In future episodes, almost all of "City on a Hill" was filmed in New York. Exterior shots in Staten Island, New Rochelle, White Plains, and the Bronx stood in for Boston, while many interiors were shot at a film studio in Brooklyn, according to The New York Times.
Boston-based journalist Michele McPhee, who worked as a consulting producer on the show and wrote one of the episodes, told the Times that she was initially skeptical that they would be able to capture the spirit of Boston, but was impressed by the results.
"There's a set that represents [the] Bromley Heath [apartments] that I felt like I was walking through the halls of Bromley Heath," McPhee said.
Who are the main characters based on?
The show centers around unscrupulous FBI investigator Rohr and up-and-coming assistant district attorney Decourcy Ward (Aldis Hodge, "Hidden Figures") as they join forces to bring down a gang of armored car robbers. Rohr is a loose cannon with a cocaine habit and a drinking problem, and he plays by his own rules. Ward is initially portrayed as an idealist who is determined to clean up law-enforcement corruption while still playing by the rules, though that changes pretty quickly.
MacLean told The Boston Globe that Ward's character is partly inspired by Ralph Martin, who former Gov. William Weld appointed as Suffolk County's first black District Attorney in 1992. A New York Times article about the appointment said Martin was expected to clean up a DA's office known as a "bastion of Irish-American patronage," and quoted Donald Murray, then president of the Boston Police Patrolmen's Association, as saying "the Governor is being racist by excluding white people" from the job search.
Rohr, meanwhile, is based on a composite of three infamous former FBI agents who had close relationships with the notorious late mobster James "Whitey" Bulger, according to The New York Times: John Connolly, who was convicted on racketeering, obstruction of justice, and murder charges and is currently in prison; H. Paul Rico, who was indicted on a charge of murder related to Bulger and Stephen "The Rifleman" Flemmi but died in 2004 before he could stand trial; and Dennis Condon, Rico's partner who passed away in 2009.
What about the armored car robbers?
In 2010, Affleck directed "The Town," a drama about a gang of Charlestown armored car robbers. The return of the armored car narrative is no coincidence, as Affleck told The New York Times that "City on a Hill" came to be, in part, because of him "doing so much research for 'The Town' and not being able to tell the scope and scale of the story the research yielded."
While Affleck didn't specify which armored car robbers the crew at the center of "City on a Hill" was based on, there is an obvious real-life analogue. In 1997, a group of five robbers from Charlestown — Stephen Burke, Patrick McGonagle, Anthony Shea, Michael O'Halloran, and Matthew McDonald — were convicted of 55 crimes across four states, including an infamous 1994 armored car robbery in which two guards were killed. During sentencing, Burke read Bible verses that seemed to be aimed at his brother, John Burke, who testified against him during the trial.
In "City on a Hill," a gang of masked robbers led by Frankie Ryan (Jonathan Tucker, "The Virgin Suicides") takes down an armored car. When one of the two guards sees a robber's face, Ryan shoots them both. Later on, Frankie eventually lets his screw-up brother, Jimmy (Mark O'Brien, "Halt and Catch Fire"), join the crew. At the end of the episode, the audience finds out that Jimmy is an informant for Rohr.
How do the Charles Stuart case and 'The Boston Miracle' tie in?
The opening of "City on a Hill" begins with text prologue explaining the infamous Charles Stuart case. In 1989, Charles Stuart told authorities that a black man tried to rob him and his wife, Carol, fatally shooting Carol and wounding Charles. The case drew national attention, and Mayor Flynn ordered every available officer to the Mission Hill neighborhood, where they engaged in an aggressive investigation. After numerous arrests, Stuart positively identified William Bennett, a Boston man with prior convictions, from a police lineup. Seventy-three days after the murder, Stuart jumped off the Tobin Bridge after Stuart's brother told police that Charles had killed Carol in order to collect insurance money and made up the story about a black assailant.
The case caused a significant rift between the city's police and black community, and many continued to harbor resentment toward law enforcement officials like then-Suffolk County District Attorney Newman Flanagan, who was replaced in 1992 by the aforementioned Martin. "City on a Hill" highlights those tensions, with Rohr bitterly complaining about officers potentially facing jail time for past offenses, and a BPD officer knocking Ward's coffee out of his hands at a local shop.
Early word about "City on a Hill" was that the show was going to be based on "The Boston Miracle," also known as Operation Ceasefire, a community policing effort led by Harvard criminologist David Kennedy that brought together disparate groups like black clergy members and Boston police officers. The effort led to a significant drop in youth gun violence in the city before its policies were taken to more than 70 cities. While the show is set in 1992 and Ceasefire wasn't implemented until 1996, the collaboration between Rohr and Ward could be seen as a symbolic nod to its early beginnings. Indeed, The New York Times called Rohr and Ward's partnership "an explicit allegory" for the program.
What comes next?
"City on a Hill" has only been ordered for one season so far, but MacLean has plotted out five seasons' worth of material. Affleck told The New York Times that the action will move from Charlestown to Roxbury for the season two, and then to other Boston neighborhoods with each season, similar to how HBO's "The Wire" focused on a different facet of Baltimore each season.
MacLean has acknowledged that early episodes highlight a lot of retrograde attitudes about race, but said he didn't want to sugarcoat the realities of the era.
"That's the world that I grew up in. It was important to show what it was really like and to be unsparing," MacLean told the Globe. "I believe it would do an injustice to the Decourcy character to show it in a different light. It was a town where someone would drop the N-bomb on you and not care and pay no consequences for it. The other side of it is to show that it's a problem."
MacLean, however, suggested that Ward wouldn't be stymied by a white bureaucracy forever.
"This first season is when white men rule the Earth," MacLean told the Globe. "That is going to change very abruptly for all of them."