Entertainment
Photos: Halloween arrived early on the North Shore thanks to Adam Sandler's 'Hubie Halloween' filming
The longtime New Hampshire resident is back in Massachusetts to film a movie for Netflix.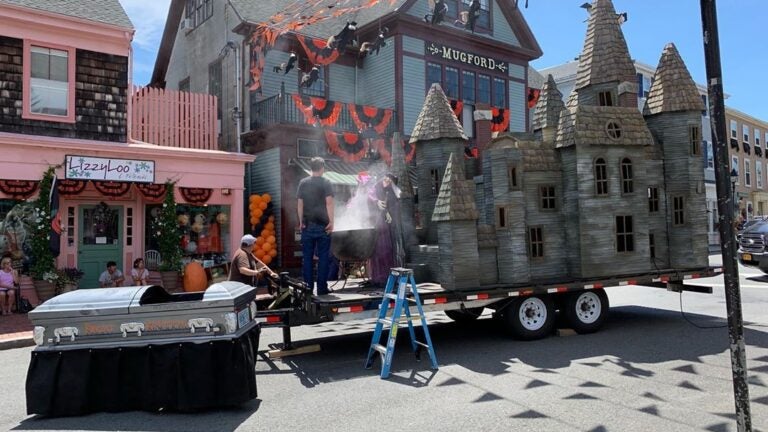 It's only July, but Halloween has already arrived on the North Shore thanks to Adam Sandler and Netflix.
The longtime New Hampshire resident began filming Netflix's "Hubie Halloween" on the North Shore earlier this month, bringing plenty of festive decorations to Danvers, Marblehead, and Salem.
In the film, Sandler plays Hubie Dubois, a good-natured but odd Salem resident who is widely mocked for his obsessive devotion to the town's annual Halloween parade. But when a real murder case disrupts the city's celebration, it's up to Hubie to crack the case.
The movie started production in Danvers in early July, completely decking out a couple of houses in Halloween decorations. Crews later transformed a large stretch of Marblehead's historic district on Washington Street into a Halloween haven as a stand-in for the neighboring Salem. Residents of Salem shouldn't feel left out, though: "Hubie Halloween" began filming in the city on Thursday night, with crowds on hand to cheer Sandler's arrival to the film set on Salem Common.
Kate Fox, the executive director of Destination Salem and the film liaison for the city, said that she's thrilled that Salem will once again be the setting of a Halloween-themed movie.
"We have a lot of films that use Salem to double for another location," Fox said. "The last time we had a film set in Salem of this nature was 'Hocus Pocus,' and people still come here to visit because of that movie. So I'm excited to see 'Hubie Halloween' get made, and see what it does."
Check out more photos from the "Hubie Halloween" set: