Entertainment
It's Shark Week. Here's what's on deck for the Discovery mega-marathon
Just when you thought it was safe to go back in the living room.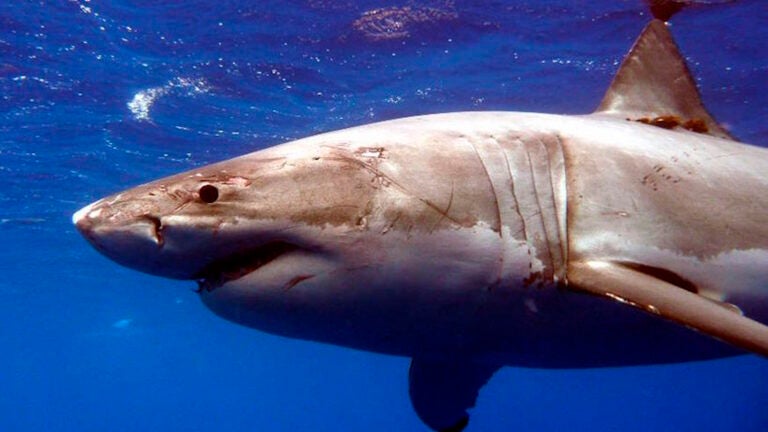 Just when you thought it was safe to go back in the living room.
Shark Week returns Sunday night on Discovery Channel, launching seven fintastic days of sharks swimming, hunting, chomping and generally sharking up TV screens.
This year, the marathon kicks off at 8 p.m. on July 28 with "Expedition Unknown: Megalodon," a deep dive into the world of the fearsome prehistoric predator, which went extinct millions of years ago. Experts offer their theories as to why the 60-ton beastie died out while commenting on its continued pop-culture appeal in movies like last year's Jason Statham starrer "The Meg."
After that, a two-hour venture entitled "Shark Trip: Eat. Pray. Chum." (9 p.m. on Discovery), takes a slightly more tooth-in-cheek approach to the subject matter, sending funnymen Anthony Anderson, Adam DeVine, Joel McHale and Damon Wayans Jr. out on a "guy's trip" spearheaded by comedian Rob Riggle, a retired Marine Corps Reserve officer. At one point, Wayans and Anderson step into a "human aquarium" (a transparent box plunged into shark-infested waters) and McHale and DeVine gleefully toss chum around it from the relative safety of a nearby boat; Will Packer, who produced comedy hit "Girls Trip," is involved.
Cape Cod is discussed extensively in Monday's event, "Sharks of the Badlands" (8 p.m.). In the special, Greg Skomal – Program Manager and Senior Scientist at the Massachusetts Division of Marine Fisheries – joins forces with shark researchers Andy Casagrande and Kina Scollay. In New Zealand, Casagrande and Scollay test shark-detecting surveillance technology Skomal hopes could save lives on Cape Cod.
Massachusetts has been experiencing a surprising wave of shark sightings in recent weeks, with the most recent coming Saturday off the coast of Nauset Beach in Orleans, where a separate great white sighting had been confirmed just one day earlier. Over 150 great white sharks were tagged along the Cape last summer; in September, for the first time in 80 years, a shark attack in the region proved fatal. Skomal recently told the Globe he's been studying the great white's hunting and feeding habits as part of an intensive effort to make Cape Cod's coasts safer for swimmers.
On deck at Discovery: based-on-a-true-story "Capsized: Blood in the Water," the first feature film made for Shark Week. The offering (premiering Wednesday at 9 p.m) stars Josh Duhamel as one poor soul aboard a yacht that capsized in October of 1982, leaving the crew with the unenviable task of surviving in the Atlantic Ocean for days as sharks circle.
#Capsized: Blood in the Water is based on terrifying real-life events. Don't miss #SharkWeek's first-ever feature film starring @joshduhamel and @tylerjblackburn, Wednesday July 31 at 9p on @Discovery and Discovery GO. pic.twitter.com/0wikCNGBxe

— Shark Week (@SharkWeek) July 23, 2019
A full course of specials will air throughout the week. Highlights include "Legend of Deep Blue" (a hunt for the world's biggest great white; Monday at 9 p.m.), "Sharkwrecked: Crash Landing" (in which hosts plunge from planes into shark-infested waters; Tuesday at 8 p.m.), "Return to Shark Island" (studying Réunion's shark crisis; Thursday at 8 p.m.) and "Andrew Mayne: Ghost Diver" (in which an illusionist attempts to build a shark suit that will make him invisible to the predator; Friday at 9 p.m.).
Discovery's utilizing state-of-the-art shark-related technology for this year's marathon, including segments that make use of a 'drone-towed' seal decoy as well as advanced surveillance equipment. The marathon – originally launched in 1988 as a way to promote ocean conservation efforts while debunking myths about the deep sea's most popular predator – has taken a bigger bite out of popular culture in recent years, with viewers following along on social media platforms. 34.9 million total viewers were estimated to have tuned in last year.
Shark Week runs July 28 to August 4 this year, spanning 20 hours of shark-related programming; it'll be streamable on Discovery Channel's website as well as via the Discovery Go app.
https://www.youtube.com/watch?v=23KbqLxNBXk