Entertainment
10 times Hollywood used Massachusetts as a stand-in for another location
The Bay State can be quite the cinematic chameleon.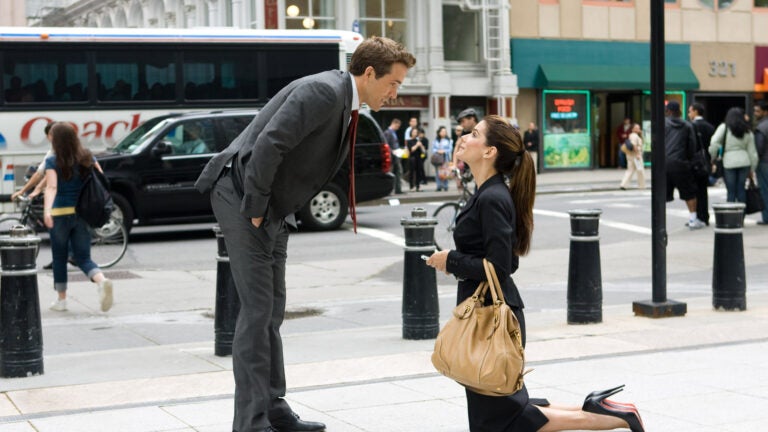 When people talk about Massachusetts on the big screen, they're usually talking about movies like "Good Will Hunting" or "The Departed" or "The Town" or "Ted" or — you get the picture.
All of these movies proudly announce their connection to the Bay State, whether by staging a robbery at Fenway Park or showcasing the finest Boston accents cinema has to offer.
But there are also plenty of movies in which Massachusetts is hiding in plain sight. For a state whose identity has been so extensively catalogued in pop culture, it's somewhat surprising that Massachusetts can also be a chameleon on screen, serving as a stand-in for movies that take place in New York City, Los Angeles, even Japan and Alaska.
According to David Hartman, director of the Massachusetts Production Coalition, the state is uniquely positioned to offer filmmakers an unparalleled range of set locations for shooting.
"We have a wonderful diversity of landscapes, geography, and architecture," Hartman said. "We've got urban, suburban, and rural environments. We've got colonial buildings, contemporary homes, cityscapes. It's a really unique place for filmmakers to tell stories."
Here are 10 places that Massachusetts has sneakily played on the big screen.
Alaska
Film: "The Proposal"
Actual Locations: Manchester-by-the-Sea, Rockport
At one point in this 2009 rom com, Sandra Bullock refers to Ryan Reynolds as an "Alaskan Kennedy" as the duo approaches his family's massive waterfront compound. It's a bit ironic, then, that while the film is set in Alaska, the house that serves as its primary setting is located in Manchester-by-the-Sea. Scenes meant to take place in the small Alaskan town center, meanwhile, were filmed in nearby Rockport.
Germany
Film: "Shutter Island"
Actual location: Taunton
"Shutter Island" was mostly filmed in Massachusetts — specifically in Boston, Dedham, Easton, Hull, Medfield, Nahant, Sharon, and Taunton — so it makes sense that for flashback scenes that take place in a Nazi concentration camp, director Martin Scorsese didn't bother flying to Dachau, Germany. Instead, he used Whittenton Mills Complex, a former textile mill in Taunton.
Indiana
Film: "The Judge"
Actual Location: Shelburne Falls
When troubled Chicago lawyer Hank Palmer (Robert Downey Jr., "Iron Man") returns to his small-town Indiana home for his mother's funeral, he was actually visiting Shelburne Falls, where 2014's "The Judge" was primarily shot. In all, "The Judge" used more than a dozen Massachusetts locations as Midwest stand-ins, including Boston, Belmont, Quincy, and Worcester.
Japan
Film: "The Sea of Trees"
Actual Location: Foxborough
To match the lush forests at the base of Mount Fuji in Japan, "Good Will Hunting" director Gus Van Sant headed to Foxborough. The film, which stars Matthew McConaughey and Ken Watanabe, filmed in state forests and parks like F. Gilbert Hills State Forest in Foxborough and Purgatory Chasm in Sutton. Other locations included Ashland, Douglas, Marlborough, Northbridge, Princeton, and Worcester.
Los Angeles
Film: "Sex Tape"
Actual Location: Weston
In this 2014 comedy about a misplaced homemade adult video, Cameron Diaz and Jason Segel play a couple living in Brentwood, an upscale Los Angeles neighborhood. In reality, the house used for filming is in Weston, and the movie was also shot in Boston, Burlington, Everett, Lexington, Medford, Newton, Reading, Tewksbury, Waltham, Wellesley, and Woburn.
Ryan Cook, a Boston-based location scout who worked on the movie, said he thought it was significant that filmmakers chose to shoot a movie set in Los Angeles, the filmmaking capital of the world, in Massachusetts.
"That entire movie was supposed to be in Los Angeles, the hub of moviemaking, where all the studios are," Cook said. "And they shot it in Massachusetts instead."
Miami Beach
Film: "Black Mass"

Actual Location: Revere Beach
Most of the filming for "Black Mass" took place in Massachusetts — specifically Boston, Braintree, Cambridge, Chelsea, Concord, Lincoln, Lynn, Quincy, Randolph, and Revere. So when director Scott Cooper needed to show Whitey Bulger (Johnny Depp) and his cronies visiting Miami Beach, the crew threw some fake palm trees on Revere Beach instead.
New York
Films: "Ghostbusters," "Joy," "Bride Wars," and others
Actual Location: Boston
Despite Bostonians' well-known animus for their New York City counterparts, the streets of Boston have served as a substitute for the Big Apple and other parts of New York on a number of occasions. Recently, Paul Feig's all-female reboot of "Ghostbusters," set in New York City, used downtown Boston for filming. Other notable examples of the Boston area capably imitating New York include Boston masquerading as Long Island in 2015's "Joy" and the Chestnut Hill Mall standing in for a New York department store in "Bride Wars."
New Jersey
Film: "Paul Blart: Mall Cop"
Actual Location: Braintree, Burlington
This one may be a bit of a cheat as malls across America are notable for their uniformity. But we'd be remiss not to mention that the Burlington Mall and the South Shore Plaza in Braintree stood in for the fictional New Jersey mall in 2009's "Paul Blart: Mall Cop." Both were bypassed as a filming location for the film's 2015 sequel, which used a mall in Las Vegas instead.
Oregon
Film: "Furry Vengeance"
Actual Location: Topsfield
When a Chicago real estate developer (Brendan Fraser, "The Mummy") relocates to Oregon to turn a forest into a residential development, he hasn't really relocated to the Pacific Northwest: The home that served as the primary set for the film is in Topsfield, and the film was also shot in Boston, Danvers, Ipswich, and Saugus.
Paris and Rome
Film: "Pink Panther 2"
Actual Location: Boston
Principal photography for this Steve Martin sequel began in Paris, but eventually moved stateside to Boston and surrounding towns. The movie takes Martin's bumbling Inspector Clouseau around the world in search of a master thief, and the Boston area served as a helpful stand-in for scenes set in both Paris and Rome. Prominent filming locations included the Boston Public Library, Copley Square, Winthrop Square, the State House, the Wang Theatre, and the Crane Estate in Ipswich.