Entertainment
16 movies Bostonians should know about this fall
Your guide to the movies with local ties set to entertain audiences in the remainder of 2019.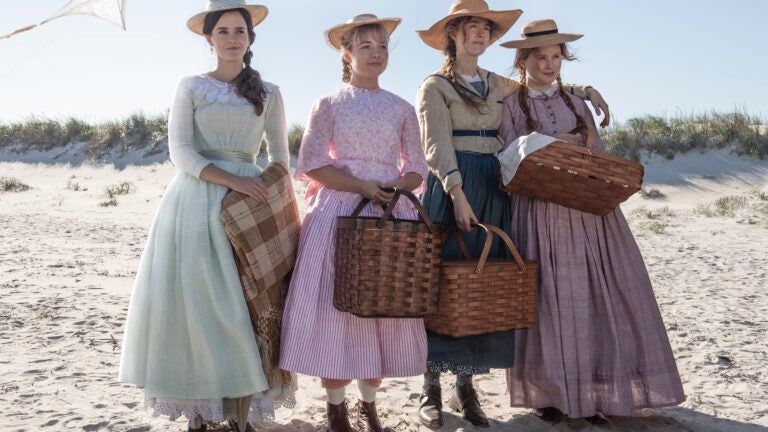 Though summer technically isn't over yet, fall movie season has certainly begun in earnest.
September usually marks the time when studios pivot away from mega-budgeted blockbusters and head toward prestige films meant to court awards voters. Whether studios give a movie a splashy premiere at the Venice or Toronto film festivals, or dole out teasers and trailers to build hype for a December debut, audiences are treated to a slew of quality films right when the weather cools down enough to make a day at the movies even more appealing.
In previous years, several films set in the Bay State or starring Mass.  natives made fall debuts, with some finding awards glory ("Manchester by the Sea," "Spotlight") and others missing out on hardware ("Black Mass," "Stronger"). This year, the local star most likely to garner nominations is Matt Damon, whose car racing drama "Ford v. Ferrari" seems primed for an Oscars campaign.
Aside from the awards hopefuls, there are still plenty of movies with local ties coming soon. From a "Charlie's Angels" reboot by Pittsfield native Elizabeth Banks to a CGI "Lady & the Tramp" written by Newton native Andrew Bujalski, there will be titles for all tastes in the upcoming months.
Here are the 16 films Bostonians should know about set to be released in the remainder of 2019.
"Hustlers" (Sept. 13)
Marblehead native Jessica Pressler has written her fair share of incredible true stories, including a 2015 New York magazine article about Manhattan exotic dancers who made a fortune by targeting well-to-do Wall Street clients, discreetly drugging them, and running up exorbitant credit card bills at strip clubs. In the film adaptation, Jennifer Lopez and Constance Wu play the crime queenpins, while Julia Stiles ("10 Things I Hate About You") plays Pressler herself, eyes wide as she learns every sordid detail from Lopez and Wu's characters about their moneymaking scheme. "Hustlers" dances into theaters Sept. 13.
"Lucy in the Sky"(Oct. 4)
After astronaut Lucy Cola (Harvard grad Natalie Portman) returns to Earth, she begins to lose touch with reality, eventually driving her to make drastic, destructive choices in her life. Directed by award-winning TV showrunner Noah Hawley ("Fargo," "Legion") in his feature directorial debut, and featuring a stacked supporting cast that includes Jon Hamm ("Mad Men"), Zazie Beetz ("Atlanta"), Dan Stevens ("Downton Abbey") and Amesbury native Jeffrey Donovan ("Burn Notice"), "Lucy in the Sky" launches in theaters Oct. 4.
"Jay and Silent Bob Reboot" (Oct. 15)
Before they had fully ascended to the Hollywood A-list, Ben Affleck and Matt Damon goofed around in movies directed by Kevin Smith, with Affleck showing up in "Mallrats" and "Chasing Amy," and both actors joining "Dogma" and "Jay and Silent Bob Strike Back." Now, 25 years after Jay (Jason Mewes) and Silent Bob (Smith) made their debut in "Clerks," the director brings together a murderer's row of talent for this self-referential sequel, in which the titular pair try to prevent a movie based on their lives from being rebooted. Along with Affleck and Damon, "Jay and Silent Bob Reboot" features Chris Hemsworth ("Thor"), Val Kilmer ("Batman Forever"), James Van Der Beek ("Dawson's Creek") and Boston native Frankie Shaw ("SMILF"). "Reboot" will be released as a special engagement by Fathom Events on Oct. 15.
"A Beautiful Day in the Neighborhood" (Oct. 18)
As soon as the first trailer for "A Beautiful Day in the Neighborhood" dropped earlier this year, people starting placing bets on Tom Hanks landing just about every Best Actor nomination available for playing the late host of "Mr. Rogers' Neighborhood." The film follows a journalist (Matthew Rhys, "The Americans") who, after being assigned to write a magazine profile of Rogers, who becomes his close friend. Directed by Marielle Heller ("Can You Ever Forgive Me?") and featuring Enrico Colantoni ("Just Shoot Me"), Wendy Makkena ("Sister Act") and longtime Kingston resident Chris Cooper ("Adaptation"), the film will arrive in your neighborhood Oct. 18.
"Playing with Fire" (Nov. 8, 2019)
WWE superstar John Cena has long been focused on children's charities, holding the Guinness Book of World Records title for most wishes granted through the Make-A-Wish Foundation and hosting multiple editions of Nickelodeon's Kids' Choice Awards. Now, the West Newbury native is making a family-friendly comedy, playing a gruff fireman who must babysit three children he and his crew rescue from a fire after their parents go missing. Directed by Andy Fickman ("Race to Witch Mountain") and featuring Judy Greer ("Arrested Development"), Keegan Michael-Key ("Key and Peele"), and John Leguizamo ("Moulin Rouge!"), "Playing with Fire" rolls into theaters Nov. 8.
"Doctor Sleep" (Nov. 8)
The second Stephen King adaptation to hit the screen this fall following "It Chapter Two," this sequel to "The Shining" stars Ewan McGregor as an adult Danny Torrance, who discovers a young girl with the same "shining" psychic powers he showcased as a child in the 1980 original. Directed by Salem native Mike Flanagan ("Ouija: Origin of Evil") and featuring Rebecca Ferguson ("Mission: Impossible – Rogue Nation") and Jacob Tremblay ("Room"), "Doctor Sleep" conjures itself into theaters Nov. 8.
"Lady & the Tramp" (Nov. 12)
Disney is taking yet another of its classic animated films and giving it a CGI/live-action reboot, this time tackling the 1955 canine love story. Featuring Tessa Thompson ("Creed") and Justin Theroux ("Mulholland Dr.") as the titular pooches, the remake is one maneuver Disney's hoping will drive subscriptions to its upcoming Disney+ streaming service. Written by Newton native Andrew Bujalski ("Support the Girls"), "Lady and the Tramp" will debut on Disney+ Nov. 12.
"Ford v Ferrari" (Nov. 15)
"Ford v Ferrari" centers around the true story of the Ford Motor Company's efforts to finally beat perennial winner Ferrari at the 1966 24 Hours of Le Mans, a prestigious endurance auto race held in France. Ford enlists Carroll Shelby (Matt Damon) to build the car and recruits mercurial driver (Christian Bale) to win the race behind the wheel. A likely awards season contender, "Ford v Ferrari" roars into theaters Nov. 15.
"Charlie's Angels" (Nov. 15)
A reboot of the 2000 film based on the 1970s TV series, "Charlie's Angels" stars Kristen Stewart ("Twilight"), Naomi Scott ("Aladdin"), and Ella Balinska ("Midsomer Murders") as the new angels under the employ of the Townsend Agency and its mysterious leader Charles "Charlie" Townsend. Pittsfield native Elizabeth Banks ("The Hunger Games") directed, produced, and co-wrote the film, and is also one of at least three Hollywood stars to play the role of Townsend employee Bosley in the movie, alongside Patrick Stewart ("X-Men) and Djimon Hounsou ("Blood Diamond"). "Charlie's Angels" kicks into theaters Nov. 15.
"The Report" (Nov. 15)
A retelling of recent history that is sure to make former members of George W. Bush's administration uncomfortable, "The Report" tells the behind-the-scenes story of the senate's investigation into the CIA's use of torture during the war on terror in the 2000s. The movie follows an idealistic young staffer (Adam Driver, "Star Wars: The Force Awakens") who discovers shockingly ugly truths about the U.S. government's conduct, and faces pressure to keep his findings private. Featuring a supporting cast that includes Corey Stoll ("First Man"), Annette Bening ("American Beauty") and Hyde Park native Maura Tierney, "The Report" will be unsealed in select theaters Nov. 15, and released on Amazon Prime Video on Nov. 29.
"Knives Out" (Nov. 27)
Sudbury native Chris Evans has had plenty of time to stick around his hometown since hanging up Captain America's shield, filming both Apple+ series "Defending Jacob" and Rian Johnson whodunnit "Knives Out" in Massachusetts in the last year. After the patriarch of a wealthy family (Christopher Plummer, "Beginners") drops dead, detective Benoit Blanc (Daniel Craig, "Casino Royale") stages an investigation at the family's mansion, interrogating friends, relatives, and others who were on hand the night of the death. Featuring Evans, Toni Collette ("Little Miss Sunshine"), Michael Shannon ("The Shape of Water"), and Ana de Armas ("Blade Runner 2049"), "Knives Out" arrives in theaters Nov. 27.
"Queen & Slim" (Nov. 27)
Driving home after a first date, Queen (Jodie Turner-Smith, "Nightflyers") and Slim (Daniel Kaluuya, "Get Out") are forced to go on the run after a traffic stop gone awry brands them as cop killers. Featuring a supporting cast that includes Indya Moore ("Pose"), Bokeem Woodbine ("Spiderman: Homecoming"), and Springfield native Chloë Sevigny ("Boys Don't Cry"), "Queen & Slim" lands in theaters Nov. 27.
"Uncut Gems" (Dec. 13)
Adam Sandler: Oscar winner? Hard as it may be to believe that the man responsible for "Jack & Jill" could ever land an Academy Award, there's been positive buzz around the longtime New Hampshire resident's performance in "Uncut Gems" as charismatic jeweler Howard Ratner. As he pursues a massive payoff that involves danger from all sides and the risk of alienating family, friends, and associates, Ratner fights to keep his cool and maintain control. "Uncut Gems" will play in select theaters starting Dec. 13.
"Bombshell" (Dec. 20)
A retelling of how Fox News magnate Roger Ailes was taken down by a group of women at the cable news network, "Bombshell" is led by Charlize Theron ("Monster"), Nicole Kidman ("Moulin Rouge!"), and Margot Robbie (Once Upon a Time in Hollywood…") playing Megyn Kelly, Gretchen Carlson, and fictional associate producer Kayla Pospisil, respectively. Also featuring Kate McKinnon ("Saturday Night Live"), Allison Janney ("The West Wing") and Marblehead native Rob Delaney ("Catastrophe"), "Bombshell" drops into theaters Dec. 20.
"Superintelligence" (Dec. 20)
Melissa McCarthy ("Ghostbusters") headlines this romantic comedy directed by her husband Ben Falcone ("Bridesmaids") about a woman named Carol (McCarthy) who begins communicating with the world's first artificial superintelligence through the smart appliances in her home. In an attempt to learn about the human condition, the superintelligence studies Carol's efforts to reconcile with her ex-boyfriend. But when the AI begins to angle for world domination, it's up to Carol to pull the plug. Featuring James Corden ("Into the Woods"), Brian Tyree Henry ("Widows"), Jean Smart ("Life Itself"), and Boston native Michael Beach ("Aquaman"), "Superintelligence" debuts in theaters Dec. 20.
"Little Women" (Dec. 25)
Based on Louisa May Alcott's 1868 novel, "Little Women" is the heartwarming tale of the four March sisters — Meg (Emma Watson of "Harry Potter" fame), Jo (Saoirse Ronan, "Lady Bird"), Beth (Eliza Scanlen, "Sharp Objects"), and Amy (Florence Pugh, "Midsommar") — who live in a cramped house Alcott loosely based on her own home in Concord. The sisters face pressure to marry well, though each has her own ambitions aside from finding a suitable husband. The movie was big news around the state this past fall, with actors in period-appropriate attire popping up all over Massachusetts. Also featuring Meryl Streep, Laura Dern ("Star Wars: The Last Jedi"), Timothee Chalamet ("Call Me by Your Name"), Bob Odenkirk ("Better Call Saul"), and Kingston resident Chris Cooper ("Adaptation"), "Little Women" lands in theaters Dec. 25.