Entertainment
Diane Keaton, Jeremy Irons filmed scenes in the Boston Public Garden for a new rom-com
'Love, Weddings & Other Disasters' began production in the city this week.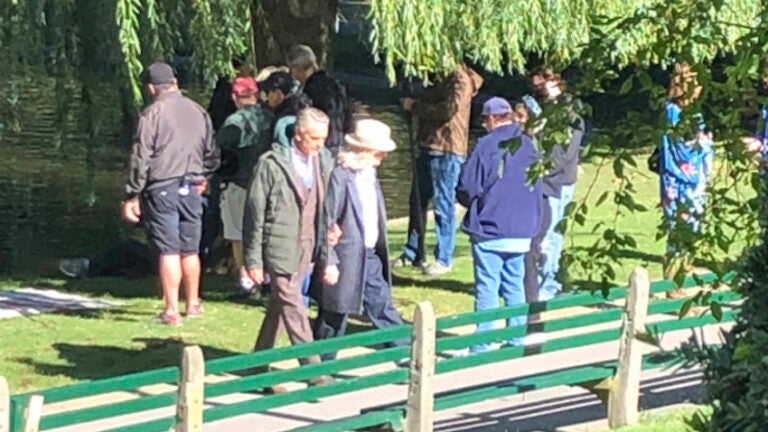 Filming a movie can be a difficult endeavor, with crews spending long hours repeatedly shooting the same scenes over and over until they're perfect. But for Oscar winners Diane Keaton ("Annie Hall") and Jeremy Irons ("Reversal of Fortune"), it's a walk in the park.
Keaton and Irons shot scenes for the upcoming romantic comedy "Love, Weddings & Other Disasters" in the Boston Public Garden on Tuesday, strolling along the paved paths near the water's edge and later lounging on a picnic blanket as crews filmed them.
While the production did close a small section of the Garden to pedestrians, they kept the bridge near the Swan Boats open, where crews tried (mostly in vain) to keep interested onlookers from snapping photos of the actors.
@universalhub Diane Keaton and Jeremy Irons at public gardens! pic.twitter.com/mCRVztKr5x

— Sean M. Connolly (@SeanMConnolly) September 17, 2019
If you squint hard, that's Diane Keaton and Jeremy Irons filming in the Public Garden for LOVE, WEDDINGS & OTHER DISASTERS. Crews kept a small section of the garden closed to pedestrians, and had their hands full keeping people from snapping photos on the bridge. pic.twitter.com/cVpgnVdJlp

— Kevin Slane (@kslane) September 17, 2019
Just a little film starring Diane Keaton being filmed in the #Boston Public Garden this morning! @universalhub @BostonTweet pic.twitter.com/TgCV8DarMt

— Trenni Kusnierek (@trenni) September 17, 2019
Directed by longtime Adam Sandler collaborator Dennis Dugan ("Happy Gilmore," "Big Daddy"), "Love, Weddings & Other Disasters" will follow multiple storylines concerning people who work on weddings, repeatedly crafting perfect days for happy couples while their own romantic lives are anything but ideal. Along with Keaton and Irons, the film is set to feature Diego Boneta ("Terminator: Dark Fate"), DNCE guitarist JinJoo Lee, and pop star Jesse McCartney.
Production was scheduled to begin on Monday, but Keaton has been in town longer than that. The actress was spotted in the Seaport last week snapping a picture of the sunset outside of Caffé Nero on Northern Ave.