Entertainment
A premium movie theater opening in Boston this fall will have extra-wide seats and absolutely no commercials
"From a profitability standpoint, we make really stupid decisions."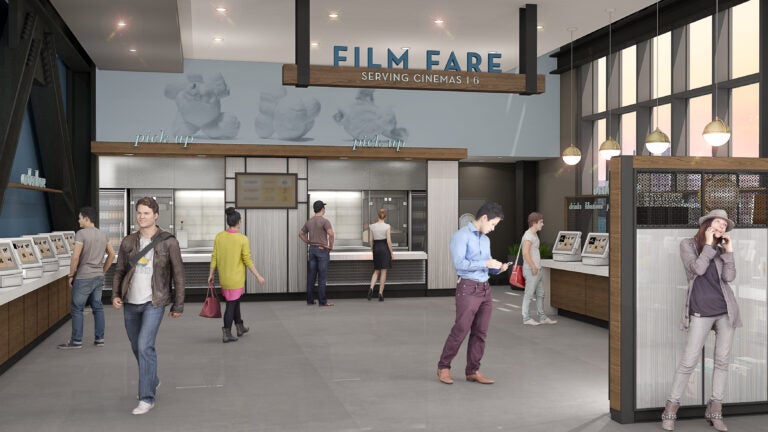 Tired of showing up to a movie and sitting through countless advertisements, annoying chatter, and incessant cell phone use? ArcLight Cinemas feels your pain.
The Los Angeles-based movie theater company is set to open a new 15-theater cinema at Hub on Causeway near TD Garden and North Station in late November, which will feature extra-wide reserved seating, top-quality projection and sound systems, and a 65-seat bar and lounge where you can enjoy a full range of food and drink options.
ArcLight, which opened its first cinema in Los Angeles in 2002, was one of the early pioneers in providing a premium movie experience. Amenities that have grown more popular in recent years — including comfortable chairs, high-end concession options, and reserved seating — have been a mainstay at ArcLight since the beginning.
Vince Szwajkowski, the chief marketing officer at ArcLight, said the company focuses on providing a "black box" experience in the theater.
"We use popcorn tubs instead of bags," Szwajkowski said, listing off some of ArcLight's enhancements. "All of our competitors use bags, but bags make noise. We don't allow late seating, because we don't want someone stepping on your toes or interrupting your moviegoing experience. We have a crew member giving people information about the movie and the runtime before it starts. We're very adamant about no talking and no texting, and that crew member stays behind for a few minutes to make sure everyone follows the rules."
Perhaps most notably, ArcLight will be a commercial-free environment. That means that unlike other big cinema chains in the area — where moviegoers can reliably walk into a theater 15 minutes after the time listed on their ticket and still catch the opening credits — ArcLight will show no pre-trailer commercials and only three coming attractions, with movies starting only a few minutes after the advertised showtime.
Zero advertisements coupled with all of those enhancements means that tickets at ArcLight will be slightly more expensive, but Szwajkowski said the theater will remain competitive in the market.
"We like to think about it as not out of reach, but an upgrade," Szwajkowski said. "We like to think about it as the best extra two bucks you're going to spend, because the value you're going to get for those two hours is pretty amazing."
Boston will be only the third region outside of the Southern California area to land an ArcLight theater, following the company's expansion into Bethesda, Md., and the Chicago area. Szwajkowski said that the company researched possible locations nationwide, and Bostonians seemed to go to movies more often than many other cities. Furthermore, ArcLight partners with many studios to hold red carpet premieres and advance screenings at their flagship location in Hollywood.
"There's a lovely, organic connection between Hollywood and Boston," Szwajkowski said. "You have all these films made in Boston, or that have a connection to Boston, and the movie-going behavior of its residents reflects that."
When ArcLight opens at Hub on Causeway in late November, expect a mix of tentpole blockbusters and small independent films on 15 screens. For true cinephiles, the theater will also show movies projected on 35mm and 70mm film, not just digital projections like many major chains. And every screen comes equipped with adjustable masking, so that whatever aspect ratio a movie is shot in, there won't be any ugly, unused gray space at the top, bottom, or sides of the screen.
It may not be the most cost-effective way of running a movie theater, but Szwajkowski said that's not ArcLight's main concern.
"From a profitability standpoint, we make really stupid decisions, like testing 20 prototypes of seats for our Boston theater or using popcorn tubs, which cost way more than bags," Szwajkowski said. "But we're uncompromising in our movie-going experience."
(ArcLight Boston, opening late November; Hub on Causeway, 120 Causeway St., Boston; arclightcinemas.com)