Entertainment
31 Halloween costume parties in Boston
Six days and nights of Halloween activities, because who wants to wear a costume only once?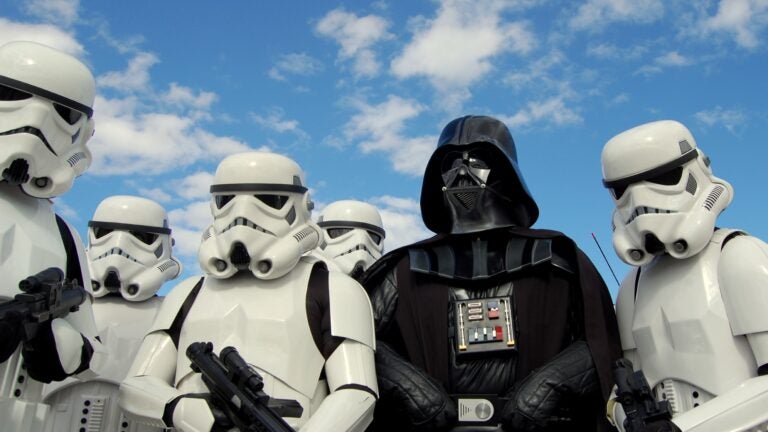 It's witching season, and if you've been planning your creative/irreverent/glamorous/terrifying costume for months (or scrambled to put one together at the last minute), you're going to need a place to show it off.
Good thing we found 31 parties where you can do just that, even a few that are perfect for ghosts and ghouls of all ages.
From a brewery monster mash to a drag queen-hosted soiree, these Halloween costume parties are a chance to show just how creative you can get. Happy Halloween — now go take home that costume prize.
Friday, Oct. 25
Halloweekend Pub Crawl at Faneuil Hall
The Faneuil Hall area is unquestionably pub crawl central in Boston, with so many bars in such a close proximity. It's no surprise then, that multiple crawl organizers have chosen the historic market to hold their Halloween celebrations. Pubcrawls.com will host three nights of celebrations (Oct. 25, 26, and 31), with tickets available for individual nights or for all three evenings, while Crawl in Boston is throwing an afternoon bash on Saturday, Nov. 2. (Various times; $14 and up; 21+)
BSSC Halloween Party at Hennessy's The Boston Ski and Sports Club picked the top floor of Hennessy's for its annual Halloween bash, where it is partnering with Harpoon to serve up some of its Rec. League pale ale and hand out cash prizes up to $500 for best costumes. (8:30 p.m.—2 a.m.; $20-25; 21+)
Saturday, Oct. 26
Halloween Bash at Cask 'N Flagon
The Fenway sports bar will host its third annual Halloween bash this year, complete with DJ Johnny Love on the ones and twos. Wear your most creative costume to make an impression on the dance floor; a full bar and food menu will also be available. (10 p.m.–2 a.m.; $5; 21+)
Slumboo Monster Mash at Somerville Brewing Co.
Break out your spookiest moves for Somerville Brewing's monster mash, a late-night fête featuring the live band The Erlenmeyers. At 10 p.m., guests will put their threads on display for a costume contest. (8 p.m.–midnight; free; 21+)
Halloween Pet Parade and Costume Contest
Little kids collecting candy in cute costumes? Adorable. Even tinier four-pawed pets parading around Faneuil Hall in Halloween attire? Arguably even cuter. Even if you don't have a pet vying to win the "Best Owner & Pet Combo" this Saturday, you can still hang out, snap photos, and make some new furry friends. (Noon—2 p.m.; free; all ages)
Trick or Drink Bar Crawl at Kings Boston
Head to Kings Boston on either Saturday or on Halloween itself for a bar crawl featuring eight bars in the Back Bay and Fenway neighborhoods. Your wristband will get you into any of the venues, and give you access to drink specials at each bar. (4 p.m.—2 a.m.; $15 and up; 21+)
Halloween Costume Party at Versus
Come for the Donkey Kong, stay for the costume contest at Versus, Downtown's new-ish arcade bar from Big Night Entertainment Group. Oh, and did we mention we'll be there too? Boston.com staffers will be judging a series of costume contests, including best pop culture costume, best couples costume, best Boston-themed costume, and, of course, best video game-inspired costume. (9 p.m.–1 a.m.; free; 21+)
Pier Pressure Halloween Boat Cruises
Take off on the "Spirit of Boston" for one of three Halloween boat cruises. Each night aboard the party vessel will have four decks, three DJs, and countless costumed partygoers dancing the night away around Boston Harbor. (Saturday, Oct. 26, Thursday, Oct. 31, and Saturday, Nov. 2 at various times; 200 Seaport Blvd., Boston; $29 and up; 21+)
Zoo Howl at Franklin Park Zoo
If you missed last weekend's Boo at the Zoo event at Stone Zoo, the Franklin Park Zoo is hosting a Halloween-themed weekend of its own on Saturday and Sunday. Children can trick or treat among the animal enclosures, check out a haunted maze, and take part in face painting, a costume contest, and a howling contest, as well as other spooky activities. (11 a.m. to 3 p.m.; $13-19; all ages)
Night Full of Fear at Lucky Strike Boston
Despite what its name might indicate, Lucky Strike has a lot more to offer than just bowling, billiards, shuffleboard, and arcade games among the activities in the 70,000 square ft. complex. This weekend, the diversions will also include a costume contest, a live DJ, Halloween-themed cocktails, and more. (8 p.m.—1:30 a.m.; $20; 21+)
Haunted Halls at Museum of Science The Museum of Science will have family-friendly Halloween celebrations on both Saturday and Sunday, including a costume contest, an all-ages dance party, a monster-making workshop, and other hands-on activities, all available with regular admission. (9 a.m.—5 p.m.; $21-26; all ages)
Day of the Dead Halloween Party at Liberty Hotel
Built on the site of the historic Charles Street Jail (and featuring some of the same architecture), the Liberty Hotel is the perfect venue for a Halloween bash. Beyond costume party shenanigans and music from DJs Frank White and Joshua Carl, visitors can also sign up for a Day of the Dead-themed a la carte menu for an additional cost. (8 p.m.; $65 and up; 21+)
Mayhem and Madness Halloween Bash at McGann's Irish Pub
Don't worry about donning business-casual attire for the Boston Young Professionals Association's annual Halloween bash at McGann's Irish Pub on Saturday. Instead, work on perfecting your Halloween attire for the costume contest, which will have prizes in several categories and a $250 prize for the best costume overall. (9 p.m.—2 a.m.; $20 and up; 21+)
Spooky Brews Boston at the Innovation and Design Building
Beer publication Hop Culture is headed to the Innovation and Design Building on Friday for a beer-focused Halloween party. Your ticket will get you food and unlimited pours from more than two dozen breweries, and a couple extra treats of both candy and free swag from Hop Culture. Costumes are strongly encouraged. (7 p.m.—11 p.m.; $20 and up; 21+)
Sunday, Oct. 27
Brunch of Queens at Bell in Hand Tavern
Forget dinner and a show: How about brunch buffet and a spooky drag queen spectacle? Funnyman Henry C. Paquin Jr. will host an interactive drag show featuring local queens like Amanda Playwith, Ivy League-O'deria and Kerra Daniels. Don your own Halloween costume for the experience and you could win yourself a prize. (11 a.m.—4 p.m.; $25; 21+)
Tadpole Halloween Block Party for Kids
The South End baby shop Tadpole will host its annual family-friendly costumed block party on Sunday, featuring treats from Blackbird Doughnuts, music from Music Community Music Center of Boston, and fun activities like a bounce house, petting zoo, and glitter tattoos. (2 p.m.—4 p.m.; 58 Clarendon St., Boston; free; all ages)
Thursday, Oct. 31
Halloween Candy & Wine Tasting at Boston Fleming's
A wine tasting might not be a typical way to celebrate on Halloween night, but costumes are still highly encouraged at this wine and candy pairing at Boston Fleming's. Sip on rosé, merlot, pinot noir, and more in between bites of cherry-flavored candies, milk chocolate, and peanut butter sweets. (5 p.m.; $45, call to reserve at 617-292-0808; 21+)
A Nightmare on Broadway at Capo
Come dressed as your favorite dead icon — Elvis? Whitney? Prince? — at Capo's A Nightmare on Broadway, held within the restaurant's subterranean Supper Club. Legends of Summer will provide live music all night, and prizes for best male and female costumes will be awarded to those who truly channel icons existing on the other side. (8 p.m.–1 a.m.; $10 online, $20 at the door; 21+)
Scaryoke at Fat Baby
Karaoke might be your worst nightmare, but Fat Baby is making it a little less terrifying with Scaryoke, a costumed-themed karaoke night with food and drink specials. Don your best costume to win a Broadway Restaurant Group gift certificate, and sing your heart out to scare away the ghosts and goblins. (9 p.m.–12:30 a.m.; free; 21+)
Hojokoween at Hojoko
Hosted by Qween Toast, drag queen extraordinaire, Hojokoween is bound to be a raucous event, complete with a costume contest, music by cllctv.us, and Hojoko's signature izakaya bites. (9 p.m.–2 a.m.; free; all ages)
Halloween Trivia and Party at Hurricane's at the Garden
Hurricane's at the Garden is hosting a two-part celebration on the 31st. In the early evening, come by for Hocus Pocus-themed trivia (quick, what are the names of the Sanderson sisters?), where costumes are encouraged and registration is on a first come, first served basis. Starting at 9 p.m., the night owls will take over for a Halloween fête complete with a DJ and costume contest. See you at both? (Trivia: 6 p.m.–8 p.m.; free; 21+; Party: 9 p.m.–2 a.m.; $10; 21+)
Fright Night at Coppersmith
Make your way through a haunted maze and onto a dance floor at Coppersmith in Southie, where DJ Amili will be providing the beats. Those who come dressed to the nines are in for a treat: Winner of the costume contest will get $300, second place will receive $100, and third place will take home a bottle of champagne. (8 p.m.–1 a.m.; $5; 21+)
Day of the Dead Dance Party at Beat Brew Hall
Cambridge's Beat Brew Hall will combine Halloween and Dia de los Muertos on Thursday, with prizes for best Halloween costume and best calavera (skull) face-painting. There will also be authentic Mexican-American street food and spooky cocktails, along with dancing and a DJ. (7 p.m.—2 a.m.; free; 21+)
Halloween Party at Ned Devine's
If you're looking for a quintessential Faneuil Hall Halloween Party, Ned Devine's has it. The Irish pub's spooky shindig features a costume contest with a $300 cash prize, plus live music from the ebullient and always-entertaining The Pop Disaster. (9 p.m.–2 a.m.; $10; 21+)
Dragathon Halloween Night Spectacular at Royale
Trixie Mattel and Katya Zamolodchikova, two popular drag queens from season seven of "RuPaul's Drag Race" will be on hand for a show at Royale on Halloween night, where organizers will also give away a $1,000 top costume prize (8 p.m.—11 p.m.; $54 and up; all ages)
"hOAKus pOAKus" at OAK Long Bar & Kitchen
Want free Celtics tickets? Wear your most creative costume to OAK's Halloween costume party, where one decked-out winner will win a pair of tickets to the Nov. 13 game against the Wizards (a second place prize features a free tour and tasting for two at Eden Specialty Ciders in Newport, VT). Tickets to the party include one drink, unlimited treats from pastry chef Lindsay Le Blanc, and entertainment like a graveyard ring toss. (7 p.m.–10 p.m.; $25; 21+)
Halloween at The Harp
Calling all witches and warlocks: The Harp is throwing a Halloween bash complete with live music from Cover Me Badd, a costume contest with a $300 cash prize, and giveaways from Bacardi. Ticket holders need to be in the door by 10 p.m., or risk being turned into a toad (or, you know, denied entry). (9 p.m.–2 a.m.; $10; 21+)
Halloween party at The Porch Southern Fare & Juke Joint
Head to this Southern restaurant and music venue in Medford for a Halloween party and concert with contemporary blues guitarist and vocalist Toronzo Cannon. Before you settle in for the show, grab some free swag from Narragansett Beer and Tequila Trombo, give the ice luge a shot, and strut your stuff in the costume contest (winner takes home more Narragansett swag!). (9:30 p.m.–11:30 p.m.; $20; all ages)
Scream Halloween at Revere Hotel Boston The Revere Hotel Boston Common will uphold its upscale vibe even among the ghoulish costume at its hotel party this weekend. While Halloween garb isn't mandatory, there are several prizes available for top costumes. (10 p.m.—2 a.m.; free; 21+)
'80s Costume Party at City Winery
Pull out your acid-washed jeans and studded leather jacket for City Winery's '80s costume party, a celebration of all things hair metal. Keeping the show rolling with Mullett, one of the top acts bringing the glam band energy of Cheap Trick, Def Leppard, and others to life. (8 p.m.; $25; all ages)
Saturday, Nov. 2
Rise & Rumble Donut Throwdown at Post 390
Halloween may officially be over on Nov. 2, but tell that to Post 390: The Back Bay restaurant is hosting its 6th annual Rise & Rumble Donut Throwdown that Saturday, a sugar-laden affair featuring some of Boston's best pastry chefs. Watch Marissa Hart (Capo), Joshua Livsey (Harvest), Dee Steffen Chinn (Tiger Mama), and more vie for the guest-chosen title of Rise & Rumble champion, all while munching on unlimited doughnut samples and a brunch buffet. The winner of the event's costume contest will receive a $200 gift card to any Himmel Hospitality restaurant. (11 a.m.–1 p.m.; $35; all ages)