Entertainment
What critics had to say about 'Knives Out'
The reviews are in, and they're very good.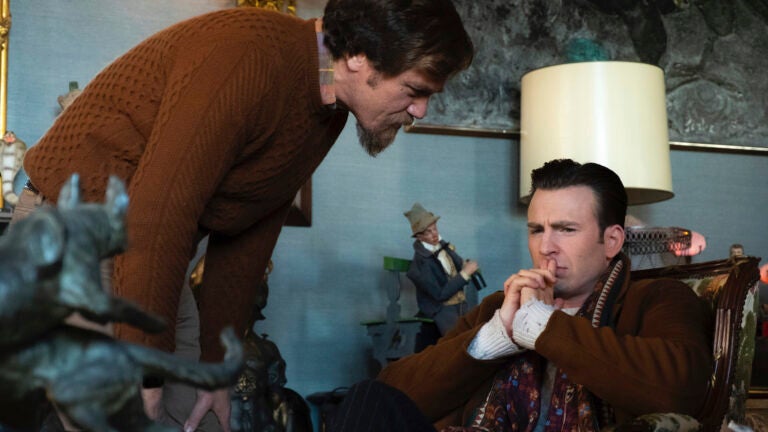 In most of Boston.com's film review roundups, we try to give you a well-rounded look at both the good and bad of what critics are saying about a movie so that you can decide for yourself whether it's worth seeing in theaters. In the case of "Knives Out," a modern-day murder mystery featuring Sudbury native Chris Evans that was filmed in Massachusetts last year, that task proves difficult.
The film, which features a stacked ensemble cast including Evans, Daniel Craig (James Bond), Jamie Lee Curtis ("Halloween"), and Toni Collette ("Little Miss Sunshine"), has earned a 96 percent rating on critic aggregation website Rotten Tomatoes at the time of this article's publication. Most of the positive reviews are outright raves rather than general endorsements, as well, with words like "marvelous" thrown around, and at least one critic proclaiming "Knives Out" is the most entertaining movie of the year.
Not one of the 39 reviews written by RT "top critics" designated "Knives Out," which opens Wednesday, as rotten. And even when you look at all 231 reviews catalogued by the site, only a handful are negative.
Here are some of the highlights from critic reviews of "Knives Out."
The Good
Ty Burr of the Boston Globe gave "Knives Out" four stars, calling it "the most entertaining movie of the year," and heaped praise on director Rian Johnson.
"Johnson's the real deal, an old-school moviemaker with a nose for story, dialogue, and character; his films aren't art and they're not trying to be; they're simply among the most sublimely crafted entertainments of recent years. With 'Knives Out,' Johnson's firing on all cylinders, and it's a joy to witness."
Linda Holmes of NPR agreed with Burr in calling "Knives Out" hugely enjoyable, but added that she believed Johnson had successfully bridged the gap between art and entertainment with the film.
"It is always a delight to see someone joyfully, efficiently, and indelibly demolish any alleged hard barrier between art and entertainment. Knives Out is Rian Johnson's salute to mysteries, but it is also his latest demonstration of his uncommon mastery of the idea that you can — that you should — artfully entertain an audience with loving attention to detail; that it is just as high a purpose as to artfully devastate or confound them. It's one of the best movies of the year, and one of the most purely enjoyable, as well."
A.A. Dowd of The AV Club praised Johnson's well-structured mystery, as well as every member of the film's large ensemble cast.
"This, in other words, is one of those mysteries so clever and fiendishly well-engineered that you eventually have no choice but to stop trying to get ahead of it, to simply enjoy the way it plants and payoffs. …know that Knives Out isn't just deviously intelligent but also consistently gut-busting, and an impeccably crafted blast of Hollywood entertainment, built around several exceptional (and juicily venomous) performances."
Leah Greenblatt of Entertainment Tonight's only complaint was that "Knives Out" wasn't long enough for every member of the ensemble cast to show off their considerable talents.
"God bless director Rian Johnson for bringing so much equal-opportunity fun to Knives Out, a silly, stabby, supremely clever whodunnit that only really suffers from having too little room for each of its talented players to fully register in the film's limited run time."

The So-So
Karyn James of the BBC found that some of the movie's jokes were a bit too on-the-nose, and concluded that "Knives Out," like the old murder mystery movies it pays homage to, is merely good, not great. 
"There are a few terrifically funny scenes, including a wildly confusing monologue by Blanc about the hole inside a doughnut hole. But much of Knives Out settles for being savvy and just fun enough. Best to remember that those old movies Johnson embraces were really not that great, and to bring lowered expectations to his entertaining but scattershot update."

The Ugly
Michael Smith of Tulsa World found all of the characters too unlikable to care about what happened to any of them in the end.
"I expected greedy when it comes to who-gets-what now that the rich old man is dead, but these are truly awful people, and Johnson doesn't have the goods to make them as outlandish as 'Clue' characters or as spiteful as Tracy Letts made the clan of 'August: Osage County.' I left not caring what the future held for a single one of these characters."