Entertainment
What critics have to say about 'Uncut Gems'
Is Adam Sandler a legitimate Oscar contender?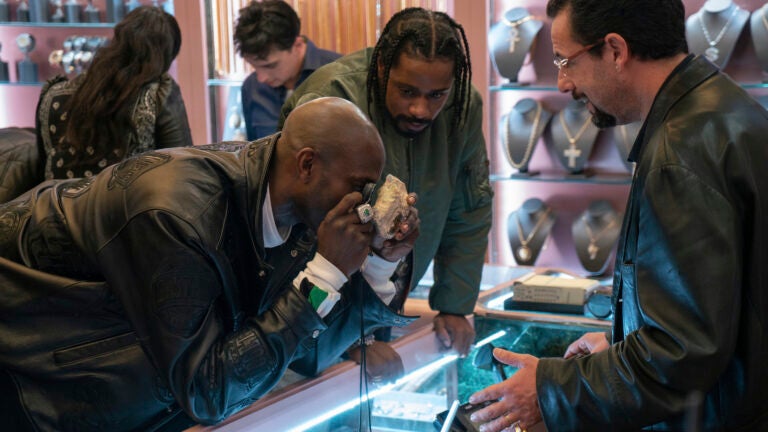 Hard as it may be to believe that the man responsible for "Jack & Jill" could land an Academy Award, there's been positive buzz around the longtime New Hampshire resident's performance in "Uncut Gems," which brought the actor to Boston for its regional premiere earlier this month ahead of a Christmas Day opening.
"Uncut Gems" centers on a Manhattan jeweler named Howard Ratner (Sandler) who is always in search of his next big score. As he juggles unpaid debts — and the goons hired to make sure he pays them — an impending divorce, and a crippling gambling addiction, Ratner has his eyes on the prize: a rare uncut black opal he hopes to sell to Garnett, who plays himself. (The movie takes place in 2012 during the Eastern Conference Semifinals series between the Celtics and Philadelphia 76ers.)
Critics have been largely positive in their reviews of the film, which has earned a 93 percent rating on critic aggregation website Rotten Tomatoes at the time of this article's publication. That said, a single number can't adequately capture the range of critical response, and many of the reviews coded as "fresh" or "rotten" by the site have a bit more nuance.
To help you judge whether to rush to theaters this holiday season, here's what some of the top film critics are saying, both good and bad, about "Uncut Gems."
The Good
Justin Chang, of the Los Angeles Times, called "Uncut Gems" the best performance of Sandler's career, and compared the movie to the early works of Martin Scorsese, who serves as a producer.
"Directed with relentless tension and diamond-hard intelligence by Josh and Benny Safdie (who earlier this month won directing honors from the New York Film Critics Circle), "Uncut Gems" is a thriller and a character study, a tragedy and a blast. It's a throwback to the sordid '70s crime pictures once popularized by filmmakers including Martin Scorsese (a credited producer) but also a snapshot of a highly specific time and place — one informed by stories the Safdies heard from their father, who worked in the diamond district himself."
Andrew Lapin, of NPR, called the movie "a thing of strange beauty," and credited Garnett with one of the best non-actor performances he's ever seen.
"The NBA star (playing himself in his prime, in a Hall of Fame performance for celebrity non-actors) is entranced by the opal, seeing visions of himself in its prism of pure light and color. This is the most elementary appeal of jewelry, after all, and the Safdies literally plunge us inside the radiant visions this stone induces, visualizing the geological perfection that makes so many sane people do crazy things. KG himself knows anything is possible."
A.A. Dowd, of The AV Club, compared Sandler to a young Al Pacino while also acknowledging that the character of Howard Ratner isn't so distant from Sandler's typical man-child persona.
"Barreling into every scene with motor-mouthed brio, the one-time SNL player taps into a charismatic mania we've never quite seen from him — he's like a young Al Pacino, bristling with ego and neurotic energy. Yet Howard isn't so different, in basic profile, from some of the other id-driven clowns on the star's résumé. He's obnoxious, immature, prone to fits of rage and pleasure alike: a Sandler misfit all the way."
Darren Franich, of Entertainment Tonight, added to the praise of Sandler, calling his performance "revelatory."
"Sandler's never been better, really, balancing speedwalking desperation and fast-talking salesmanship with sorrow and glee. What's the word for a performance that's loud and meaningful, hyperbolic yet terribly human? That's Sandler in Uncut Gems: He's opera, man."

The So-So
Manohla Dargis of The New York Times found a lot to like about "Uncut Gems," giving the film a "critic's pick" and praising the directing of the Safdie Brothers and Sandler's performance. Nevertheless, she couldn't shake a feeling of annoyance throughout the movie. 
"The Safdies, two of the more playfully inventive filmmakers working in American cinema, won't stop, either, which makes 'Uncut Gems' fun if also wearying and at times annoying. It doesn't seem to add up to much — a little man lives his life — but this is just enough. It's easier to admire than to love, and I hate the ending, but the Safdies clearly like working your nerves."

The Ugly
Brian Lowry, of CNN, found the movie's manic energy exhausting and repetitive.
"Howard is such a wild-eyed, agitated figure that there's virtually no variation in that tone — he's cranked up to an 11 at all times — which makes him, and the movie, more than a little exhausting. That general dynamic also saps away some tension regarding how his high-wire act is going to turn out."