Entertainment
A list of must-see Super Bowl 2020 commercials
From Bostonians learning about "smaht pahk" to a Lexington company's first-ever Super Bowl commercial.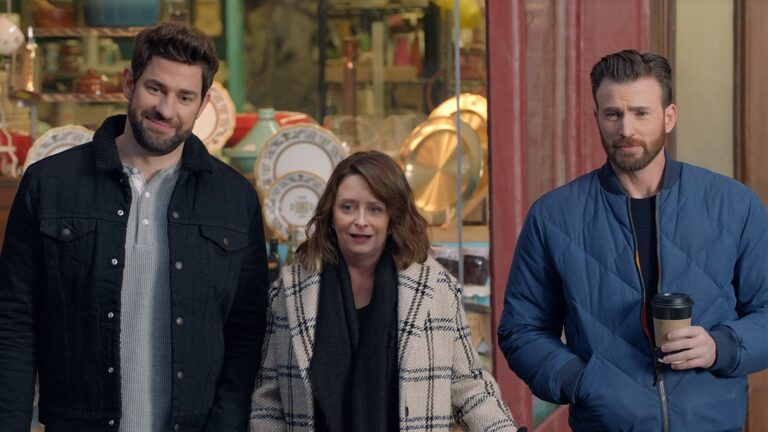 The Super Bowl has long been much more than just a football game, with the spectacle and interest surrounding the halftime show and the Super Bowl commercials making it the premier television event in the United States. (Yes, even when the Patriots aren't part of it.)
While there will undoubtedly be plenty of surprise advertisements popping up during the big game, companies have begun to treat the lead-up to Super Bowl Sunday as its own advertising opportunity, releasing teasers and sometimes full commercials days or weeks beforehand.
With that in mind, we've put together an updating guide to the most interesting, impactful, and buzzworthy 2020 Super Bowl commercials, with a particular eye toward ads that Bostonians may enjoy.
Hyundai heads to Boston for its 'Smaht Pahk' commercial
Automaker Hyundai took to the South End for filming this Super Bowl spot, which features Newton native John Krasinski, Sudbury native Chris Evans, and Lexington native Rachel Dratch marveling (or should we say mahveling?) over the Hyundai Sonata's remote smart parking assist feature. Or, as the actors put it, "smaht pahk."
The trio aren't the only Bostonians to show up in the ad. Former Red Sox slugger David Ortiz pops in at the end, as does comedian Tony V and both Bob and Arthur Wahlberg.
Local shoe brand Saucony airs its first Super Bowl ad
Saucony will take a big step toward growing its national footprint with its first Super Bowl ad this year. The Lexington-based athletic shoe maker will air a 30-second spot about its efforts to develop a biodegradable shoe, which will be made from natural materials and renewable resources.
"What if the shoes we threw away actually went away?" a voiceover asks, as dozens, then hundreds of shoes begin floating in the air.
The Super Bowl teaser for 'A Quiet Place Part II' features an unexpected surprise
Ahead of Super Bowl Sunday, Paramount released a 30-second teaser for "A Quiet Place Part II" set to air during the pregame that features an unexpected surprise: John Krasinski.
Though Krasinski was involved in the film as a writer, producer, and director, it was unclear whether he would reprise his role in the sequel, because — spoiler alert — his character dies at the end of the first film. But as soon as the trailer begins, Krasinski is there, asking an officer what's going on mere seconds before one of the many-legged monsters featured in the first film leaps into frame.
John Cena and Jimmy Fallon hit the gym in Michelob Ultra Super Bowl ad
Working out next to actor, WWE superstar, and West Newbury native John Cena would be hard for anyone, so it's understandable when Jimmy Fallon complains about going to the gym in Michelob Ultra's Super Bowl ad. Thankfully, Cena gets Fallon to see "the lighter side of things," with a montage of Fallon doing all sorts of physical activities featuring athlete cameos like sprinter Usain Bolt, golfer Brooks Koepka, and volleyball players Kerri Walsh Jennings and Brooke Sweat.
Tom Brady trolls fans with Hulu Super Bowl ad
"They say all good things must come to an end."
That's the voiceover from Tom Brady as he walks into a football stadium at the beginning of Hulu's Super Bowl ad, briefly raising the blood pressure of Patriots fans everywhere.
"So to my teammates, my family, and my fans, you deserve to hear this from me," Brady continues. "Hulu doesn't just have live sports."
Brady raised speculation about his football future with an ambiguous Instagram post Friday evening, but it turned out to simply be a promo for the ad, which highlighted the streaming company's bonafides.
At the end of the ad, Brady made clear he wasn't ready to step away from the game just yet.
"So it's time to say goodbye to TV as you know it," Brady concludes. "But me? I'm not going anywhere."
Bill Murray reprises "Groundhog Day" role for Jeep Super Bowl ad
Jeep saw an opportunity with the Super Bowl being held on Groundhog Day, enlisting Bill Murray, Stephen Tobolowsky, and other cast members of the 1992 movie "Groundhog Day" for their big game commercial. While Murray is still stuck reliving the same day over and over in Punxsutawney, Penn., he finds life more enjoyable driving a Jeep.
Bill Nye makes a cameo in SodaStrem's Super Bowl ad
Water on Mars? That type of exciting discovery unites the world's scientists in excitement, including Bill Nye, the onetime PBS personality. Unfortunately, the sample quickly disappears when a scientist makes bubbly water using his SodaStream.
Mr. Peanut is back from the dead in Super Bowl spot from Planters
Planters faced some blowback for their Super Bowl campaign, which began last week with the death of longtime mascot Mr. Peanut. The death of Kobe Bryant caused the company to press pause on the rollout of their campaign, but the Super Bowl ad remained unchanged, with the tears of the Kool-Aid Man reincarnated the buried mascot as Baby Peanut.
Jason Momoa reveals his "true self" in Rocket Mortgage Super Bowl ad
In an ad for Rocket Mortgage, actor Jason Momoa ("Aquaman") let viewers know that he can be his "true self" at home — then he removed a muscle suit and a wig, revealing his "true" skinny bald guy underneath.
Charlie Day puts off laundry day in Tide Super Bowl spot
After actress Emily Hampshire ("Schitt's Creek") stains "It's Always Sunny in Philadelphia" star Charlie Day's shirt, he wonders when he'll have time to wash his shirt during the big game. In the process, he joined the halftime show, another brand's Super Bowl commercial, and a broadcast of "The Masked Singer."
WeatherTech CEO thanks veterinarians who saved his dog's life with Super Bowl ad
Last year, vehicle accessories company WeatherTech ran a Super Bowl ad featuring Scout, a golden retriever owned by CEO David MacNeil. Later that year, Scout was diagnosed with a rare form of cancer and was given one month to live. But an experimental procedure conducted at University of Wisconsin-Madison's veterinary school saved Scout's life, and MacNeil is thanking the school by purchasing an ad for it and promoting a fundraising campaign for the school.
"We wanted this year's Super Bowl effort to not only raise awareness but also financial support for the incredible research and innovative treatments happening at the UW School of Veterinary Medicine, where Scout is still a patient," MacNeil said in a press release.
The NFL's 2020 Super Bowl commercial includes a slew of players
The NFL went big for its Super Bowl ad last year, bringing together more than 40 current and former players like Tom Brady and Rob Gronkowski to kick off its celebration of 100 years of the league.
The league released its new Super Bowl ad prior to kickoff, and this year's edition features a bevy of NFL stars including current Patriots receiver Julian Edelman and former Patriots quarterback Jimmy Garoppolo.
Microsoft Super Bowl ad showcases Katie Sowers, the first woman to coach in a Super Bowl
In a new 60-second ad set to air during the big game, Microsoft chronicles the journey of San Francisco 49ers offensive assistant Katie Sowers, from her days as a young girl dreaming of "being on a real football team" to her current role, which makes her the first woman to coach in a Super Bowl.
In an interview during Super Bowl media week, Sowers said she hoped to pave the way for other women to join the profession.
"I feel like a broken record, but what I want to continue to say is that, even though I'm the first, the most important thing is I'm not the last and we continue to grow it," Sowers said.
Molly Ringwald shows her love for avocados in quirky Super Bowl spot
Guess we know what one member of "The Breakfast Club" eats for breakfast.
Actress Molly Ringwald, best known for her roles in '80s teen movies like "The Breakfast Club" and "Pretty in Pink," is the star of a Super Bowl advertisement for Avocados from Mexico that showcases some truly weird avocado accessories.
Posing as an employee of Avo Network, Ringwald showcases products like an avocado helmet, an avocado yurt, and a music box that plays your avocado's favorite songs.
Google tugs at heartstrings with Super Bowl ad
There's always at least one Super Bowl ad that leaves people misty-eyed, and this year's Google ad just might do the trick.
In "Loretta," a showcase of the company's Google Assistant, an 85-year-old grandfather uses Google to help remember his late wife. By the end of the commercial, Google Assistant remembers that Loretta's favorite flowers were tulips, she used to hum showtunes, and she had the most beautiful handwriting, among other things.
"'Loretta' reflects our goal to build products that help people in their daily lives, in both big and small ways," Google's chief marketing officer Lorraine Twohill wrote in a blog post. "Sometimes that's finding a location, sometimes it's playing a favorite movie, and sometimes it's using the Google Assistant to remember meaningful details."
Sam Elliott channels his inner Lil Nas X in Doritos' Super Bowl spot
Sam Elliott has proved for years in ads for companies like Coors and Ram Trucks that just about anything sounds cool when spoken in his deep, distinct voice. Doritos took that theory to the logical extreme in a teaser for its Super Bowl spot, putting Elliott in an old western bar while having him narrate the lyrics to Lil Nas X's "Old Town Road." In a spot released Wednesday, the pair headed out to the dusty street for a dance-off.
The pain of forgetting your password is very real in Dashlane's Super Bowl commercial
We all know the feeling: You have to log in to do something important, but you forget your password. In a Super Bowl spot for password manager Dashlane, one man is on the brink of entering heaven if he can only remember his password. As the hooded grim reaper prompts him with more and more security questions, eternal damnation becomes an unfortunate, albeit hilarious reality.
In Amazon's Super Bowl ad, Ellen DeGeneres and Portia de Rossi ponder the history of Alexa
After using Amazon's Alexa to turn down the thermostat as they leave the house, Ellen DeGeneres and Portia de Rossi ponder what the commerce company's virtual assistant was like throughout history, leading to a hilarious montage of servants and companions throughout history.