Entertainment
'Onward' partly succeeds in its quest to capture Pixar magic
The animation studio's newest movie is a mostly enjoyable effort that rises to the occasion at the most crucial moments.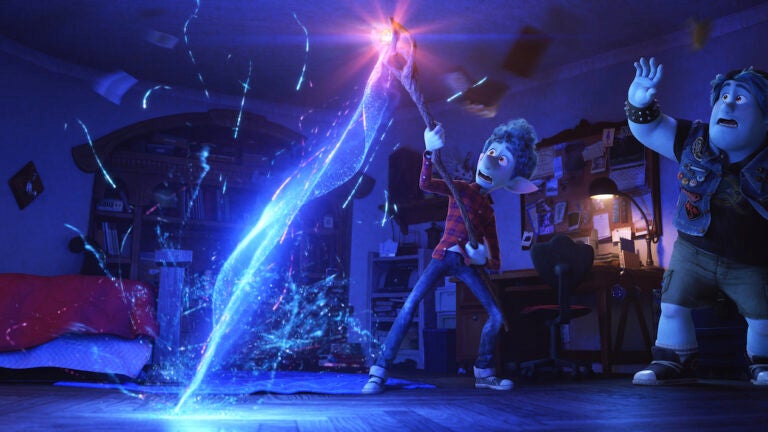 Thanks to decades of raising the bar in the world of animated films, any movie from Pixar that isn't a revelation can feel like a disappointment. Even the company's lower-rated efforts (save the misfiring "Cars 2") would be a high mark for most other studios.
While "Onward," the studio's 22nd film, certainly won't be remembered in the upper echelons of the Pixar pantheon, it's a mostly enjoyable effort that rises to the occasion at the most crucial moments.
The Plot:
Teenage elf Ian Lightfoot (Tom Holland, "Spider-Man: Far From Home") is a shy suburban loner surrounded by mythical creatures who long ago gave up or forgot the magic powers that were once prevalent in society. Desperate for guidance, Ian yearns to connect with his late father, whom he never met, while simultaneously shunning the mentorship overtures of his older brother Barley (Chris Pratt, "Guardians of the Galaxy"), whose obsession with role-playing games and magical history is a frequent embarrassment.
The film kicks into gear when Ian and Barley's mother, Laurel (Julia Louis-Dreyfus, "Seinfeld"), gives them a gift from their father: a magical staff and directions for a spell that will let their father reappear for 24 hours. Plagued by self-doubt (and Barley's ham-fisted attempts to help), Ian only gets the spell half-right, leading their father to return as a disembodied pair of pants and shoes. The pair then embark on a quest to bring their father all the way back before time runs out.
The Good:
Disney pulled off a neat synergistic trick with "Onward" by casting two of their top Marvel actors in leading roles that hew closely to their superhero alter-egos. Like Peter Parker, Holland's Ian is a nervous teen on the periphery of his high school's social scene who soon discovers powers no one else has. Pratt's Barley, meanwhile, has echoes of "Guardians" leader Peter Quill, constantly toeing the line between fearless and reckless thanks in part to deep-seated insecurities stemming from a parent's death.
The duo are the film's unquestioned stars, but other bit players shine as well. Octavia Spencer ("The Help") stands out as the Manticore, a once-fierce warrior now managing a medieval-themed chain restaurant. There are also laughs to be had from the boys' mute, topless father, to whom Ian affixes a "Weekend at Bernie's"-esque disguise that inexplicably fools everyone they meet on their quest.
The film is a personal one for director/co-writer Dan Scanlon ("Monster's University") who lost his own father at age one and leaned on his older brother for guidance. It wouldn't be a Pixar film without at least one scene designed to make you cry, and one of the movie's best scenes — a montage showing Barley's unwavering support of Ian throughout the duo's childhood — will likely do the trick.
The Bad:
Unfortunately, some of the magic spurned by society seems to be missing from the film as well. Whereas prior Pixar titles like "WALL-E," "Finding Nemo," and "Toy Story" fully immersed audiences in heretofore unknown universes, "Onward" only skims the surface. And similar to "Incredibles 2," which featured a villain named Screenslaver that controlled the populace through smartphones and TVs, "Onward" leans on a simplistic anti-tech metaphor to limply explain why magical beings gave away their powers.
The Takeaway:
When Ian and Barley receive the staff and magic spell from their father, it also comes with a letter, which reads, in part, "Over time, magic faded away, but I hope there is a little magic left in you." With "Onward," Pixar shows that there's at least a little bit of wizardry left in the tank. It's a solid movie with humor and heart in equal measure that provides a perfectly pleasant afternoon at the movies. Just don't expect to be spellbound.
Should you watch "Onward"?
Just like (almost) every Pixar movie, "Onward" is worth a trip to the theaters this weekend.