Entertainment
It's impossible not to root for Ben Affleck in 'The Way Back'
The Cambridge native gives a commanding performance that parallels his real-life struggles with alcoholism in the new drama.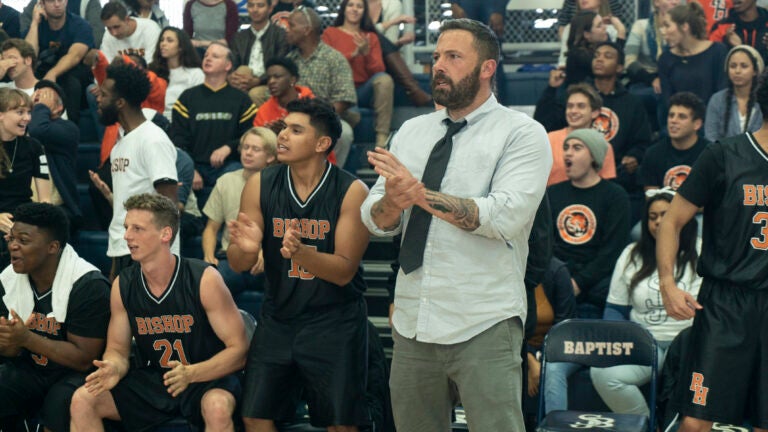 It's a movie we've all seen before: A down-on-his-luck protagonist is paired with a youth sports team in need of inspiration. Through a mixture of tough love and hard work, the kids achieve their goals and teach the coach a little something in the process. "The Bad News Bears" or "The Mighty Ducks" immediately come to mind, but plenty of titles fall into this specific sub-genre.
"The Way Back," a new drama starring Ben Affleck hitting theaters Friday, fits the basic template to a tee. But this film is a cut above the others, thanks to a strong performance from the Cambridge native, who drew from his own experiences with alcoholism for the role.
The Plot:
Jack Cunningham (Affleck) is a former high school basketball phenom who has settled into life as a construction worker with alcohol addiction. Every moment of Jack's life seems to center around drinking, which has caused problems with his estranged wife (Janina Gavankar, "Blindspotting"), his sister (Michaela Watkins, "Wanderlust"), and his health. When his alma mater offers him a chance to coach the school's underperforming squad, both Jack and the team hope to turn around their fortunes.
The Good:
While "The Mighty Ducks" and "The Bad News Bears" are feel-good sports stories that feature coaches who drink heavily, "The Way Back" puts alcoholism front and center, and is better for it. Affleck plays Cunningham with a world-weariness that seems eerily similar to his very public struggles with alcohol, a fact that Affleck and others have discussed during the press tour for the film. (The actor said that his heavy drinking contributed to his divorce from Jennifer Garner, while others associated with the film said the actor had a sober liaison take him to and from rehab between filming, and that a particularly resonant scene led to him breaking down on set.)
Affleck's Cunningham paints an ugly portrait of a man in denial: a bloated visage sloshing from scene to scene, lying about his drinking, and lashing out at anyone who questions him. During the moments when he appears to be getting back on track, you sincerely want him to succeed, which speaks both to Affleck's acting abilities and his personal experiences with the material.
The Bad:
Affleck is a much less convincing hoops coach. His coaching acumen mostly consists of yelling things like "screen!" and "press!" ad nauseam or calling timeout in order to unleash a profanity-laden motivational speech. While co-writer/director Gavin O'Connor ("The Accountant") made the correct choice to focus less on the game and more on Cunningham, some of the talented young actors who play the athletes, including Melvin Gregg ("American Vandal") and Brandon Wilson ("Beyond the Lights"), get the short shift. 
The film also takes a jarring tonal shift late in the proceedings with a plot twist that effectively tries to explain why Jack has fallen so far from grace. It's an interesting narrative choice by O'Connor, but ultimately it doesn't work in the grand scheme of things.
The Takeaway:
Near the end of the film, a woman tells Jack, "We can't change the past. What we can do is choose how we move forward." It's a hopeful line, and one that seems to apply to Affleck, appearing in his first solo lead role since 2016's "Live By Night."
"The Way Back" is a feel-good movie about the power of organized sports, a dark look at addiction, and the effect it has on everyone around him. Affleck gives a raw, personal performance that elevates the film, and given his real-life struggles, it's impossible not to root for him.
Should You Watch 'The Way Back'?
Yes — Affleck triumphs in a role that hits close to home.