Entertainment
7 board games you can play online with friends while you're staying inside
Keep your social distance and feed your competitive spirit.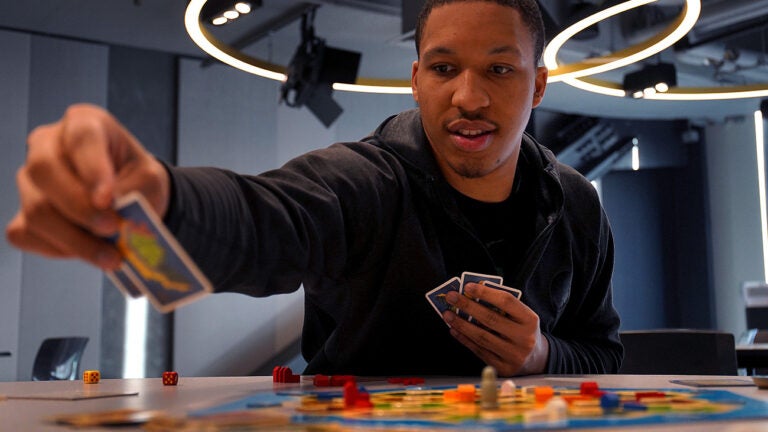 Board game nights are typically a fun, budget-friendly way to get together with friends, but with social distancing in full effect, your best buddies may only be available virtually.
Luckily, there are a number of games for all skill levels available online, either for free or for a small cost. Here are seven that are worth checking out:
Celtics forward Grant Williams can attest
 to the fun of a spirited game of Catan, in which players build roads and villages, accumulate resources, and assemble armies in pursuit of victory. 
Catan classic
 lets you play online with the exact same rules as the board game, acquiring stores of brick, ore, sheep, wheat, and wood to trade with other players or conquer the board yourself. A company spokesman said in an email that she has also seen people playing the physical game using video chat services like Google Hangouts and Zoom.
How to play:
Catan classic
 is available for free online, with add-on purchases also available.
Like Catan, Dominion is a massively popular strategy-based game that pits players against one another in pursuit of victory points. Unlike Catan, Dominion is card-based, with players using decks to accumulate wealth and occasionally frustrate attempts by other players to do the same. The game has expanded significantly over the years, but you can still play a basic version for free online, with add-on cards that can be purchased.
How to play: Dominion is available for free online.
Trains aren't the most popular mode of transport right now, but Ticket To Ride is still a blast. Relatively easy to learn, the game pits players against one another in a race to build train routes across the United States and Canada, earning points for creating specific ones or having extra-long journeys. For a more worldly game, check out one of the many Ticket to Ride titles based in other countries or continents.
How to play: Ticket to Ride is available for $9.99 online.
It's a classic joke that a game of Monopoly takes way too long to finish. That's because so many people learned how to play the game wrong, but regardless, you'll have plenty of time to play with friends online this weekend. Pogo recently retired its free mobile version of Monopoly, but Ubisoft now sells the game for consoles and computers for $9.99, while Marmalade Games sells a mobile version for $3.99. Additionally, you can play Rento, a game that is very similar to Monopoly, for free online.
How to play: Monopoly is available for $3.99 on mobile and $9.99 on game consoles or computers. You can also play Rento, which is similar to Monopoly, for free online.
Facebook is a great resource for online games, and since so many people already have accounts on the social network, sign-up is easy. One of the most popular games is the Scrabble-like game Words with Friends, which pits players in a turn-by-turn battle of letters.
How to play: Words with Friends is available for free on Facebook.
While technically not "board games," you can play more than a dozen popular card games with friends using CardzMania. Set up a video call with your friends and then invite them via e-mail to play games like euchre, hearts, gin rummy, or president. If you'd prefer to play alone, the site has solo games like solitaire available as well.
How to play: Available for free on CardzMania.
This game may be a bit too on-the-nose for some, given that the backstory involves the spread of multiple diseases simultaneously. But as the uptick in play has shown, Pandemic can be a cathartic experience, as you team up with friends to fan out across the globe and rid the world of epidemics one country at a time.
How to play: Pandemic is available for $4.99 online.