Entertainment
Here's a list of virtual concerts and livestreams to watch during the coronavirus outbreak
The Dropkick Murphys aren't the only musicians helping you rock out from your living room this week.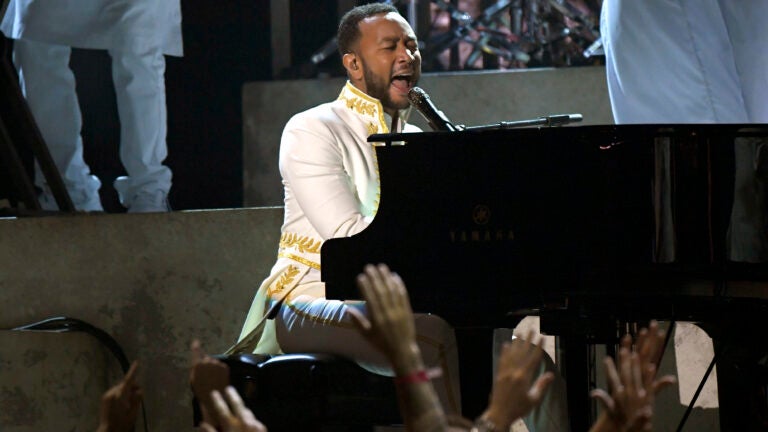 After the Dropkick Murphys were forced to cancel their St. Patrick's Day performances because of the COVID-19 coronavirus, the band figured out a way to ship out a bit of Boston to the world, livestreaming a concert Tuesday night.
The Boston punk rockers are hardly the only musical acts turning to livestreaming or posting homemade videos to entertain fans during the pandemic. On Monday, Coldplay frontman Chris Martin announced an impromptu concert on the band's Instagram page as part of Australian nonprofit Global Citizen's "Together at Home" initiative. Shortly after Martin announced his concert, singer John Legend introduced one of his own. And cellist Yo-Yo Ma has started a "Songs of Comfort" series, posting videos on Twitter of himself playing compositions like Bach's "Cello Suite No. 3."
Here's a list of upcoming livestreamed concerts and performances for your viewing pleasure — including a few from local acts — as well as videos of the ones that have already happened.
Club Passim's Keep Your Distance Festival
Club Passim is temporarily closed, which means the local artists who regularly play there are out of work.  The Cambridge music venue is doing what it can to help with a Keep Your Distance Fest, in which local artists play songs about "staying calm, hope, and sticking together" while raising money for the Passim Emergency Artist Relief (PEAR) Fund. You can watch the full playlist — which was 13 videos long as of post time — on Passim's YouTube page.
Garth Brooks
Garth Brooks has announced that he will play a concert during his weekly "Inside Studio G" Facebook series on Monday, March 23, at 7 p.m. EST. The country legend will take requests from fans for an hour.
People Loving People!!! love, g #StudioG

Posted by Garth Brooks on Monday, March 16, 2020
The Indigo Girls
The Indigo Girls have announced that they will be performing live on their Facebook page on Thursday, March 19, at 6 p.m. EST, as well as doing a Q & A with fans.
We will be going live on Facebook this Thursday, March 19th 6:00pm EST, and playing a low key, home grown set of songs and talking to people directly through Q and A. Plan on tuning in with us!

Posted by The Indigo Girls on Monday, March 16, 2020
Katharine McPhee
Singer/actress Katharine McPhee has announced that she and her husband, Grammy-winning composer David Foster, will perform live on Instagram every night at 8:30 EST.
https://www.instagram.com/p/B90NZCpBAUI/
John Legend
Musician John Legend performed a concert alongside his wife, Chrissy Teigen, on his Instagram page at 4 p.m. on Tuesday.
The Dropkick Murphys
The local punk rockers have posted their "Streaming Up From Boston" concert.
Frank Turner
The English singer-songwriter, who played a four-night residency at House of Blues last year, performed a live concert at 4:30 p.m. EST on Tuesday. (Note: Turner's performance abruptly cuts off at the end because, according to the singer, Facebook "killed the live stream as spam.")
https://www.facebook.com/6416249137/videos/669837473752190/
Ben Platt
Broadway actor Ben Platt and fellow thespians Noah Galvin and Kathryn Gallagher hosted a "virtual dance party" at 6 p.m. EST Tuesday titled "QuaranTunes."
Death Cab for Cutie
Ben Gibbard, frontman for emo group Death Cab for Cutie, announced Tuesday that he will be providing daily in-home entertainment for fans on the band's YouTube and Facebook pages at 7 p.m. EST.
Hey Everyone,I know you are all really freaked out right now. I am too. And while I'm proud that we're all doing the necessary things at the moment to help flatten the curve, I know it has left us all incredibly isolated. But because we're all going through this nightmare together we are quite literally NOT alone. Our lives and stories are all linked, maybe more now than they have ever been. Be it with DCFC, Postal Service, or solo I have always been grateful for the honor you have bestowed upon us by choosing to congregate en masse around our music. Some of you have traveled great distances and/or shelled out large sums of money to see us play and that has never been lost on me. So in this crazy and unprecedented time, I'd like to return the favor by coming to YOU.For the next few weeks I will be playing songs everyday from my home studio. We will be streaming on Facebook at 4pm PST daily. We're still working out the details but I'm hoping to take some requests and maybe even have a guest or two stop by digitally. The first show will be tomorrow. It will assuredly be a little wonky and glitchy but we're gonna do our best.See You Tomorrow.xoBen

Posted by Death Cab for Cutie on Tuesday, March 17, 2020
Yo-Yo Ma
The cellist has tweeted two video performances as part of his "Songs of Comfort" series.
In these days of anxiety, I wanted to find a way to continue to share some of the music that gives me comfort. The first of my #SongsOfComfort: Dvořák – "Going Home"

Stay safe. pic.twitter.com/S28w6OlXiZ

— Yo-Yo Ma (@YoYo_Ma) March 13, 2020
This is for the healthcare workers on the frontlines — the Sarabande from Bach's Cello Suite No. 3. Your ability to balance human connection and scientific truth in service of us all gives me hope. #songsofcomfort pic.twitter.com/s9e35RW03N

— Yo-Yo Ma (@YoYo_Ma) March 16, 2020
Coldplay
On Monday, Coldplay frontman Chris Martin streamed a 30-minute concert for his fans on the band's Instagram page.
---
Your 60-second guide to social distancing during the coronavirus outbreak
---
Get Boston.com's e-mail alerts:
Sign up and receive coronavirus news and breaking updates, from our newsroom to your inbox.