Entertainment
6 new movies and TV shows Bostonians should watch
From a Mark Wahlberg movie skipping theaters to a legal drama starring Chris Evans filmed in Massachusetts.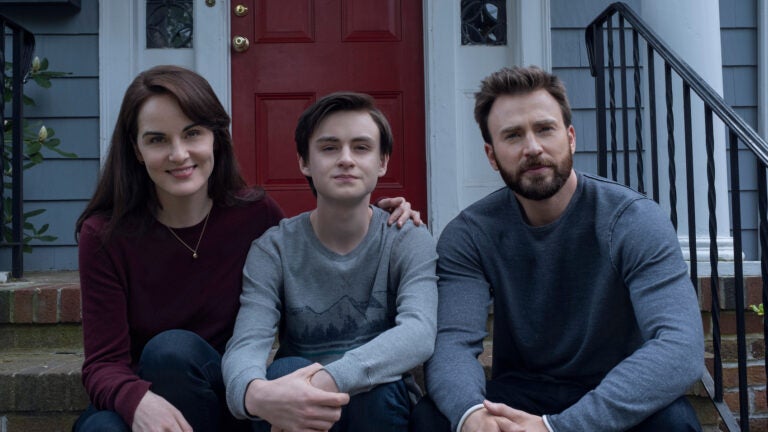 With movie theaters closed for the time being, almost every planned 2020 summer blockbuster is now facing a late 2020 or 2021 release date due to the coronavirus. Luckily, streaming platforms are still putting out plenty of entertainment in the interim, with scores of new shows and movies, including some films that were supposed to hit theaters first. The latest to lose out on its theatrical release entirely is "Scoob!," an update on the Scooby-Doo franchise that brings Mark Wahlberg along for the ride as well.
Beyond Wahlberg, there are plenty of new shows and movies that have local ties as well, including "Defending Jacob," a drama from Chris Evans that was filmed all over Massachusetts.
Here are six TV shows and movies that Bostonians should know about right now.
Based on a 2012 novel of the same name by local author William Landay, "Defending Jacob" is set in Newton and concerns assistant director attorney Andy Barber (Evans) whose whole life changes when his 14-year-old son Jacob (Jaeden Martell, "It") is accused of killing a classmate. The first instinct of Andy and his wife, Laurie (Michelle Dockery, "Downtown Abbey"), is to dismiss the charges as baseless. But as evidence against Jacob begins to mount, Andy takes matters into his own hands.
Although "Defending Jacob" wasn't part of the initial launch of Apple TV+, the series has clearly been a priority for the company, with a source involved in the production suggesting that Apple "spared no expense" while filming. At least 29 Massachusetts towns and cities were used for filming the show in 2019, including Boston, Framingham, Lowell, Lynn, Malden, Medford, Newton, Salem, Waltham, and Worcester. Evans even dropped out of a planned lead role for the upcoming Antoine Fuqua movie "Infinite" due to scheduling conflicts with the show, with his role going to Mark Wahlberg.
How to watch: The first three episodes of "Defending Jacob" are now available on AppleTV+, with new episodes premiering each Friday until the May 29 finale.
Another limited series worthy of your attention is "Mrs. America," the FX drama that examines the fight to pass the Equal Rights Amendment in the 1970s and the culture war that resulted. While elements of the story are fictionalized, the show is based on real-life women, including feminists like Gloria Steinem (Rose Byrne, "Bridesmaids"), Jill Ruckelshaus (Pittsfield native Elizabeth Banks, "The Hunger Games"), and Brenda Feigen (Boston native Ari Graynor, "Whip It") who face off against movement conservative Phyllis Schlafly (Cate Blanchett, "Carol"). No fewer than four members of the main cast have local roots, with Boston natives Uzo Aduba ("Orange is the New Black") and John Slattery ("Mad Men") joining Banks and Graynor.
How to Watch: The first three episodes of the series aired last week on FX, and new episodes will debut each Wednesday on FX and Hulu through May 27.
If you're looking to escape reality for 90 minutes, "Selah and the Spades" will fully immerse you in the vision of first-time writer-director Tayarisha Poe. Set at the fictional Madewell boarding school (played in the film by the Academy at Penguin Hall in Wenham), "Selah" centers around Selah Summers (Lovie Simone), the 17-year-old leader of one of the school's five underground factions who supplies the wealthy student body with booze and drugs. "Selah" doesn't necessarily break new ground in terms of subject matter, but the film is a stylish one, and Poe makes you genuinely care about the characters and the pressures of high school hierarchy many of us long ago left behind. Along with Wenham, "Selah" was filmed in Hamilton, Peabody, Marblehead, and Newton.
How to Watch: "Selah and The Spades" is available to stream now on Amazon Prime.
Since the end of her show "Parks and Recreation," Burlington native Amy Poehler has been hard at work as an executive producer, identifying and elevating new faces in the comedy scene. The newest series exec-produced by Poehler is "Three Busy Debras," an oddball comedy airing on Adult Swim about three suburban mom stereotypes all named Debra (Sandy Honig, Mitra Jouhari, and Alyssa Stonoha) living in the fictional town of Lemoncurd, Connecticut. If you're a fan of surrealist comedy, this one is worth checking out.
How to watch: New episodes of "Three Busy Debras" air at midnight on Adult Swim (listed under Cartoon Network on your TV guide) and are available on demand on the Adult Swim website with a valid cable subscription login.
Much like Poehler, Cambridge native Mindy Kaling has been putting lots of energy into producing shows lately, with her newest arriving on Netflix on Monday. "Never Have I Ever" is a coming-of-age comedy partially based on Kaling's own childhood about the life of Devi (Maitreyi Ramakrishnan), a first-generation Indian American teenager who has a short fuse that gets her into difficult situations.
How to Watch: "Never Have I Ever" will be available on Netflix on April 27.
"Scoob!"
Scooby-Doo and his mystery-solving pals are getting a modern update, and Mark Wahlberg is along for the ride. As the Mystery Incorporated gang try to prevent the ghost dog Cerberus from being unleashed on the world, they discover that Scooby has an "epic destiny greater than anyone imagined," according to a studio synopsis. What that means is up for interpretation, but the latest trailer shows Scooby and Shaggy on the ship of Hanna-Barbera superhero Blue Falcon (Wahlberg), which suggests the potential formation of a Hanna-Barbera cinematic universe. Besides Wahlberg, "Scoob!" features a loaded voice cast that includes stars like Will Forte ("The Last Man on Earth"), Gina Rodriguez ("Deepwater Horizon), Zac Efron ("The Greatest Showman"), and Ken Jeong ("The Hangover"). While "Scoob" was originally supposed to sniff its way into theaters on May 15, the film will now be made available on demand that day instead.
How to Watch: "Scoob!" will be available for a 48-hour rental via Premium Video On Demand and participating digitial platforms like Amazon, iTunes, and Google Play for $19.99 or premium digital ownership for $24.99 beginning on May 15.