Entertainment
Great Scott is closing for good after 44 years
Closed in March due to the coronavirus, the beloved Allston music venue announced Friday that it will not reopen.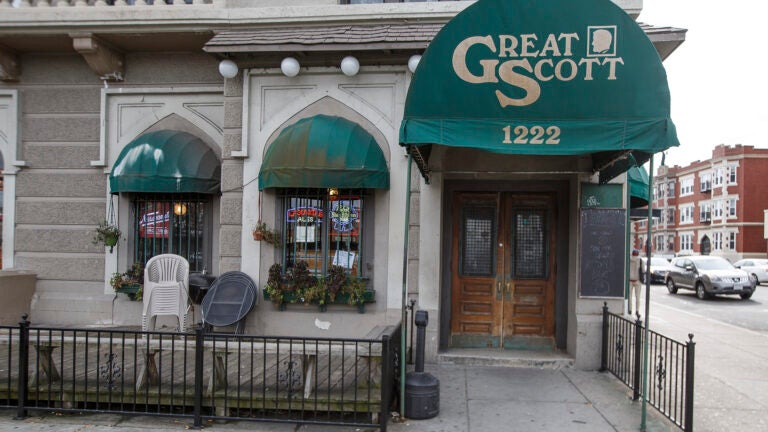 Update (5/11/2020):
This article previously cited a now-corrected story from local music blog Vanyaland stating that Great Scott had been informed by its landlords that the venue's lease would not be renewed. 
According to a letter sent by attorneys representing Oak Hill Partners, Great Scott's landlords, it was Great Scott owner Frank Strenk's decision to close the venue. Great Scott had not had a formal lease for approximately 20 years, and was a month-to-month tenant. Strenk terminated the venue's tenancy at will on May 1, according to the letter.
"Mr. Strenk stated that even if he were allowed to open Great Scott's doors tomorrow and operate at 100% capacity without any social distancing restrictions, it would take approximately six months to get the business off the ground due to complexities of scheduling live events," the letter reads. "The [sic] Great Scott simply cannot maintain even its bare expenses over this time period without generating revenue, which is the sole reason Mr. Strenk made the hard decision to close the business."
Strenk did not respond to requests for comment. Calls and emails to Great Scott were not answered, and the venue's voicemail was full.
Previously:
A longtime Boston music venue currently closed due to the coronavirus pandemic will not reopen its doors.
Great Scott, the local music venue in Allston that first opened in 1976, shared Friday on Twitter that it will not reopen after the coronavirus regulations have been lifted.
"It is with a heavy heart today that I announce that Great Scott will not re-open," manager Tim Philbin wrote in the post Great Scott shared on Twitter. "For 44 years Great Scott has provided entertainment and more than a few beverages to a loyal group of customers. From its inception in 1976 as a local bar featuring blues and folk performers to the 1980s and 1990s as a beloved college dive featuring cover bands and DJ nights, to the 2000s and its emergence as one of the best live music venues in the city, Great Scott has meant many things to many people.
"Through it all we've aspired to be a good neighbor to our community and a friend to all who walk through our doors," he continued. "There is a sign that still hangs in the venue from the establishment that Great Scott replaced. The name of which was Brandy's. That sign reads 'Where Incredible Friendships Begin'. I'm glad we never took it down because it explains Great Scott better than I ever could. Take care of yourselves and each other."
Some news from our general manager Tim below. Ticket buyers will be receiving emails with further information. pic.twitter.com/DvdkY67gEs

— Great Scott (@GreatScottROCK) May 1, 2020
With a capacity of 240 people, Great Scott was an ideal spot to see both local up-and-coming acts and national touring artists. In 2016, Consequence of Sound named it the eighth-best concert venue in America, writing that the "petite, 240-capacity venue carries all the traits of an ace dive bar without the unbearable setbacks."
"Great Scott takes quality booking, unassuming intimacy, and a dash of comically out-of-place crowdsurfing and turns it into something too special to describe," wrote Nina Corcoran for CoS. "It's a group of music obsessives and live show veterans that are willing to chat (even if they don't know you), ready to welcome you to the family (even if you're not local), and know the songs playing over the loudspeaker between sets (just kidding, only the sound guy seems to know that answer)."
As news of the closure spread, music fans and musicians who had played the venue reacted on social media.
This is such a heavy loss for Boston (and honestly anyone touring through or listening to music in New England, period): Great Scott is closed for good. Heartbroken. https://t.co/RLEXwRzivE

— Hilary Hughes (@hilmonstah) May 1, 2020
i hate this news so much. I found SO much joy at Great Scott, on stage and off, for so, so long. thank you for everything. truly thank you. https://t.co/QXOnmLYkwU

— Ryan H. Walsh (@JahHills) May 1, 2020
sad to hear about this. Thank you Great Scott for the memories and shows. https://t.co/hTnkKLE7EQ

— Marissa Nadler (@marissanadler) May 1, 2020
Great Scott is and always will be one of the greatest venues ever. </3

— Emo Night Boston: I AM NOT AFRAID TO KEEP ON LIVIN (@emonightboston) May 1, 2020
moved into my last apartment because it was around the corner from Great Scott & i feel like i met most of my friends here. sounds melodramatic but i'm a very different person because of the scene i found at GS when i was an idiot 22 year old! grateful for all of it.

— 𝐤𝐚𝐫𝐞𝐧 𝐦𝐮𝐥𝐥𝐞𝐫 (@KarenLottie) May 1, 2020
great scott was where my old band released our first full length on a record label. everyone always made me feel at home. it felt like our space. we played lots of shows there over the years. I'm too emotional to do or say anything other than this hurts. pic.twitter.com/S9c6hnVaIS

— brett. (@brettmcolangelo) May 1, 2020
I have approximately 10 billion great memories from Great Scott. Met a lot of friends there. Drank a zillion PBRs. I am sad

— DJ Bean (@DJ_Bean) May 1, 2020
I'm crying. Great Scott is everything.

— jukebox gyro (@tape) May 1, 2020
I feel like a friend died. Boston without Great Scott is truly unimaginable. There's no place like it, its management, or its staff. Thank you for making a tiny venue feel like a second home. Hundreds of irreplaceable memories 💔 https://t.co/tFJGAjvaU8

— Nina Corcoran (@Nina_Corcoran) May 1, 2020
Correction (5/11/2020):
This article has been updated to correct an error in the reason for Great Scott's closing. Boston.com regrets the error.