Entertainment
When will drive-in movie theaters re-open in Massachusetts? One owner hopes as soon as possible.
The co-owner of Mendon Twin Drive-In is pushing Gov. Baker to allow him to re-open for business.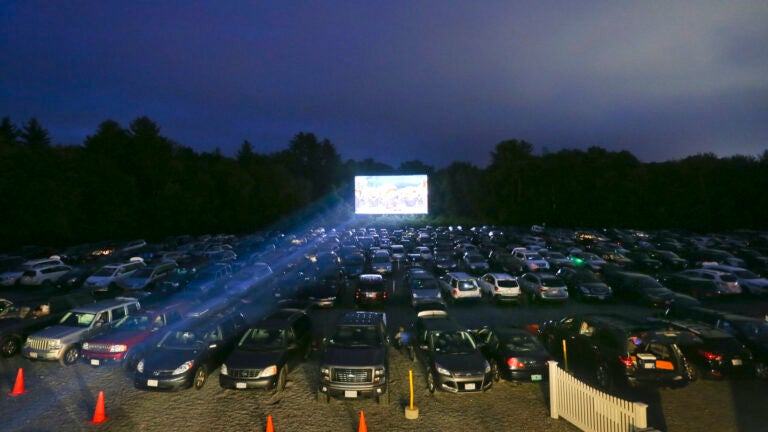 As Massachusetts businesses await guidance on if, when, and how they will be able to re-open amid the coronavirus pandemic, one businessman is pushing to bring customers back "as soon as it's legally allowed."
Dave Andelman, who owns the Mendon Twin Drive-In movie theater with his brother, Dan, recently published an open letter to Gov. Charlie Baker in the Lowell Sun asking for permission to open for business. On April 30, seven state representatives and two state senators signed a letter to Lt. Gov. Karen Polito making the same request.
"Other states allow drive-ins to operate using enhanced social distancing guidelines such as the distance of 14 feet or more between vehicles," the letter reads. "Mr. Andelman has also done extensive work similar to what is being used at take-out dining locations for his concession area and in fact has gone above and beyond it. His operation is the model other drive-ins here in our state could also use to open."
Drive-in theaters are not included on the list of essential businesses permitted to remain open in Massachusetts, nor on the clarifications for nonessential stores that remain in effect until at least May 18. Andelman said he has not received any indication from state officials on when Mendon Twin or any of the state's three drive-ins may be able to reopen. But he is preparing nonetheless.
"We believe the facility is as safe as any restaurant takeout operation and safer than a Walmart, Target, or Home Depot," Andelman told Boston.com in an email. "A customer can choose to remain inside the vehicle the entire time, and we have much more space per person than almost any other business."
Elsewhere, a few dozen of the nation's approximately 305 drive-in theaters have been able to open with new rules and restrictions. In Georgia, the Tiger Drive-In has been open since mid-April, showing old releases like "Avatar" and "Valley Girl" to groups of 60 vehicles instead of its usual capacity of 220. Family Drive-In Theatre in Virginia was able to reopen just as demand this season started to pick up. Other countries have seen drive-in theaters continue operating during the coronavirus as well, with governments in South Korea and Germany even creating pop-up drive-in theaters in public parks, according to The Hollywood Reporter.
John Vincent, the president of the Wellfleet Drive-In and the president of the United Drive-In Theatre Owners Association, said in an interview with Cheddar that drive-ins are well-positioned to re-open.
"We are expecting probably higher attendance due to [being] — for lack of a better term — the only game in town as we're able to open once these essential business orders get relaxed in the future," Vincent said. "That may be tempered by some increased social distancing we have to do, some decreased parking lot capacities. But yes, the drive-in does have inherently built-in social distancing with it, and it does make sense to be on the early side of the re-opens."
Reopening, however, won't come without changes. According to its website, Wellfleet Drive-In will open "when permitted by the Commonwealth of Massachusetts and the time is right." For Vincent, that will involve significant changes to how the theater operates.
"Wellfleet [Drive-In] has been cash-only at the box office since 1957," Vincent told Cheddar. "We're going from zero to 60, not only accepting credit cards, but at least initially requiring advance tickets."
Andelman said that the Mendon Twin would enact similar measures as other businesses in order to maintain social distancing: The theater will block off every other parking space and use fences, spray paint, tape, and signs to create six-foot distance markers for customers in line to buy food and use the restrooms. Restrooms will be cleaned and sanitized regularly, and every other toilet will be blocked off. Picnic tables in open seating areas will be turned over. Popcorn containers will be covered. Butter, sugar, and condiment dispensers will be removed, with those items available in packets from staff, who will all wear masks and gloves and be asked to check their temperature prior to working. 
As for the on-screen entertainment, Andelman said that the theater hopes to provide a mixture of new and recent releases as well as retro titles, highlighting the theater's annual special screenings of "Jaws" and "Jurassic Park." The theater may have to lean on the older titles early on, though: Almost every major studio release planned for this summer has been postponed, with only a few titles still tentatively slated for June and July debuts.
Mendon Twin may host more than just movies given the lack of new releases: Andelman said he's been approached by promoters "seeking a new, safe, creative outlet" for concerts and stand-up comedy, and has fielded questions about holding graduations and weddings.
That same model is being pursued by the Northfield Drive-In as well, albeit under new ownership. The theater, which sits on the Massachusetts-New Hampshire border — its entrance is in Massachusetts, but the rest of the property is in the Granite State — is already slated to host graduation ceremonies for two nearby high schools, owner Julia Wiggin told the New Hampshire Union-Leader. Each of the school's graduates will be able to walk up and get their diploma, while friends and family watch from their vehicles, as well as listen to speeches from the valedictorian and watch the ceremony projected on the big screen.
Wiggin, who bought the theater with her husband, Steve, that is "literally in her backyard," told the Union-Leader that they were in contact with state officials about re-opening, and hoped to meet the usual opening date of Memorial Day weekend.
Like the other theaters, Northfield Drive-In will have to make some changes to how things run. One interesting twist, according to Wiggin, is that the theater won't host double features, normally a drive-in staple.
"We can't have that many people using the restrooms at the intermission," Wiggin told the Union-Leader. "We can't have people here for four or five hours."
The Leicester Triple Drive-In did not respond to a request for comment.
While they await word from legislators, Andelman said that the Mendon Twin would be open for takeout starting this Wednesday in order to perfect their food and drink operation.
"We will open for movies as soon as it's legally allowed, hopefully very soon," Andelman said. "We're just waiting for permission and guidelines from the state."