Entertainment
'We're all trying to survive': Local movie theaters are fighting to prevent the final curtain
How and when will movie theaters reopen in Massachusetts during the coronavirus pandemic? Here's what local theaters are thinking, and what has happened nationwide.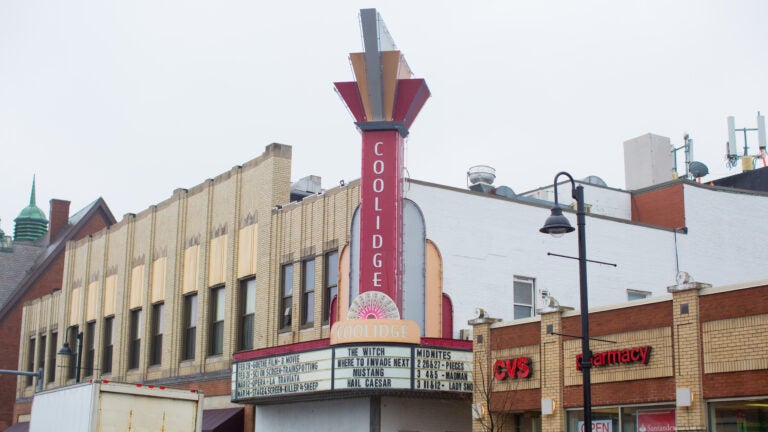 On April 20, the non-profit Brattle Theatre sent an email to newsletter subscribers. The subject line: "We need you now more than ever." The theater had just received word that it had not been approved to join the Payroll Protection Program (PPP), despite applying on the first day the government accepted applications. 
The theater continued to pay full-time staff, but without a small business relief package, the prospect of operating long-term during the coronavirus pandemic relying mostly on donations was not an inviting one.
"We're trying to keep our eye on the final goal, which is having the Brattle survive something like this," executive director Ivy Moylan said. "That's our ultimate goal."
In Brookline, the area's second major nonprofit theater, the Coolidge Corner Theatre, faced similar difficult decisions about its future. Though it had been approved for the PPP and had a variety of secondary income streams up and running, it made the decision to furlough employees who weren't full-timers. Executive director Katherine Tallman helped jumpstart a virtual screening program — in which the theater directs fans to new movies to rent online and receives a cut of the fee from distributors — but revenues were way down.
"The revenue from the virtual screening room is a fraction of what a weekend would draw when you have four theaters and 750 seats, but it's something," she said.
Even before Governor Baker's Monday announcement of a four-phase approach to reopening the economy in Massachusetts, directors of both theaters remained optimistic that they would weather the storm — that is, unless the coronavirus were to usher in a future where no more than 10 people could be in the same room ever again.
"If we get to the point where we're talking about whether movie theaters can ever come back, we all have much bigger problems," Tallman said.
How are movie theaters nationwide handling the coronavirus?
By virtue of their non-profit statuses, the Coolidge and Brattle's situations are somewhat different than companies like AMC Theaters, the largest theater chain in the nation.
AMC's prognosis was especially grim in early April, when S&P Global Holdings downgraded AMC's debt rating from B to CCC- following its decision to close all locations through late June and lay off or furlough 26,000 employees. 
The chain's prognosis looked slightly better later in April, when AMC's CEO announced the company could survive theaters being closed until Thanksgiving thanks to a plan to raise $500 million in debt and defer payments on rent. Nevertheless, no wide-release movies are due in theaters until at least mid-July, with Christopher Nolan's drama "Tenet" (July 17) and Disney's live-action "Mulan" (July 24) still tentatively scheduled to hit theaters. 
There also remains the question of whether people will return to theaters once they open. A Reuters/Ipsos poll showed fewer than half of Americans planned to return to sporting events, concerts, movies, or amusement parks before a COVID-19 vaccine is found. A Hollywood Reporter/Morning Consult poll's findings painted a similar picture, with 50 percent of respondents saying it was "very unlikely" they would return to theaters a month after their state reopened movie theaters.
Even drive-in theaters, which have opened in some states and are generally able to more easily provide social distancing than traditional cinemas, will be stung by the lack of new releases. 
John Vincent, the president of the Wellfleet Drive-In and the president of the United Drive-In Theatre Owners Association, said in an interview with Cheddar that drive-ins might be able to stay afloat using old titles for a couple of months, but that new releases are crucial for their success, just like traditional theaters.
"People want to come to the drive-ins to see first-run movies," Vincent said. "And we need our indoor studio brethren to be up and running to ensure a vibrant industry for all of us, including drive-ins. They're not going to make first-run Hollywood product just for drive-ins."
How will movie theaters reopen safely?
Here in Massachusetts, non-essential businesses remain closed until May 18, and on Friday, Boston Mayor Marty Walsh announced that it "didn't make sense" for large crowds to gather "in close contact for prolonged periods" until at least the end of summer. In other states, however, movie theaters have begun to reopen, giving local cinemas a preview of what might need to be done to bring customers back.
In Texas, Gov. Greg Abbott allowed theaters to reopen at 25 percent capacity at the beginning of May. One theater company in the state instituted "airport security-style check-in," including infrared temperature checks and questions about whether friends or family have experienced flu-like symptoms in the last 14 days. Inside the theater, every other row was closed off and every group was seated at least six feet apart.
When asked about reopening, Moylan said that she and Brattle creative director Ned Hinkle had gone to the theater to lay down tape to see what a hypothetical socially distanced seating plan would look like, as well as brainstorming plans around concessions and ticket sales. But the duo would wait on recommendations from the government and public health experts before committing to any plan.
Tallman had similar sentiments, saying that she had learned early on during the pandemic that "whatever you plan for in the future will be proven naive in about two hours," and that a rush to reopen could spell the worst possible outcome.
"The last thing everyone wants is a false start," Tallman said. "If you reopen with social distancing in place and something happens shortly after, you're going to go backwards 10 feet. People will be so jumpy."
What are local movie theaters doing during the pandemic?
Amidst the crushing financial losses caused by closing theaters, there have been bright spots for local cinemas: The Coolidge has steadily added movies to its virtual screening room, with some drawing hundreds of people in the opening week. It has also been able to expand its virtual seminars, in which a film expert gathers to lead a discussion on a certain film or filmmaker. Typically, capacity for those discussions, held in one of the Coolidge's 45-seat theaters, was limited. But with Zoom, the Coolidge welcomed hundreds of paying guests last month, from as far away as Peru.
Small for-profit theaters in the area have had success engaging their dedicated community as well. The Somerville Theatre has seen return visitors to its weekly "pop up," selling popcorn, soda, and candy at the theater every Saturday. When the future of the small West Newton Cinema was threatened by the coronavirus, the owner's daughter started a GoFundMe campaign that raised $44,000, easily beating its $25,000 goal.
And last week, the Brattle sent another email, this time with positive news: It had received more than $165,000 in donations as well as approval for PPP funding, allowing it to support staff through mid-July.
Even before the PPP approval, Brattle creative director Ned Hinkle remained optimistic when faced with the theater's daunting challenges.
"We could come back stronger than before," Ned Moylan said. "We just have to make it through this intermission."