Entertainment
John Krasinski reportedly sold 'Some Good News' following a 'massive bidding war'
John Krasinski's optimistic YouTube series "Some Good News" has a new owner.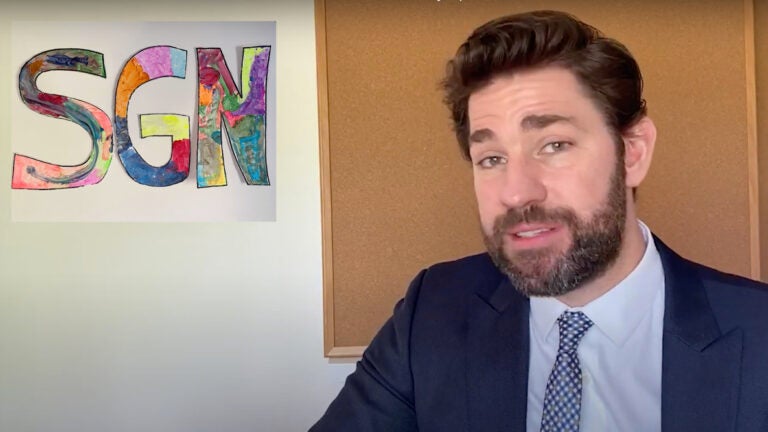 "Some Good News" will return in the future, but it won't have Newton native John Krasinski as host.
According to The Hollywood Reporter and Variety, Krasinski has inked a deal with CBS/Viacom following a "massive bidding war" to license "Some Good News," Krasinski's feel-good YouTube series that highlights positive stories during the pandemic.
While "Some Good News" seems like an idea perfectly tailored for the coronavirus pandemic, both outlets reported that Krasinski first came up with the concept seven years ago — though he only decided to finance and produce it himself in March. Each of the eight episodes earned millions of views and featured an impressive number of celebrity guests, including Brad Pitt, Oprah Winfrey, and the cast of "The Office." The show, filmed in Krasinski's own home, went on indefinite hiatus Sunday after eight episodes.
"Could not be more excited and proud to be partnering with CBS/Viacom to be able to bring 'Some Good News' to so many more people," Krasinksi said in a statement, per the outlets. "From the first episode, our goal was to create a news show dedicated entirely to good news. Never did I expect to be joining the ranks of such a historic news organization as CBS."
Under the terms of the deal, CBS/Viacom will be able to air "Some Good News" segments — which will be produced by Comedy Central Productions — across its many channels and online platforms. Possible homes for the "SGN" content include CBS All Access, where it would likely debut, and CBS News, which could use it as a recurring feature in broadcasts.
In perhaps distressing news for Krasinski fans, the Newton native will not return as host, but will serve as an executive producer and will retain a "recurring on-screen presence."
While Viacom/CBS may seem like an odd corporate partner to fans who associate Krasinski with NBC sitcom "The Office," the actor has had a continuous relationship with the company for several years. Krasinski filmed "A Quiet Place" and its sequel with Viacom subsidiary Paramount Pictures, and his Amazon series "Tom Clancy's Jack Ryan" is produced by Paramount Television Studios.