Entertainment
A longtime Great Scott employee has raised over $100K in a crowdfunded campaign to reopen the music venue
The venue's former booking manager hopes to raise at least $150,000 to help restart it.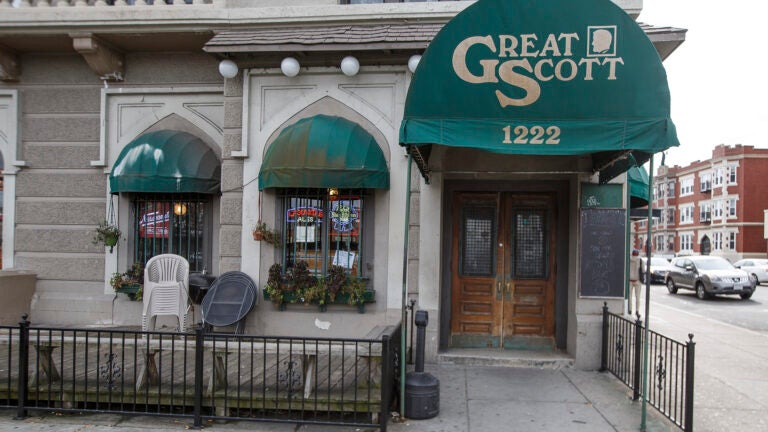 Great Scott may have an encore after all.
A crowdfunded investment campaign started by the music venue's longtime talent buyer, Carl Lavin, has raised more than $112,000 in the hopes of reopening the Allston institution, which closed in May after 44 years in business.
Lavin began booking shows at Great Scott in 2003 and is, as journalist Luke O'Neil recently put it in his newsletter, "the man mostly responsible for turning Great Scott into what it is." Not long after Great Scott owner Frank Strenk decided not to continue the venue's lease, Lavin brokered an agreement with Strenk for the transfer of Great Scott's name, intellectual property, and liquor license. He has also been in touch with the building's owner, Oak Hill LLC, about his campaign and is hopeful negotiations on a lease will take place if the campaign is successful.
Lavin is running the campaign through Mainvest, an investment platform that allows regular people to put money behind businesses they believe in and potentially see a return on their investment. Great Scott's campaign is currently offering investors a 1.3x return, meaning that someone who invests $100 would stand to receive $130, paid in small increments by Great Scott on a quarterly basis that would begin when the venue reopens and finish on or before Jan. 1, 2027.
"I thought it was fantastic that Oak Hill was open to Great Scott remaining a music venue," Lavin told Boston.com in a recent interview. "I wanted to find someone who might be able to carry Great Scott into the future, and when my wife showed me Mainvest, I thought, 'Oh, that could be me!'
"Great Scott has always been such a community-based hub for artists," he continued. "The idea that the community could legitimately feel like they have ownership in the efforts to help Great Scott continue and operate like it has for all these years — I knew I had to explore it."
Mainvest has previously helped businesses like Brato Brewhouse and Kitchen in Allston, Adventure Pub in Cambridge, and Comfort Kitchen in Dorchester raise hundreds of thousands of dollars in order to open their doors.
Mainvest co-founder Nick Matthews, whose former band performed at Great Scott when he was in his early 20s, said that the venue's passionate community support is a perfect example of why his company exists.
"We built Mainvest to let Main Street, not Wall Street, have a say in the economic development and growth of their community," Matthews said. "If something like this didn't exist, we'd probably just see luxury apartments built instead."
Even before Lavin began his campaign, public support swelled for Great Scott following news of its closure. Nearly 25,000 people signed a Change.org petition attempting to save the venue, and a GoFundMe campaign for employees of Great Scott and O'Brien's Pub — which is also owned by Strenk — affected by the coronavirus-related closures raised almost $50,000.
Lavin hopes to raise at least $150,000 through the campaign, with a stretch goal of $350,000. That cushion could be crucial, as Lavin hopes to show Oak Hill that Great Scott can withstand the months when music venues will remain closed or be operating at limited capacities due to the ongoing pandemic. Additionally, Lavin plans to add soundproofing to the venue, something Oak Hill had requested Strenk do prior to the pandemic. (The company rescinded that request once the pandemic hit.)
Even with a successful campaign, there's no guarantee that Oak Hill will enter an agreement with Lavin. With Strenk choosing to end Great Scott's month-to-month agreement with Oak Hill last month, the landlord is free to select any tenant it chooses.
"Mr. Lavin was told that he is free to submit an application for the premises, as is any member of the public," John Mangones, an attorney representing Oak Hill, told Boston.com in an email. "That has been the extent of our communications."
Lavin, however, remains hopeful that Oak Hill will work with him. He said that the company has been "great" and "so patient" with Great Scott over the years, and that it was unfairly cast as the villain when news of Great Scott's closure broke, despite Strenk making the decision to close the venue.
"If Great Scott continues to move forward and has a chance to reopen, [Oak Hill] will be the heroes in this story," Lavin said. "I would absolutely love it if the narrative about the closure could be flipped on its head.
"I can't wait to be the best tenant they've ever had."