Entertainment
Two teens launched a Massachusetts TikTok house in April. Now it has 14 creators and over 900k likes.
"the.mass.house" features TikTok creators from across the state, ranging from ages 14-20, posting almost exclusively about Massachusetts.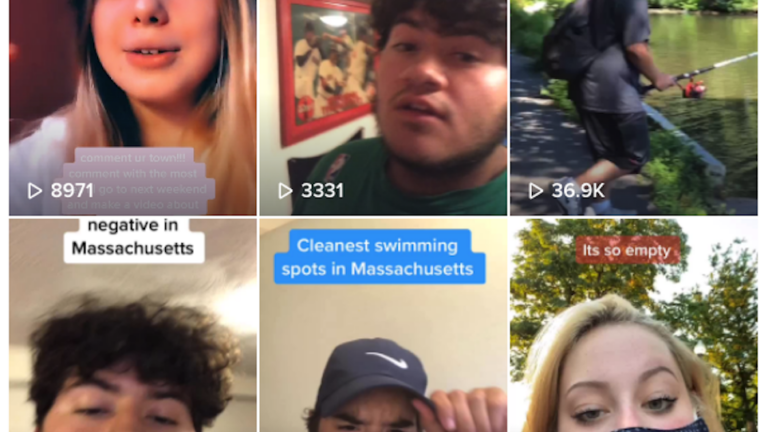 They broadcast from their bedrooms, after Googling things like, "Strangest unsolved mysteries in MA." They dance in front of green screen filters, and drive across the state to document its more hidden gems. They peruse public places, like the Frog Pond at the Boston Common, phone-in-hand and ready to share their Massachusetts-related thoughts with the world.
Fueled by a group of 14 creators, "the.mass.house" on TikTok showcases posts from young residents across the Bay State, ranging in age from 14 to 20 years old.
Mario Pizzi, 18, of Weymouth, founded the group with his friend Kyle Gove, 17, from Revere, back in April after the two connected on the app over posting similar regional content.
Pizzi, who has over 25k followers of his own, said the group came about when Gove messaged him and suggested getting a group together of creators with Massachusetts-related followings from different areas.
TikTok houses rose to popularity in the app in the past year, as users realized they could rack up more views, follows, and likes from cross-promotional content across several affiliated accounts. TikTok's top creator Charli D'Amelio, who has 75.8 million followers, grew to fame in the LA-based "Hype House."
The Massachusetts group's now 14 affiliated accounts represent several counties. "We have [people] from Revere, Franklin, Andover, one in Holyoke actually, Burlington… yeah, so a lot of people from all over pretty much," the Weymouth native told Boston.com.
Each person in the group has their own posting day. Pizzi, who has recently been doing local ice cream reviews,  also says each creator has their own theme to their posts. "I do places around here, people do sports, like brand deals and all that, and just other random videos."
The videos range in topics from local food reviews and sports to weird Massachusetts facts. Pizzi says his favorite type of videos to make are ones of the creepy variety. "I like making like, creepy, videos about the state. The ghost stories, mysteries that, like, [have] never been discovered, or solved."
The collaborative community effort is not just seen in the group working together to create content across different topics, but also in how the content is made. Commenters suggest places to feature, and things to review.
Local businesses have appreciated promotional opportunities from the group as well. "These restaurants and the ice cream places recently, some workers there also do the same thing and tell me that more and more people are coming in to their restaurant. Which is pretty cool," Pizzi said.
Not all of the topics are as benign as best-tasting ice cream in the state, though. Several of the globally public TikToks feature stereotypes about certain Massachusetts towns.
"Those videos are obviously jokes," said Pizzi about his TikToks that lampoon stereotypes about kids in Brockton. "When I first started doing those videos, it was a lot of stereotype videos, it was more like a joke account at the time." He says he's since gotten away from that style of content, which he said wasn't meant to insult anyone. "It's not really like coming at anybody."
Moving forward, Pizzi says he just wants to make videos that his audience enjoys, and will continue to make regional Massachusetts content. "If that's my content that I post, and that's what people follow me for, that's what I am going to give them," he says.
As the Chinese-owned video app TikTok rises both in popularity and in uncertainty regarding its future (following President Trump's vow to ban the app from the United States), many creators have said asked their audiences to follow them to other platforms in case of a ban.
Pizzi said of the potential ban in an email, "I'm not really worried about it so much because this isn't the first time something like this has happened. If it does get banned, I'll most likely be transferring my platform on either YouTube or Instagram."
As of now, the.mass.house currently has just shy of 45,000 followers.
Get Boston.com's browser alerts:
Enable breaking news notifications straight to your internet browser.