Entertainment
Despite casinos reopening, it's currently game over for arcades in Massachusetts
Arcades moved from Phase 3 to Phase 4 of the state's plan, prompting some to question the reopening of casinos.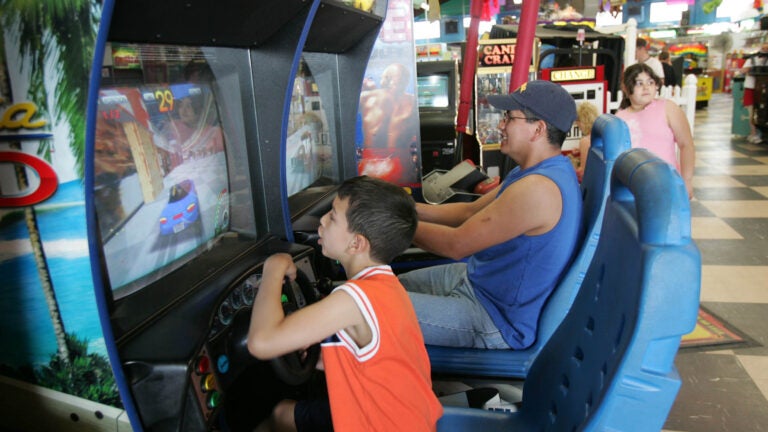 If you want to visit a casino in Massachusetts, you're in luck. But if it's an arcade you seek, game over.
Arcades have been shifted from Phase 3 to Phase 4 of the Massachusetts reopening plan as of early July. That means arcades remain closed and can reopen after a treatment or vaccine for COVID-19 is found. Casinos, meanwhile, reopened in Massachusetts in July, with space restrictions requiring slot machines to be four feet apart with plexiglass shields between each machine (or six feet apart without plexiglass barriers).
Joe's Playland, an arcade on Salisbury Beach that has been open for more than 100 years, found that out the hard way when it was shut down by the state at the end of July.
"We made significant financial investments to the infrastructure of our facilities and exceeded the requirements of what was needed to ensure social distancing and proper sanitation. Our updates were approved by the Board of Health," the arcade wrote on Facebook. "While casinos remain open ― and arcades at Hampton Beach are open ― we will lose the majority of our revenue this year. As a business of any size, this is devastating ― as a small business, we worry about what it means not only for us, but for Salisbury Beach itself."
Joe's Playland owner Fred Abdulla told The Eagle-Tribune that Joe's spent between $20,000 and $30,000 on new sanitation and safety features before the state told him he would have to remain closed, which also forced him to lay off 25 employees.
Following the announcement, Rep. Jim Kelcourse (R-Amesbury) told The Eagle-Tribune that he would do "everything in his power" to help Joe's reopen. He questioned why casinos like Encore Boston Harbor are operating while Joe's was forced to shut down.
"If the [Encore Boston Harbor] casino can reopen, then Joe's should be open. Casinos have the same type of touch surfaces that arcades do," Kelcourse said. "The Abdulla family has followed all of the guidance and played by all of the rules. They did everything they were supposed to do and, in my opinion, they went above and beyond the protocol. I just don't think it's reasonable to move arcades into Phase 4 because a place like Joe's Playland has done everything they are supposed to do."
Apex Entertainment
in Marlborough, which has 70-plus arcade games along with other attractions like go-karts, laser tag, and bowling, has also scrambled to adjust on the fly due to the state's decision.
Operations manager Joey Slawinski said Apex found out about the change in phases three days before it was scheduled to reopen. As a result, the venue has been able to reopen its bowling alleys, go-karts, bumper cars, ropes course, sports simulators, and food and beverage area. The company is also working on getting an indoor mini-golf course up and running, which it expects to debut later this year. Nevertheless, the arcade announcement led Apex to cut back on employees.
"Arcades account for a large portion of our revenue and [allow] us to staff more employees and get them back to work," Slawinski said. "With the arcade being closed, it affects more than just the financial side, but also our employees are impacted as well."
Slawinski said the fact that casinos could reopen but arcades could not was "100 percent unfair," saying that arcade games and slot machines have the "same flashy lights and simple buttons," with the primary difference being that arcade players are "winning tickets [instead of] money."
"There are plenty of similarities in arcade games and casino games like slot machines, and the fact that we cannot open them is unfair," Slawinski said. "And we believe it is due to the revenue generated by the casinos to the state that ultimately made that decision."
Gov. Charlie Baker's office declined to comment for this story.
For now, Joe's Playland is being supported by visits to its concession stand for ice cream and seafood, as well as buying game cards for future visits.
"A huge thank you to all of you who have stopped by, called, e-mailed and messaged us on Facebook to show your support!" Joe's wrote. "We have felt the love and hope you feel it right back."
A huge thank you to all of you who have stopped by, called, emailed and messaged us on Facebook to show your support! We have felt the love and hope you feel it right back. ❤️

Posted by Joe's Playland on Tuesday, August 4, 2020
Get Boston.com's browser alerts:
Enable breaking news notifications straight to your internet browser.