Entertainment
The story of 'The New Mutants,' the 'cursed' Marvel movie filmed in Mass.
After the director spoke of 'weird' happenings during filming at Medfield State Hospital, "The New Mutants" has suffered years of bad luck.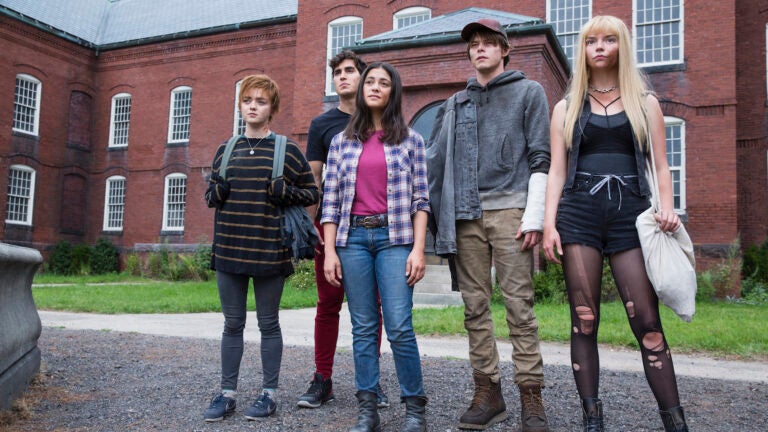 On April 5, 2017, director Josh Boone announced that he had begun work on his newest project, "The New Mutants," which was to be filmed in Massachusetts.
Based on a Marvel comic book series from the 1980s, "The New Mutants" follows five teenagers who are locked in a mysterious mental hospital and begin to discover and harness their mutant powers. In the lead role was Maisie Williams, who had become a fan favorite as Arya Stark on HBO's smash hit "Game of Thrones."
With "The New Mutants," 20th Century Fox hoped to follow the financial success of 2016's "Deadpool," an R-rated comedy that was tonally different than other superhero films. The movie was to be more of a superhero horror film, which Boone described as "really dark, interesting, and different from the typical X-Men stories." If "The New Mutants" was a success, it would help to solidify the studio's plan of using the X-Men universe as a jumping-off point to create multiple film franchises.
Instead of a cash cow, however, the movie has earned another label: "cursed."
More than 40 months after pre-production began in Massachusetts and almost three years after the first trailer for "The New Mutants" was released in October 2017, the film is finally set to land in theaters nationwide on August 28 as one of the first major releases since the coronavirus pandemic. With reduced capacity at many theaters nationwide, including in Massachusetts, and New York City and Los Angeles keeping theaters closed, it's unlikely to be the box office smash the studio had hoped for. The dreams of a trilogy are all but gone as well: A planned post-credits teaser starring Antonio Banderas that would have set up future sequels was ultimately never filmed.
Here's the story of the "cursed" production of "The New Mutants," which features everything from "weird" happenings on set at Medfield State Hospital to a complex studio merger that threatened the film's release altogether.
When "The New Mutants" was first announced, it seemed like a slam dunk idea for 20th Century Fox. "Deadpool," the R-rated X-Men spinoff starring Ryan Reynolds, was a runaway success, grossing over $419 million. With the X-Men being the only Marvel characters Fox still had control of after Disney's acquisition of Marvel Entertainment in 2009, the company was ready to experiment with new superhero ideas, including more "X-Men" prequels and "Logan," a solo spinoff for Hugh Jackman's popular character Wolverine. In early discussions of the film, both Boone and Fox executives envisioned "The New Mutants" as a trilogy.
Pre-production began as scheduled in April 2017, and principal photography started in July, with filming primarily based at the now-closed Medfield State Hospital. (The movie was also shot in Millis, Lynn, and Weymouth.) By the time production wrapped later that summer, things still appeared to be on track for the film's planned April 3, 2018, release date. Fox put out a trailer for "The New Mutants" in October, edited to emphasize the nightmarish prison these coming-of-age mutants inhabited.
It was during the press push for the first trailer that Boone first spoke of "weird" things happening to crew members at Medfield State Hospital during filming.
"Literally every single person on my crew — all my grips — all those people had weird things happen to them while they were there," Boone told IGN of the abandoned state hospital, which also served as a filming location for "Shutter Island" in 2009. "I even told the behind-the-scenes crew to go interview everyone who had weird stuff happen to them for an extra on the Blu-ray."
Not long afterward, 20th Century Fox chose to move the film's release from April 3, 2018, to February 22, 2019, in order not to conflict with the release of "Deadpool 2." While not ideal for "The New Mutants" given that it had already released a trailer, the move didn't necessarily raise any alarm bells. But behind the scenes, things were changing rapidly.
During the production process, studio executives reportedly asked Boone to make the film more of a young adult film, and less of the straight-up horror movie he had planned.
According to The Tracking Board, the plan changed again when Warner Bros' Stephen King adaptation of "It" hit theaters, convincing Fox executives they should cut a trailer for "New Mutants" emphasizing the horror aspects of the film. After the trailer debuted for "New Mutants," executives asked Boone to go back and retool the movie to be a horror film, which is what he had wanted to do in the first place, according to The Tracking Board.
Around the same time, 20th Century Fox was in late-stage negotiations to be acquired by Disney. In March 2018, when reshoots were reportedly being planned, Fox announced that "The New Mutants" would be released six months later than expected, on Aug. 2, 2019.
When Disney completed its acquisition of 20th Century Fox (rebranded as 21st Century Fox) in March 2019, the status of nearly every Fox movie project was suddenly up in the air. More than 250 people were laid off from Fox's film division, numerous upcoming Fox film projects were canceled, and completed films like "Ad Astra," "Spies In Disguise," and "West Side Story" had their release dates moved. Every single Fox Marvel movie had its release date removed from Disney's schedule.
In May, Disney set yet another release date for "The New Mutants" of April 3, 2020, following reports that the planned reshoots for the movie hadn't happened yet. (Boone later confirmed this, saying that the actors being older after all the merger issues were settled was a factor in the decision to not do reshoots.).
By August, Variety reported that Disney was "unimpressed" by "The New Mutants," believing it had "limited box office potential." Finally, in March 2020, Disney removed "New Mutants" from its release slate once theaters nationwide closed due to the pandemic.
On August 18, theaters nationwide were allowed to begin selling tickets for "The New Mutants," which seems as sure a sign as any that the film is really, truly being released. Even Fox acknowledged the skepticism fans may have about the movie finally coming out: "Get tickets now for #NewMutants, in theaters in 10 days," the studio wrote in a teaser for the film. "Yeah, really."
In an interview with Entertainment Tonight, Boone said that the film remained largely the same throughout all the chaos.
"It really is still the same film," Boone said. "We did a couple little tweaks here and there. […] But the story never changed at all. It's always been the same thing we wrote and went and shot the first time."
Most of all, Boone said he hoped fans would be able to enjoy "The New Mutants" however they felt safe doing so, either in theaters soon or eventually at home.
"I'm just really excited for people to see it," Boone said. "I'm very happy with it. I got to deliver the movie I wanted to make, and nobody bothered me, so that's kind of the best-case scenario."
Get Boston.com's browser alerts:
Enable breaking news notifications straight to your internet browser.