COVID
Netflix cancels Massachusetts-filmed teen drama due to pandemic
"The Society" is over after one season.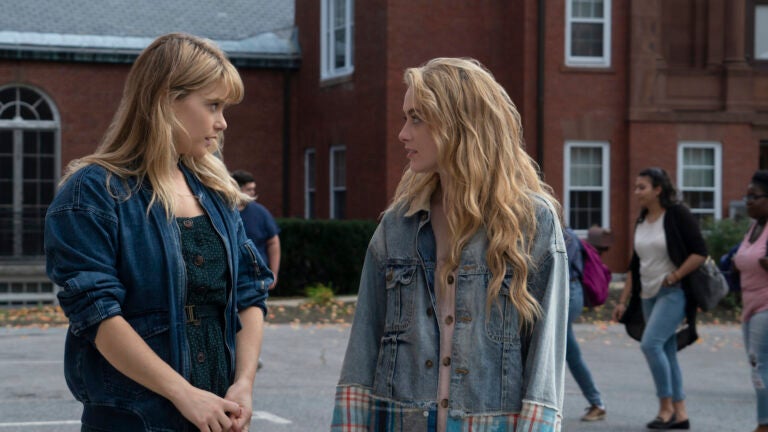 "The Society,"  a Netflix drama series billed as a modern-day "Lord of the Flies" set in the New England suburbs, has been canceled by the streaming giant due to coronavirus-related logistical issues.
The show, which was filmed in Massachusetts in 2018, had already been renewed for season 2 back in July 2019. However, despite the show being well-liked by Netflix, COVID-19-related concerns about the show proved decisive, including uncertainty when season two could begin production, an increased budget due to safety measures, and the show's large ensemble cast.
The town of Lancaster served as the primary filming location for season one, with Netflix even constructing a gazebo on the town green for filming purposes. Filming also took place in Ayer, Bolton, Carlisle, Concord, Devens, Grafton, Groton, Harvard, Lexington, and Sterling.
According to Deadline, season two of "The Society" was in the final stages of pre-production in March and was about to begin filming in Massachusetts when the coronavirus hit. After months of discussions, the series had targeted October as a return to production before Netflix pulled the plug for good.
"The Society" creator Christopher Keyser ("Party of Five") told Deadline that ending the show after only one season — on a cliffhanger, no less — was "the hardest thing" he's had to do in decades of working in show business.
"This was a very tough cancellation," Keyser told Deadline. "We were, for the second time this year, getting ready to go back into production. Everyone had waited so long for this moment — for the chance to be together again. Saying goodbye so abruptly was the hardest thing I've had to do in all my years making shows. We knew we had challenges stemming from the pandemic, but the final decision to cancel us was not something I expected."
Season one of "The Society" followed a group of teens who suddenly found their wealthy Connecticut town completely devoid of adults. The youngsters must fend for themselves in a suburban survival of the fittest. Many of the show's stars, including Kathryn Newton ("Big Little Lies," "Detective Pikachu"), Gideon Adlon ("Blockers"), and Alex Fitzalan ("Slender Man") took to social media when the news was announced, expressing dismay that the show had ended so suddenly, with season two already written and nearing production.
"I'm heartbroken, so heartbroken," Newton said in an Instagram video where she was joined by Adlon. "Everything was written. I can't even believe it."
Along with "The Society," Netflix also canceled another freshman show, "I Am Not Okay With This," because of coronavirus-related circumstances.
"We've made the difficult decision not to move forward with second seasons of 'The Society' and 'I Am Not Okay With This,'" a Netflix spokesperson said in a statement provided to Boston.com. "We're disappointed to have to make these decisions due to circumstances created by COVID, and we are grateful to these creators, including: Jonathan Entwistle, Christy Hall, Shawn Levy, Dan Levine, Dan Cohen, and Josh Barry at 21 Laps Entertainment for 'I Am Not Okay With This;' Chris Keyser, Marc Webb, and Pavlina Hatoupis for 'The Society;' and all the writers, casts and crews who worked tirelessly to make these shows for our members around the world."
Get Boston.com's browser alerts:
Enable breaking news notifications straight to your internet browser.