Entertainment
Arcades can reopen in Massachusetts next week
Baker's announcement came shortly after a Salem arcade filed a lawsuit.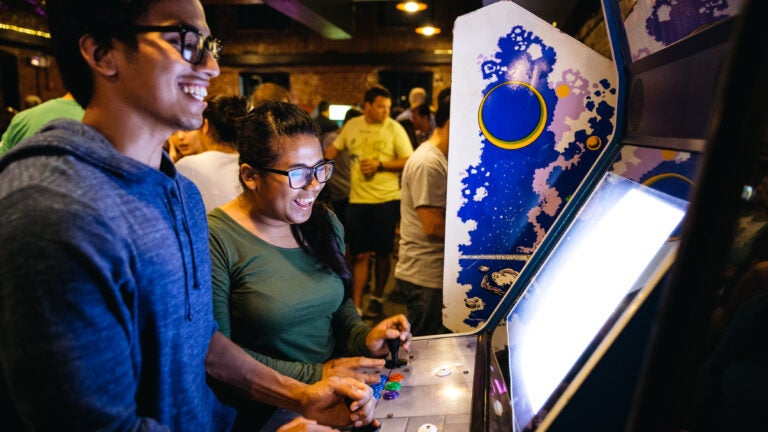 Arcades across the state were stunned in July when Gov. Baker ordered that arcades be moved from Phase 3 to Phase 4 on July 2, only four days before the start of Phase 3.
More than two months after that announcement, Baker reversed course, saying in a press conference on Thursday that he signed an executive order to allow indoor and outdoor arcades to reopen next week.
Baker said that, after looking at surrounding states that had successfully reopened arcades, he determined Massachusetts would be able to do the same based on residents doing their part to prevent the spread of COVID-19.
"Arcades have been open for a while in some of the states surrounding us and we spend a lot of time talking to our colleagues in those states," Baker said. "And they basically said that with capacity limitations, rules, hand sanitizer, and all the rest, that they've been able to be open safely. And we felt based on the data we got from our colleagues in other states that that was enough to move forward."
Baker's announcement came one week after Bit Bar, a Salem arcade/restaurant, filed a lawsuit against Baker in federal court arguing that the governor was violating its First and 14th Amendment rights.
"Gov. Baker reiterated that arcades would be part of Phase 3 in an order of June 6, 2020," wrote Marc J. Randazza, representing Bit Bar in the lawsuit. "Suddenly, and without warning, explanation, or due process, on July 2, 2020, Gov. Baker ordered that Phase III enterprises may reopen beginning July 1, 2020, but shunted arcades to Phase 4. Casinos, however, were permitted to remain in Phase 3."
Bit Bar owner Gideon Coltof, who said he met with state officials multiple times in an attempt to negotiate a compromise before opting to sue, said that the goal of the lawsuit was to force the state to explain why it has allowed casinos to reopen while it's keeping arcades shuttered.
"If Encore can operate 1,800 slot machines, I believe that we can operate 30 arcade games safely at Bit Bar. It's as simple as that," Coltof told Boston.com last week. "I'm looking for equal treatment, and it seems like we're not getting that. Either casinos are getting preferential treatment or arcades are being discriminated against for some reason."
Coltof, who had not been informed by the state prior to Baker's announcement that arcades can reopen, was elated when reached Thursday afternoon for comment.
"I'm certain our lawsuit had something to do with it," Coltof said. "The state has been immovable on this for months. As of August 31, all we heard was, 'We're not changing, we're not moving, we're doing nothing.' And then we filed our lawsuit last week. It was served to the Governor on Tuesday, and two days later he's out in front of the microphones. Wow."
Colton wasn't alone among arcade owners who were miffed about the apparent preferential treatment of casinos by the state.
Joey Slawinski, operations manager of Apex Entertainment in Marlborough, told Boston.com that the fact that casinos reopened but arcades could not was "100 percent unfair," saying that arcade games and slot machines have the "same flashy lights and simple buttons," with the primary difference being that arcade players are "winning tickets [instead of] money."
"There are plenty of similarities in arcade games and casino games like slot machines, and the fact that we cannot open them is unfair," Slawinski said. "And we believe it is due to the revenue generated by the casinos to the state that ultimately made that decision."
While Baker was able to deliver good news for arcade owners in his press conference, he said that bars, which are also part of Phase 4, would remain there at this time.
"Bars and nightclubs are responsible for huge pieces of the outbreaks that took place across the South and the Midwest," Baker said. "We continue to worry quite a bit about the impact they would have on the success we've had today."
Get Boston.com's browser alerts:
Enable breaking news notifications straight to your internet browser.