Entertainment
What critics think of 'Hubie Halloween', Adam Sandler's new Netflix movie filmed in Mass.
What critics had to say — both good and bad — about Adam Sandler's new Halloween comedy.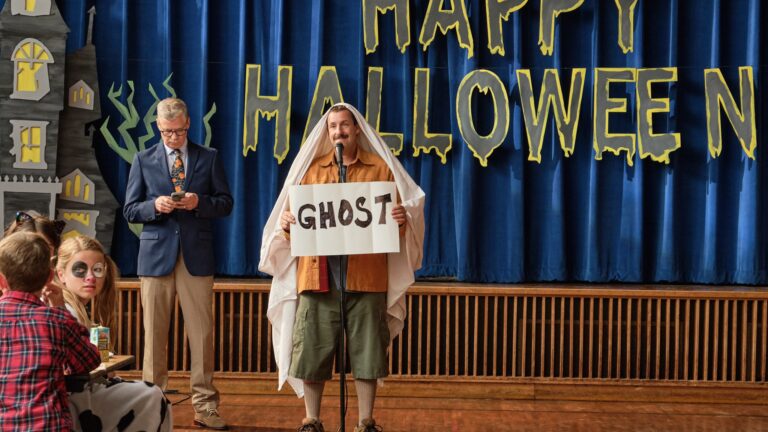 With a few exceptions, Adam Sandler is not generally a critical darling. For the most part, audiences don't seem to care.
The longtime New Hampshire resident has made numerous movies that have reached the lowest depths of the Rotten Tomatoes rankings, including The Massachusetts-filmed "Grown Ups 2" (8 percent freshness rating) and "Jack and Jill" (3 percent), as well as the Netflix-distributed "The Ridiculous Six" (0 percent). And yet, Sandler has been a bankable A-list star for almost 30 years now, and Netflix recently rewarded the actor with a four-film, $250 million deal last year.
His latest, the Halloween comedy "Hubie Halloween," unapologetically blurs the line between silly and stupid, but certainly doesn't scrape the bottom of the barrel like the aforementioned titles. It has plenty to amuse longtime fans of the Sandman, and has a bit more heart than most of Sandler's filmography. (Residents will also enjoy spotting all the familiar locales in the movie, which was filmed in Beverly, Canton, Chelsea, Danvers, Gloucester, Ipswich, Lynnfield, Marblehead, Mendon, Milton, Salem, and Tewksbury last fall.)
Sandler plays Hubie Dubois, a Salem resident who is the laughingstock of the town. He has a love for Halloween — and for lecturing town residents about how to be safe on the holiday — but he's also the world's biggest scaredy-cat. When townsfolk begin disappearing on Halloween night, Hubie must summon the courage to solve the mystery himself.
At the time of this article's publication, "Hubie Halloween" had earned a 50 percent freshness rating on Rotten Tomatoes, which puts it comfortably in the top half of Sandler's filmography.
That said, a single number can't adequately capture the range of critical response, and many of the reviews coded as "fresh" or "rotten" by the critical aggregation site have a bit more nuance. To help you judge whether to add Sandler's latest to your Netflix queue, here's what some of the top film critics are saying, both good and bad, about "Hubie Halloween."
The Good
Vulture critic Bilge Ebiri wrote that "Hubie Halloween" was pleasantly amusing, even if it doesn't exactly pave new ground.
"There's a lot to be said for a movie that understands the inherent hilarity of Ray Liotta nonchalantly wearing a giant rainbow-colored clown wig alongside a coat and tie, or the spectacle of Tim Meadows trying to arouse Maya Rudolph by gently licking the pudgy, rubbery fingers of a fake hand, or even the simple joys of a Kenan Thompson reaction shot. None of this is particularly original, but nobody said you had to be original to make people laugh."
Jake Coyle of the Associated Press summed up his surprise at the quality of Sandler's latest with the headline "Adam Sandler's 'Hubie Halloween' is… good?"
"It feels like it's been a while since it was this much fun to watch Sandler et al goofing around. Sandler, already inextricably linked to Thanksgiving, has now left a mark on Halloween. … Maybe, too, we're more in need of some good, stupid fun right now, and 'Hubie Halloween' is smart enough to do stupid just right. Steve Buscemi as a werewolf, at least, is an antidote to something."
USA Today's Brian Truitt called the movie "a feel-good, all-star monster mash with a low-key smackdown on bullying and a major focus on being as goofy as possible."
"Hardcore Sandman fans will find plenty to adore in "Hubie," which is akin to a mini Baby Ruth candy bar in a trick-or-treat bag: sweet, gooey, nutty and satisfying enough.

The So-So
John DeFore of The Hollywood Reporter called the movie "silly, overstuffed and as sweet as anything Adam Sandler has done." 
"With the exception of a surprisingly useful thermos, nearly no joke in the film will be remembered the next day. But Hubie is good company for old fans who've visited Happy and Billy too often to be surprised by their foibles and unlikely feats."
David Ehrlich of IndieWire gave the movie a B-, admitting that simple gags like seeing June Squibb wear a shirt that says "boner donor" are the kind of escape he needed right now. 
"What do words like 'good' or 'bad' even mean anymore? Sure, 'Hubie Halloween' feels like it was written in the span of a single afternoon by two middle-aged men wearing gym shorts, but at least they included a scene where Ray Liotta refers to Sandler's dim-witted hero as "Pubie Dubois". Sure, this dopey story about a Halloween-obsessed scaredy cat who teaches the jerks in his town about the true meaning of bravery or whatever is just a flimsy excuse to let Sandler and his friends make each other laugh on someone else's dime/bottomless corporate debt, but at least it allows every American to fulfill their lifelong dream of watching Steve Buscemi play a werewolf."

The Ugly
Variety's Guy Lodge warned that only fans of Sandler movies should bother watching "Hubie Halloween." 
"If you're still merrily chuckling at the idea of Squibb wearing the words "Kayaking Gets Me Wet" across her chest, then proceed to "Hubie Halloween," for you'll find all your holidays have come at once. That's about as good as the running gags get in Adam Sandler's latest Netflix joint, which isn't especially quick or funny even by the comedian's basic standards — but is also too cheerfully, indifferently silly to raise much ire."
Newsday's Rafer Guzman said that after the promise of Sandler's role in "Uncut Gems," it was unfortunate to see Sandler once again playing one of his "mush-mouthed man boys."
"This seasonal comedy is notably lazy even by Sandler's standards, composed almost entirely of recycled and stolen ideas. Like much of Sandler's contractually mandated Netflix output, it seems utterly unconcerned with pulling in an audience or keeping one entertained. It doesn't even seem to care if it insults the built-in audience it has."
Get Boston.com's browser alerts:
Enable breaking news notifications straight to your internet browser.