Entertainment
What critics think of 'Honest Thief,' Liam Neeson's Boston-based action movie
The reviews (both good and bad) of the action-thriller filmed in Worcester.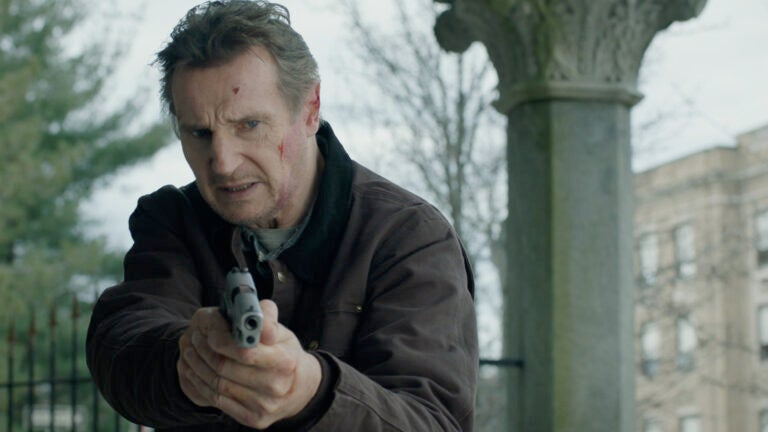 Liam Neeson has a very particular set of skills. Skills that apparently include opening a major motion picture in theaters during a pandemic.
Even as studios are delaying planned blockbusters left and right, Open Road Films is opening the Neeson action-thriller "Honest Thief" in 2,425 theaters this weekend.
"Honest Thief," which is set in Boston and was filmed in Worcester in late 2018, stars Neeson as Tom Carter, a retired bank robber who has managed to steal $9 million over a long career. When Tom falls in love with Annie (Kate Walsh, "Grey's Anatomy"), he decides to come clean about his criminal past. Upon doing so, he is double-crossed by a pair of FBI agents who want to take his bank-robbing fortune for themselves, forcing Tom to go on the run and drawing in another FBI agent (Amesbury native Jeffrey Donovan, "Burn Notice") who tries to make things right.
Going to a theater right now might not be the highest priority on people's lists. The critic reviews for "Honest Thief" likely won't change that; the film has earned only a 36 percent freshness rating on Rotten Tomatoes at the time of this article's publication.
That said, a single number can't adequately capture the range of critical response, and many of the reviews coded as "fresh" or "rotten" by the critical aggregation site have a bit more nuance. To help you judge whether to head to theaters, wait for a VOD release, or skip the film altogether, here's what some of the top movie critics are saying about "Honest Thief."
The Good
Deadline's Pete Hammond credited "Honest Thief" for being perfect escapist fare, giving audiences a chance to forget about the ills of the real world and watch Neeson do his thing for 90 minutes.
"If you are looking for escapism these days — and who isn't? — Honest Thief is a genre picture that delivers pure entertainment, nothing more but fortunately nothing less. Neeson fans won't be disappointed."
The Hollywood Reporter's Frank Scheck was impressed with Neeson's performance, writing that the actor "fully invests" in his role.
"Honest Thief is a solid B-movie thriller that benefits from tight pacing that helps you overcome its significant plot incredulities. Minus its elaborate car chases and pyrotechnics, the film would have landed perfectly as a '40s-era Warner Brothers programmer starring the likes of James Cagney or Humphrey Bogart."

The So-So
Mick LaSalle, of the San Francisco Chronicle, said "Honest Thief" wasn't one of Neeson's best, but it would still give 90 minutes of enjoyment to fans of his action films.
"Now, just between us, I can watch one of these Neeson movies once a week and be happy, but 'Honest Thief' isn't one of the better ones for the reasons mentioned earlier. … Still, if you love this kind of movie, you will at least like 'Honest Thief.'"

Variety's Owen Gleiberman credited Neeson for rising above the movie's substandard plotting, and gave credit to the relationship between Neeson and Walsh's characters. 
"'Honest Thief' isn't incompetent (for a certain kind of pulp action fan, it delivers just enough of the goods), but it's a textbook case of an action movie that goes through the motions. And yet the corniest thing about it — Tom's drive to save his love for Annie — is also the most convincing. As an actor, Liam Neeson means everything he says. He's the action star as alchemist, converting trash into…well, better trash.

The Ugly
The Boston Globe's Ty Burr criticized the film's stilted dialogue as utterly laughable, and wondered whether Neeson was a bit long in the tooth to be leading an action movie. 
"'Honest Thief' is opening in theaters but it's not worth the money or the risk: It's perfectly generic on-demand product that will eat up an hour and a half of your life and be immediately forgotten. And at 68 the star may be getting too old to be pistol-whipping his way through the mean streets of Worcester.
The AP's Mark Kennedy called the movie "awful," and humorously evoked Neeson's most famous catchphrase from the "Taken" franchise in his review.
"Liam Neeson, we've been told, has a particular set of skills. One of those skills apparently is picking some movies that stink."
The New York Times' Teo Bugbee called the movie "utterly forgettable."
"The latest Liam Neeson vehicle, 'Honest Thief,' might be classified as a thriller, but its thrills are predictable in every way. Even when the plot twists, viewers won't be surprised, having already been warned of winding roads ahead. It's an inoffensive movie, full of such familiar tropes, it hardly matters if you can keep your eyes open to the end."
Get Boston.com's browser alerts:
Enable breaking news notifications straight to your internet browser.