Entertainment
'SNL' recap: The best moments and funniest sketches from last night's episode
All the highlights and jokes from one of the last episodes of the year.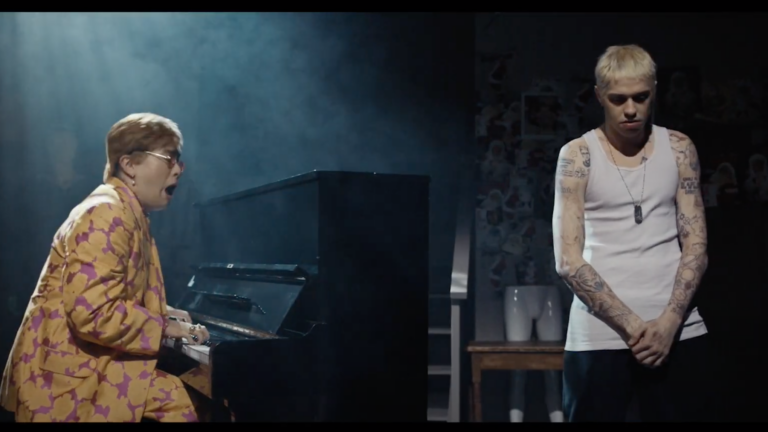 "Saturday Night Live" didn't have big celebrity cameos to lean on during its Dec. 5 episode, leaving Alec Baldwin and Jim Carrey and their impressions of Donald Trump and Joe Biden on the sidelines.
Instead, the long-running sketch show relied on the comedic chops of host Jason Bateman to drive the episode. The "Arrested Development" star was more than up to the task, playing everything from a concerned dad to a socially distanced mall Santa in one of the better episodes of the season.
While the show still mined plenty of political laughs from the prior week's election fraud hearings in Michigan, most of the humor came from holiday-themed sketches, as the show's writers mined comedy gold from the pandemic's profound effect on our celebrations and traditions.
Here's a full list of the best moments and standout sketches from last night's "SNL".
"Cold Open"
As a bug-eyed, flatulent Giuliani, Kate McKinnon effectively captured the chaos of this week's voter fraud hearings, as he introduced "a dozen intelligent, barely intoxicated individuals" as witnesses.
The real star of the sketch was Cecily Strong playing "star witness" Melissa Carone, whose bizarre testimony on Wednesday went viral this week and was quickly deemed not credible by a Wayne County judge.
Strong was equal parts confrontational and condescending, reminding legislators she had to be telling the truth because she "signed an After-David [affidavit]." She also confused voting machine company Dominion with Dominos, claiming they had cheated her out of cheesy bread.
"Either way, my vote took longer than 30 minutes so it's supposed to be free," Strong said.
Melissa Carone, everyone. pic.twitter.com/TcZytbDzNL

— Saturday Night Live – SNL (@nbcsnl) December 6, 2020
The defense calls Nicole Kidman's character from The Undoing. pic.twitter.com/IPYSfQcci3

— Saturday Night Live – SNL (@nbcsnl) December 6, 2020
"Jason Bateman Throwback Monologue"
Bateman spent the entirety of his monologue telling a story about how a chimpanzee tried to bite his nose off the last time hosted "SNL" back in 2005. The premise may sounds like a joke, but as an archival clip showed, Bateman was serious.
"Sleepover 2"
Bateman plays a father overseeing a sleepover who is trying to find out which tween has utterly destroyed his home while trying to hide a period blood stain. If the thumbnail didn't tip you off, Kate McKinnon is the culprit, though she goes to great lengths to aggressively deny it.
"Stu"
In my pick for sketch of the night, Santa (Bateman) and his elves (Beck Bennett, Kyle Mooney, Chloe Fineman) are disturbed by a letter to the North Pole from  Stu (Pete Davidson), whose angry prose is a parody of Eminem's 2000 song "Stan." Stu quickly moves from "Dear Santa" to "Dear Mr. Holly Jolly Two-Faced Son of a B****" when his first letter requesting a PlayStation 5 is ignored. Eminem himself even makes an appearance in the sketch.
"Outdoor Cabaret"
Bowen Yang and Cecily Strong (channeling her inner Liza Minelli) play a pair of lounge singers who remain relentlessly upbeat as they try to adjust their act to an outdoor restaurant setting. Their piano player (Bateman), meanwhile, complains about Yang's singer attempting to estabish herd immunity in the cabaret world and his keyboard melting under the outdoor heat lamp.
"The Christmas Conversation"
In a sketch that partially functioned as a PSA, "SNL" imagined the Zoom chats that are happening across the nation as adult children call their parents to say they won't be coming home for Christmas because of the pandemic. The responses are not exactly measured, ranging from "Let's talk about this when you've changed your damn mind" to "If you don't love me Marie, just say so."
"Morgan Wallen Time Travel"
Musical guest Morgan Wallen was originally supposed to perform on "SNL" back in October, but was disinvited when photos of him at a party emerged. In the sketch, the country singer (playing himself) is about to engage in a night of crazy partying at the University of Alabama before his time-traveling self (Bateman) comes back to stop him.
Two months ago at The University of Alabama… pic.twitter.com/IVkNMUoLUf

— Saturday Night Live – SNL (@nbcsnl) December 6, 2020
"Weekend Update"
"Weekend Update" had something to say about Boston again during the Dec. 5 episode of "Saturday Night Live," but this time it wasn't Michael Che lobbing the verbal grenade.
Pete Davidson stopped by the Update desk for a segment on his hometown neighborhood of Staten Island, where hundreds of protesters demanded that a bar that had ignored COVID-19 regulations be allowed to reopen.
Davidson saved the majority of his scorn for New Yorkers, but still snuck a backhanded Boston reference into the proceedings.
"They're making us look like babies," Davidson said, of the protesters. "You know it's bad when even people in Boston are like, 'Ahh, drink at home you queeahs.'"
While Che —who has joked about Boston being a racist city in the past — didn't get the punchline this go-around, he definitely had the most controversial, boundary-pushing joke of the segment.
"It was reported that President Trump has been discussing the possibility of issuing a preemptive pardon for Jared Kushner. His price? One night with Kushner wife," Che said, as a photo of the president and his daughter Ivanka flashed on screen.
"Santa's Village"
A global pandemic doesn't mean kids have to stop visiting Santa at the mall, right? As a couple (Melissa Villaseñor, Mikey Day) and their daughter find out, Santa's village now features a weird robotic elf (Kyle Mooney) whose stomach squirts hand sanitizer, and both Santa and Mrs. Claus (Jason Bateman, Cecily Strong) are in gigantic plastic bubbles.
"Bits"
As is often the case, the final sketch of the night was reserved for Kyle Mooney's oddball brand of humor, which he and Beck Bennett honed in their college sketch group Good Neighbor. The premise of this one is that Mooney's character is terrible at telling jokes, constantly "ruining bits" that his friends are enjoying with his ill-timed, forced punchlines. I'm a huge Mooney fan, but recognizing he isn't for everyone, 12:55 a.m. is the perfect time slot for his quirky comedic stylings.
Get Boston.com's browser alerts:
Enable breaking news notifications straight to your internet browser.