Entertainment
Here's what more than 1,500 readers picked as the best — and worst — Christmas TV specials
"Santa is mean, the reindeer are mean."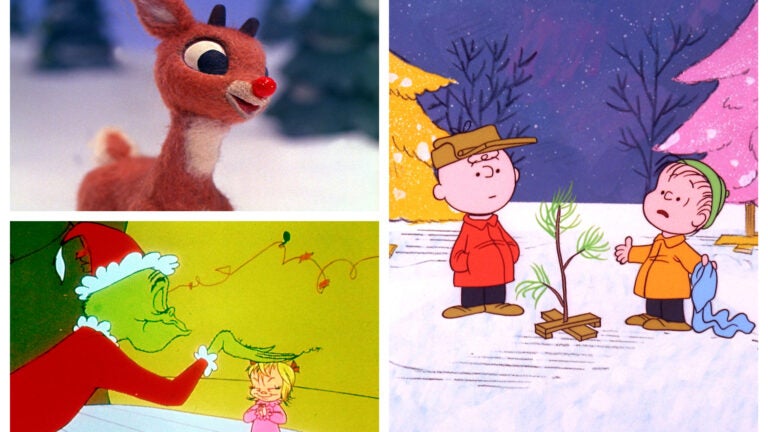 OK, just to clarify a few things: Christmas parties, bad; wanton nog-sharing, very bad; kissing people from outside your household under the mistletoe, definitely out. So how to mark this holiday season instead? By lighting the tree, firing up your living room television set and enjoying some holiday-themed TV, of course.
Apparently in the 1960s, a new classic Christmas special seemed to debut every year. Fortunately, thanks to the power of reruns — and now, DVDs and streaming services — youngsters and their parents and grandparents can relive these TV milestones together. (Although some might require additional explanation. We're talking to you, Rudolph.)
Judging from the more than 1,500 Boston.com readers who responded to our poll, those 1960s classics are well-remembered, but far from the only holiday specials that still make the list for annual viewing. Respondents chose up to three favorites each for a total of more than 4,000 responses listing dozens of specials. Let's count down the top five:
5) "The Year Without a Santa Claus" (1974)
The plot of this Rankin-Bass production isn't especially memorable — something about Santa Claus waking up with a cold and deciding not to deliver gifts, which seems like an extreme reaction, frankly — but it's two supporting characters that have saved this special from obscurity. Heat Miser and Cold Miser, the cranky, weather-controlling brothers who somehow wind up in the center of the entire controversy, are the gift that keeps on giving, fueling Gen X obsessions and online memes until, well, right now.
The Miser brothers were no doubt what fueled the 258 votes to earn "The Year Without a Santa Claus" fifth place.
4) "Frosty the Snowman" (1969)
Blessed with the lovably goofy voice of Borscht Belt comic Jackie Vernon, history's favorite magical snowman broke many a heart when he melted himself to save his friend Karen from freezing to death while running from misguided magician Professor Hinkle. Fortunately, Santa Claus provides some Christmas deus ex machina magic to save the day, and "Frosty" wound up with 310 votes to take fourth in poll results.
3) "Rudolph the Red-Nosed Reindeer" (1964)
Its stop-action animation and memorable characters — Yukon Cornelius! Hermey! The Abominable Snow Monster! — definitely grant this special iconic status. Unfortunately, it's also somewhat problematic: Donner's an awful dad, Santa is just plain selfish, and the North Pole is basically a sweatshop littered with the crushed dreams of elves who wanted to do anything but hammer together wooden trucks for 14 hours a day. And don't even get us started on those misfit toys. Still, it's undeniably popular, with 824 votes earning it third place.
2) "How the Grinch Stole Christmas" (1966)
Take animation from the great Chuck Jones — the genius behind many of the best "Looney Toons" shorts (the ones with shotguns and anvils) — classic Dr. Seuss source material, and an unforgettable theme song, and it's no surprise that this tale of a cranky hermit, his dog-cum-reindeer and a population of perpetually perky Whos has stood the test of time. Like the best Dr. Seuss material, it's slyly subversive, frighteningly funny, and just darn great to look at. With 867 votes it managed to eke out second place in our poll results.
1) "A Charlie Brown Christmas" (1965)
This explains why people were so peeved when Apple TV+ scooped this special off of broadcast television, finally reneging and granting PBS the rights to show it Dec. 13. "Charlie Brown Christmas brings back so many childhood memories. It wouldn't be Christmas without it," said Emily from Cataumet, Mass., while Melanie from Marion declared, "Charlie Brown Christmas means as much to me now as it did when I was a little kid. And let's face it — the Vince Guaraldi score is the best Christmas soundtrack EVER."
The first Peanuts special to air, "A Charlie Brown Christmas" captured the essential haplessness of Good Ol' Charlie Brown, everyone's favorite blockhead, and even managed to shoehorn a little religion in for good measure. And Melanie is right: That was some soundtrack. This one got 964 votes to earn top honors as Boston.com readers' favorite Christmas special.
Also worth noting:
A hundred and thirty-two people cast votes for 1987's "A Muppet Family Christmas," even though rights issues have kept it out of the public eye for decades. But no wonder it's remembered fondly: It's the only special to feature characters from "The Muppet Show," "Sesame Street," and "Fraggle Rock," resulting in a scene where the Swedish Chef tries to cook Big Bird. (Seriously.)
A hundred and seven cast votes for "Mr. Magoo's Christmas Carol" from 1962, which is considered by many to be the very first Christmas special, and was hugely popular in the '60s and '70s despite (because of?) Mr. Magoo's hilarious character trait of being almost blind.
The most-mentioned "Other" choices included: "A Claymation Christmas Celebration," "The Little Drummer Boy," and Disney's "Prep and Landing," about "a high-tech team of elves from an elite unit" that "ensures homes around the world are prepared for Santa's visit." Who knew?
Check out the complete results in the chart below:
The worst Christmas specials
As for the worst holiday TV specials, several of the most popular (most notably "Rudolph") also made that list ("Santa is mean, the reindeer are mean"), with these being some of the most often cited as deserving of coal in their stockings:
"Hands down 'The Star Wars Holiday Special' (1978). I didn't become aware of its existence until this year. I sat there dumbfounded watching the opening sequence which was like a Wookiee themed version of the opening of '2001 A Space Odyssey.' It only got worse from there. The worst part of all was when the poor Imperial ensign was sat down and subjected to torture by Jefferson Starship video. Even as a Jefferson Airplane fan and even as evil as the Empire was, nobody deserves such an excruciating punishment."
"'Nestor the Long-Eared Donkey' (1977). My husband subjected me to this the first year we were dating. I got through the trailer and that was it. Take Rudolph the Red-Nosed Reindeer, add a healthy dose of Catholic guilt, and a crying little donkey, and you end up with Nestor. It is just the worst." — Liz, Stoneham
"'The Little Drummer Boy' (1968). I had fond memories of watching during the '70s. Wondered why it wasn't televised anymore until I found it on a DVD and played it for my kids. Raging fire, soldiers killing the drummer boy's parents. It was horrific. It is awful."
"We watched 'Grandma Got Run Over by a Reindeer' (2000) and it was horrible … Just beyond words awful. We shut it off before it ended so maybe we missed some sort of uplifting moral … but I doubt it." — Tracy (now in California)
Here are some happier holiday special memories from Boston.com readers:
"Back in the '80s, you couldn't just watch Disney stuff; it was really tightly controlled. So, the Disney Christmas special that aired on Sunday night the weekend before Christmas was an amazing gift. Basically snippets of Disney cartoons (none of that live action nonsense, thank you very much!) that had anything to do with snow. So you not only got some Santa stuff, but bits from 'Peter Pan' and 'Sword in the Stone.' I hated when it was over!!!"
"Every night one of the TV specials aired, my mother would make a special treat. Popcorn or ice cream were popular but sometimes she would give us homemade cookies, pudding or fruit salad. I miss that magical feeling."
"Watching the 'Star Wars Holiday Special' on TV with popcorn and homemade cardboard lightsabers decorated with glitter."
"As a child, watching Christmas specials, such as 'Rudolph' and 'Santa Claus is Coming to Town,' with my siblings on broadcast TV while snacking on Jiffy Pop popcorn and drinking cocoa. This holiday ritual has been repeated with my children." — Susan, Kingston
"Watching 'Emmet Otter's Jugband Christmas' on HBO every year. As an only child, I watched it alone so it's a very personal memory for me. Can't wait to watch it with my daughter in a few weeks. Riverbottom Nightmare Band was the best part!" — Jim, Harwich Port
Check back for when we post the results for favorite holiday movie! Boston.com occasionally interacts with readers by conducting informal polls and surveys. These results should be read as an unscientific gauge of readers' opinion.
Get Boston.com's browser alerts:
Enable breaking news notifications straight to your internet browser.