Entertainment
'SNL' recap: The best moments and funniest sketches from last night's holiday episode
All the highlights and jokes from the final episode of 2020, hosted by Kristen Wiig.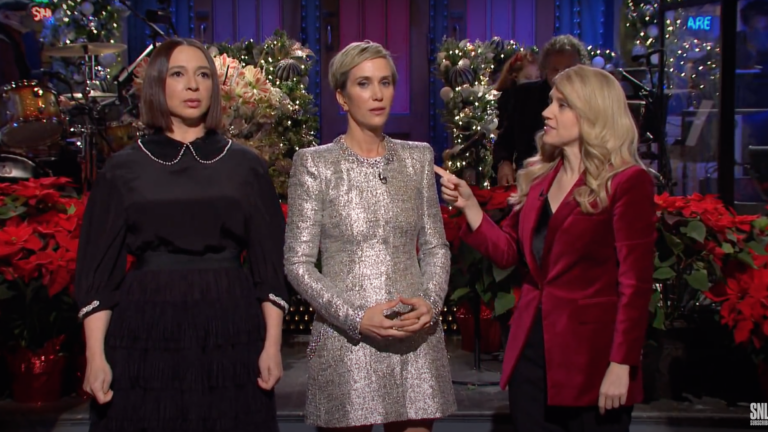 For its final episode of 2020, "Saturday Night Live" featured faces both old and new.
For its holiday episode, "SNL" brought back veteran host and former cast member Kristen Wiig, as well as fellow "SNL" alum and Wiig's "Bridesmaids" co-star Maya Rudolph. Meanwhile, with Jim Carrey announcing that he was finished portraying president-elect Joe Biden, "SNL" showed off the new-look Biden in its cold open.
Here's a full list of the best moments and standout sketches from last night's "SNL".
"Cold Open"
The show began with vice president Mike Pence (Beck Bennett) getting the coronavirus vaccine on camera to reassure Americans. Pence was soon joined by guest Maya Rudolph playing vice president-elect Kamala Harris, as well as Biden, played by veteran "SNL" cast member Alex Moffat.
Moffat, in character as Biden, indirectly acknowledged Carrey after Pence said Biden looked "different."
"I'm like Col. Sanders," Biden said. "Every time you see me, I'm a different guy. There's a good chance that this time next year, I'm gonna be Mario Lopez."
"Kristen Wiig Monologue"
After riffing a bit on her time spent at "SNL," Wiig launched into a "Sound of Music"-inspired musical performance. Wiig, Rudolph, and Kate McKinnon took turns singing wrong lyrics to "My Favorite Things," including "whiskers on babies" and "pop rocks on hot dogs."
"Secret Word"
Wiig's return to the show meant viewers could expect plenty of her classic characters, and "SNL" delivered early with "Secret Word." The simple premise of the sketch — showbiz has-been Mindy Elise Grayson (Wiig) ruins a classic game show by blurting out the secret word — didn't leave much room for innovation, but McKinnon as a depressing Austrian actress generated some laughs.
"Christmas Morning"
In my pick for sketch of the night, a family (Beck Bennett, Kyle Mooney, Chloe Fineman, Wiig) rap a list of the presents they received on Christmas morning. As the other three pile up pricy gifts, Wiig's mom keeps a stiff upper lip and enjoys her only gift — a robe.
"U.S.O Performance"
At an overseas army base, Wiig's nurse teams up with an officer from the audience (Bowen Yang) to provide the troops with some risqué entertainment, telling a musical gender-swapped tale of infidelity. Musical guest Dua Lipa joined the sketch as well as the woman on the side.
"A Teacher"
In a parody of the FX show "A Teacher," a student (Andrew Dismukes) thinks he has a real connection with his teacher Miss Williams (Ego Nwodim). She's quick to disabuse him of that notion.
"You're pulling a C- in this class, that's not hot for me," Nwodim said. "You can barely read."
"Home Alone 2"
In a reimagining of "Home Alone 2," the pigeon lady (Wiig) delicately tries to convince Kevin (Melissa Villaseñor) to give her a place to sleep — or at least some of the pizza he's been eating in his limo all day.
"Weekend Update"
In its final edition of 2020, "Weekend Update" began with a farewell montage to Donald Trump and ended with hosts Colin Jost and Michael Che writing offensive jokes for each other to read.
For Che, it meant making jokes about the type of women he usually sleeps with and having to put a personal spin on a story about Jeffrey Epstein.
"The Palm Beach mansion once owned by Jeffrey Epstein will soon be demolished," Che said. "And I'm honestly shocked that they would demolish a place where I have so many fond memories. Rest in power, king. I'll take it from here."
For Jost, it meant reading several racist punchlines, as well as a joke mocking his wife, Scarlett Johansson ("The Avengers"), who once said she should be "allowed to play any person, tree, or animal" after being criticized for taking movie roles portraying an Asian woman ("Ghost in the Shell") and a transgender man ("Rub and Tug"). (Johansson exited "Rub and Tug" before filming began.)
"It was announced that Creed singer Scott Stapp will play Frank Sinatra in an upcoming movie," Jost said. "But the good news is, Sammy Davis Jr. will be played by Scarlett Johansson."
"The Grinch"
The Dr. Seuss book "How the Grinch Stole Christmas!" ends with the Grinch eating dinner with a family in Whoville, letting bygones be bygones. This sketch picks up the action the next morning, as parents (Wiig, Mikey Day) are forced to explain to their children (Kyle Mooney, Chloe Fineman) why Mr. Grinch (Pete Davidson) is still in their house and what all those noises in the bedroom were last night.
"Holiday Surprise"
oh…my….god…. pic.twitter.com/uv5DzT1ENq

— Saturday Night Live – SNL (@nbcsnl) December 20, 2020
In another callback to Wiig's tenure on "SNL," she brought back recurring character Susie, a woman who loves surprises. This time, Susie's attempts not to spill the beans about her niece coming home for the holidays causes her to bite down on stockings, hyperventilate, and run through a wall.
Get Boston.com's browser alerts:
Enable breaking news notifications straight to your internet browser.