Entertainment
'SNL' recap: The best moments and funniest sketches from John Krasinski's episode
All the highlights and jokes from the Newton native's first time hosting 'SNL.'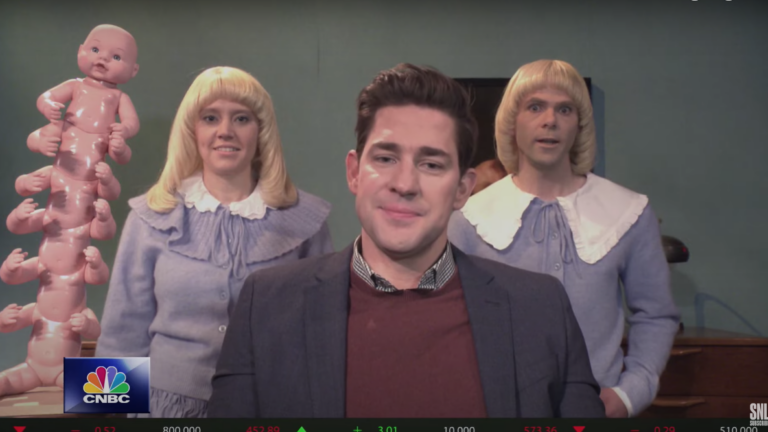 In the first "Saturday Night Live" episode of 2021, the show gave viewers a preview of what to expect from a post-Trump "SNL."
Gone were the celebrity cameos and the typical cable news cold open. In its place came Kate McKinnon, listing off all the things still broken in the U.S.
Her conclusion? The only thing America can rely on is Tom Brady, played by Newton native John Krasinski.
In his first appearance as an "SNL" host, Krasinski was the engine that drove multiple sketches. While he occasionally made small flubs while reading cue cards, he was an overall solid host, and was happy to play the straight man or the wildcard as needed.
Aside from locking lips with Pete Davidson during his monologue, Krasinski didn't really have a standout moment that will set social media aflame, but he capably helmed a good (but not great) episode.
Here are all the highlights and must-see sketches from Krasinski's "SNL" episode.
Cold Open
During the cold open, a talk show hosted by Kate McKinnon about "things in America that still work," Krasinski made an appearance as former Patriots quarterback Tom Brady.
"You might be the only thing in America that still works," McKinnon said. "So I guess everyone must be rooting for you right?"
"Almost no one," Krasinski said, still smiling.
While Krasinski largely played Brady as a pleasant but boring avatar for greatness, he did manage to slip in a joke about the quarterback's association with Donald Trump.
"You know what? I'll be rooting for ya Tom Brady, because you're the only goddamn thing this country can still rely on," McKinnon said. "And it's not like you're a weird Trump guy, right?"
"Thanks for having me!" Krasinski said, walking off the set.
Opening Monologue
During his opening monologue, the Newton native was constantly interrupted by cast members in the audience calling him "Jim" and asking him to "Do 'The Office.'"
As Krasinski attempted to fend off the barrage of questions about "The Office," Pete Davidson joined him on stage to offer an explanation.
While initially acting as Krasinski's ally, Davidson quickly turned the tables.
"I think they really need for someone to be Pam," Davidson said. "I think we gotta give them what they want, Jim. Jim, you gotta kiss Pam."
With that, Krasinski gave his best "Jim face" for the camera, and kissed Davidson for the cheering crowd.
Blue Georgia
Riffing on the state of Georgia going blue in November's presidential election, Krasinski and Davidson visit a diner where down-home southern accents and hospitality are supplemented by gluten-free avocado toast and all-gender bathrooms.
The Loser
Krasinski plays the popular older brother of a loner (Andrew Dismukes) who is being bullied by other students. In the process of defending him, Krasinski goes a bit too far.
"So what if he's never kissed a girl? Big friggin' deal!" Krasinski said. "This guy practices kissing all the time. And guess what, news flash, our mom says he's getting pretty damn good at it."
Twins
Krasinski plays an economist appearing on CNBC to talk about the GameStop stock market situation. But the other analysts (Cecily Strong, Beck Bennett) can't focus thanks to Krasinski's horrifically creepy twins (Kate McKinnon, Mikey Day).
Opening Credits Songs
In one of the show's typical impersonation showcases, the cast members riffed on what would happen if every TV show had its main character sing the theme song, like Nicole Kidman did for HBO's "The Undoing." Krasinski was the only person playing himself, singing nonsense lyrics to the theme of "The Office."
Pandemic Game Night
A group of white suburbanites gather for wine and board games, only for them to be arrested one by one for participating in the Capitol riots. Krasinski taking a random podium with him while being led away by the FBI was a nice touch.
Weekend Update
In the first "Weekend Update" of 2021, hosts Michael Che and Colin Jost riffed on the headlines of the week, including GameStop, vaccine distribution, and President Joe Biden's first executive orders.
"President Biden signed an executive order urging US agencies to buy American-made products," Che said. "Unfortunately the only products still made in America are tactical  gear for white militias and student loan debt."
Supermarket Sweep
The central joke of this retro episode of "Supermarket Sweep" is that the lesbian couple (Kate McKinnon, Aidy Bryant) dominating the show would have to call each other "friends" in the not-do-distant past of 1991.
Subway Pitch
Krasinski slips in and out of an Italian and Boston accent in this sketch, as he and Beck Bennett play out-of-touch Subway executives whose only idea is to bring back convicted sex offender Jared Fogle as a pitchman.
Ratatouille
In the final sketch of the evening, Krasinski plays a dopey man who is very adept in bed. His secret? The rat from "Ratatouille" (Kyle Mooney) is controlling his every move.
"Once upon a time, I learned how to be a famous chef by studying a cookbook from cover to cover," Mooney said. "And then one day, I discovered an even better book called Hustler magazine."
Get Boston.com's browser alerts:
Enable breaking news notifications straight to your internet browser.