Entertainment
It seems Bruce Springsteen's Jeep ad annoyed people on all sides of the aisle
But plenty of Boston.com readers loved it too, according to our poll results.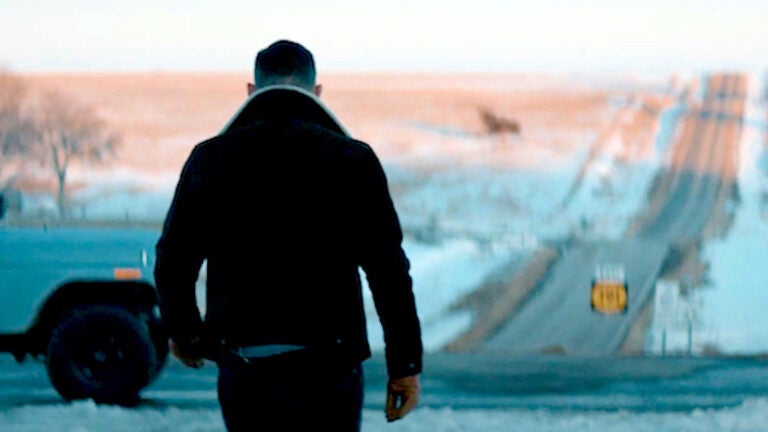 It's been said that if you manage to tick off everybody, you must be doing something right. And it seems like Bruce Springsteen may have done just that: The legendary rocker's Super Bowl ad for Jeep, entitled "The Middle," seems to have stirred up people of all political stripes.
Not so much a car commercial as it is a PSA sponsored by Jeep, the ad features Springsteen, in cowboy garb reminiscent of his 2019 album and film "Western Stars," preaching unity from the literal middle of the country. "All are welcome to come meet here — in the middle," he narrates from a tiny Kansas chapel. "It's no secret: the middle has been a hard place to get to lately, between red and blue, between servant and citizen, between our freedom and our fear."
Seems anodyne enough, but actually it's a message — written by an ad firm but heavily revised by Springsteen, according to Billboard — that drew no shortage of brickbats from Boston.com readers, and throughout the internet. (It also probably doesn't help that, just days after debuting his car ad, word came out that Springsteen was charged with a DWI in November.)
On the political left, for instance, many pointed out that so soon after a violent insurrection, there's very little middle ground to be found: "What is this famed 'middle' he's talking about?" asked one reader. "We're a month removed from Trump supporters invading the Capitol to whine about election results that didn't go their way. What's the 'middle ground' with people who believe in QAnon insanity?"
And on the right, the choice of Springsteen — who in recent years has stumped for candidates like John Kerry, Hillary Clinton, and Barack Obama, not to mention filming an endorsement for Joe Biden — to deliver a message of unity was, well, rich. "A longtime Democrat tells me to unify now that the big, bad orange man is gone?" asked Mike from Franklin, Mass. "'Unity' is code for forcing me to agree with the left agenda. Pass."
That's not to say nobody liked it: "It was the inspiring, uplifting, and positive message America needed right now," said one reader. "It really wasn't much of a 'commercial.' You can barely tell it is a Jeep ad until the last four seconds. If Bruce was to do an ad, this was the one."
In that vein, message aside, most of the more than 1,200 readers who responded to our poll about the ad didn't begrudge Bruce his decision to do it: 38% agreed that "he should do whatever he wants, the man's a legend," while another 34% thought, "Generally I think he should avoid commercial endorsements, but this was well done and had a good message, so I'm cool with it." Only 17% said "No way, it's selling out."
Another 10%, meanwhile, took the opportunity to answer "Other," citing all sorts of nitpicks, including that "nobody drives a doorless, roofless Jeep in the winter in Kansas"; "He's not relevant to young people"; and "It would have been more meaningful if Jeep wasn't owned by Fiat based in the Netherlands."
Meanwhile, at least one reader made the "slippery slope" argument: "It's not a crass, brazenly commercial effort. Tastefully filmed and only including Bruce's fine prose. I'll give him a pass on this one," they wrote. "But what's next, prunes?"
Here's what some of the Boston.com readers who responded to the poll had to say:
Pro-Boss:
"Excellent ad, and anyone who actually can say that it 'crushes' them, or even 'troubles' them, should go to the nearest mirror, look at themselves and say, 'I need a life!'"
"I'm sure he did it for the right reasons. After reading the article he most likely didn't get paid. Maybe there is something behind the scenes where the right people and causes are getting money."
"Anyone promoting unity in these divided times is answering a higher calling. It would be disappointing if he took the money, but if he did it for free, just adds to the legend." — Phil, Wenham
"He's old. Let him do what he wants. He's not hurting anyone. Quit building people up and then bringing them down. That's what's really wrong with this country."
"I get a chill down my spine watching and listening to the man I've loved for more than 40 years. His voice and delivery provides hope. It's not an ad for Jeep. It's an ad for Americans to come together with a backdrop of an American icon like Jeep. He's the boss, he represents American values and ideals that I believe in." — David, Granite Bay, Calif.
"Thought the ad was striking and well timed. To heck with all the 'he sold out' thoughts. I could watch this ad over and over."
"The ad is beautiful, and very moving. It strikes an emotional chord. It speaks the truth. This country needs healing."
"Why not? It wasn't a blazing, in-your-face Jeep ad. Clear message, sponsored by Jeep." — Ben, Acton
"No patience for the idea he's sold out. The ONLY bad things about it were the plug for Jeep and the fact that they paid for it. Bruce gave a heartfelt speech the country needed to hear."
"Meaningful message. I support Bruce 100 percent." — Bridget, Milton
"If you think Springsteen sold out, then you didn't listen to the commercial." — Bob, Littleton
"Yet another important American imploring us to come together. Great platform for a powerful message!" — Betty, Lynn
"Ad was well done and had an inspirational underlying message. Doesn't matter what product."
"Brady's the GOAT in football … and Bruce is the GOAT in rock."
"Selling out? Not my take at all. Look: Unification is the most positive message that this country needs to hear over and over, from any influential citizen. I'm a big and longtime Springsteen fan. I still think some (ok, very little) of his work misses the mark. But, no, not this. In absence of a stage and tour during the pandemic, this totally works and I applaud him for being another brave soul who is trying to encourage us to listen to one another." — Amy, Bedford
"Most people didn't realize it was a Jeep ad. Just some thoughtful and timely sentiments from someone who has been singing about the same themes throughout his career. If you are an actual fan, you'd get it. — Megan, Ipswich, Mass. and Vernon, N.J.
"If you have a problem with his commercial then YOU are what's wrong with society right now. It shouldn't have any bearing on your life to the point where you find the need to criticize it. The message was great as well. He looks so old, didn't even realize it was him until all the snowflakes posted angry thoughts about … A COMMERCIAL!!!"
"Even if he was paid, I don't see this as selling out since they did not use his music. To me, this is more of Bruce delivering a message which is so on point in these times. It is more like Jeep is sponsoring him to provide the message … I think it was done well and delivered a positive message and was not commercial."
"Not only am I cool with him doing this public service announcement, I hope other celebrities follow his lead. Maybe things would change for the better with a little encouragement?" — Maureen, Longmeadow
"I sort of hate that I did not hate it, but considering only 5 seconds of the entire ad were actually an ad, I can't complain. It had a good message." — Bill, East Bridgewater
"Selling out would mean that he gave his music and voice for the sole purpose of profit and/or fame. He did not 'sell out.' He gave a message of unity at a time when our country is seriously politically divided and in pain from a pandemic recovery that never seems to materialize. It was a reminder of our strengths and a call for healing and compromise; the very fabric of a working Democracy. He did this with music written specifically for the piece. He didn't use an overused, popular Springsteen song to catch attention. In my view, this was a selfless act by a man of integrity asking us all to rethink and reconsider just how we are going to fix this mess in which we find ourselves, using our American values and strengths as a baseline of understanding … It was the perfect culmination of the night, against the backdrop of the healthcare heroes and many other messages of acknowledgment for those caring for our well being during the pandemic."
Anti-Boss:
"Re-United. Now go out and buy more FCA [Fiat Chrysler Automobiles] product. Cheeseball. Fix it again." — Tony, Boston
"This from a person who helped to polarize the country with his political statements. You should move out of the country like you mentioned."
"He's no Billy Bragg."
"I hope he at least donates some money to have the chapel painted. It, like America, looks pretty faded."
"Phony, phony, phony. Money BUYS EVERYTHING!!"
"Any ad from the 'Reunited' States should be more representative. The words were very good, being read by someone so very, very liberal for years and very dramatically against any conservative position spits in the face of half the country. A better choice would have been real people or actors portraying being from that town. It would have been a more powerful message."
"Jeep has sold out. To the myth that somehow the Democrats will unite us, after four years of their resistance and attacks and hatred toward Donald Trump. 'Reunited States?' No way." — Brad, Grandville, Mich.
"The commercial itself was nauseating. Bruce's selling this vacuous message was appalling. Will he donate his payment to a COVID victims relief fund? Money does change everything. Shame on him." — Bob, Barrington, R.I.
"The Democrat shrill is for unity now? LOL. He wasn't for it in 2016." — Bob, Dedham
"Not the Bruce I grew up with."
"IT'S THE UNITED STATES OF AMERICA, NOT REUNITED STATE OF AMERICA. My Jeep is now for sale."
"Watching that commercial made me want to sell my Grand Cherokee immediately!" — John, Boston
"The Christian symbols were alienating."
"It was a really bad ad full of dog whistles: Asking us to 'reUnite' at the moral 'center' of the U.S., a Christian chapel in a remote Kansas county that voted 83% for a twice-impeached insurrectionist. Jeep and Bruce should be showing that there are sacred spaces and moral people everywhere in the USA, and more of the moral power of hard work for each other and respect for the true."
"1978 Bruce would throw up if he saw the Bruce of the last 10 years."
Somewhere in 'The Middle':
"The middle of the road is the most dangerous place to be, brother; but better than being driven over the cliff by fascists … The struggle continues…" — Scott, Mechanicsburg, Pa.
"I took a long drive in a Jeep Wrangler a year ago. At the end, my back killed me — the top, the bottom — but mostly the middle."
Some comments have been edited for length or clarity. Boston.com occasionally interacts with readers by conducting informal polls and surveys. These results should be read as an unscientific gauge of readers' opinion.
Get Boston.com's browser alerts:
Enable breaking news notifications straight to your internet browser.