Entertainment
Map: The best spots to go if you need to cry in the Boston area, according to readers
"Cry on the T like a real Bostonian."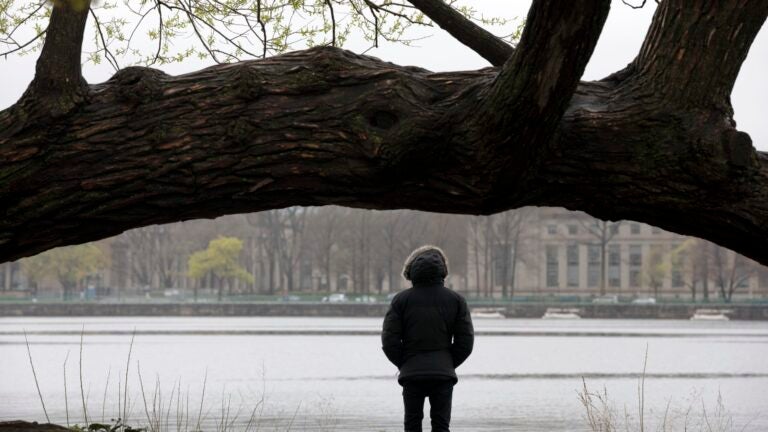 When it comes to weeping and wallowing, location is an important element for the flair. A scenic view or aesthetically-pleasing architecture can enhance, and help soothe, an emotional moment with dramatic effect. Bostonians are no strangers to stress. Running late to something important on the MBTA, an impassioned connection to their sports teams, a cranky feeling of having to go shovel — that's just a short list of reasons locals cry.
After a particularly emotional year, we asked readers where they might go to decompress when the going gets tough. Nearly 130 readers suggested spots to wallow in and their answers were not only honest, but some were pretty hilarious.
Several sob spot submissions involved clever multitasking:
"At the harbor, so the wind dries my tears."
"In line for Modern Pastry is always solid and ends in happiness."
"The green line. You build emotional strength while crying with 50 people staring at you."
"The lawn in front of MIT facing the Charles because it's scenic and people assume it's academic stress."
However, one Boston.com reader wrote, "true Bostonians don't cry." Maybe they just haven't discovered the best spots to bawl yet? Over, 2,600 readers countered the claim, several writing, "Cry on the T like a real Bostonian." In an Instagram poll, 1,672 said that yes, they had cried in public, while 426 said they hadn't. 896 people said they had cried on the T, while 1,117 others refrained. Many mentioned how it was therapeutic to wail by the water, backs turned to the world as they focused on the misty-eyed view ahead of them. Several noted that some of the locations were prime real estate, and that they'd cry cathartically at these places again. 
Readers suggested a total of 48 different spots where they felt heavy emotion. Out of all the places, these five were the most popular locations for lamenting.
Top 5 spots for crying in Boston
Along the Charles River/The Esplanade
On the T
The Public Garden
Boston Harbor
Christian Science Center
Here's a roundup of what readers had to say
Some responses have been edited for clarity and grammar.
"When I need to find somewhere to decompress, I like my privacy but also like to be surrounded by nature. Houghton's Pond in Milton offers the best of both worlds. In the off-season months, typically anything but the summer, Houghton's Pond is rarely crowded and offers plenty of wildlife, including tons of birds such as ducks, geese and other water fowl. The bees aren't as bad as they are in the summer months either. This is a great spot to decompress from work, relationship troubles, or even something as trivial as your favorite Boston sports team losing. Go Celtics!" — John in Somerville
"Harvard bridge looking out over the Charles. For the drama."
"Memorial Drive sidewalk, watching Boston. Thinking how much you're going to miss it!"
"Top of the Bunker Hill Monument in Charlestown — after 300 steep steps you are probably already crying."  — Lindsey D. of Jamaica Plain
"I had just quit my first job, and on the way out my former boss took to berating me—personally and professionally—and explaining all the reasons why I'd never amount to anything and how I should have just been grateful for this job. I usually take the T home, but I was already starting to sniffle and fog up as I reached my office exit door. I didn't want any strangers staring or any well-intentioned pedestrians or fellow T passengers asking what was wrong or trying to comfort me (though I appreciate that there are so many folks in this world that do reach out to strangers like that). So I started to walk the 40 minutes home, trying to hold my breath a bit and stare down at the ground to avoid breaking down on the sidewalk and making a scene. I passed by the Christian Science Center on my way and something about looking at the huge reflecting pool and coming upon the secluded benches just made me feel safe and like maybe it was okay to stop and breathe for a little while. I sat on that bench, took some deep breaths, and then finally felt like I could just weep for a solid 15 minutes. It felt incredible after, and when I was done it seemed to me like it was going to be okay, because my tears wouldn't have even made a dent in all that water in the huge reflecting pool, and around me in the city, highlighted by the empty space, were so many infinite possibilities for me in the future. I am now happily employed and have walked by the reflecting pool many times without crying, but it's nice to know it's there. 5/5 stars, would cry there again." — Jeanne in West Roxbury
"Crying on the T is great because it means no one sits next to you even if it's crowded."
"Gillette Stadium. I miss Tom Brady."
"At the airport when you know that you will see your boyfriend again after 8 months."
"The red line. Or maybe that's just me. I was crying so hard on the red line once that someone offered me a tissue. It was sweet."
"There are so many but the BPL is great place to (silently) weep."
"TD Garden, many emotional nights there."
"Any place with the ocean at the forefront. One of my favorite places is to walk around Deer Island and grab a bench and let it all hang out. It's a release of pent up emotion with a beautiful backdrop to calm yourself." — Christine Forster-Berg in Winthrop
"Charles esplanade, the place gives you the space to cry your eyes out and then calm yourself."
Get Boston.com's browser alerts:
Enable breaking news notifications straight to your internet browser.