Entertainment
Crowds gather in the South End to watch George Clooney film 'The Tender Bar'
The veteran actor was up bright and early to film scenes with star Tye Sheridan.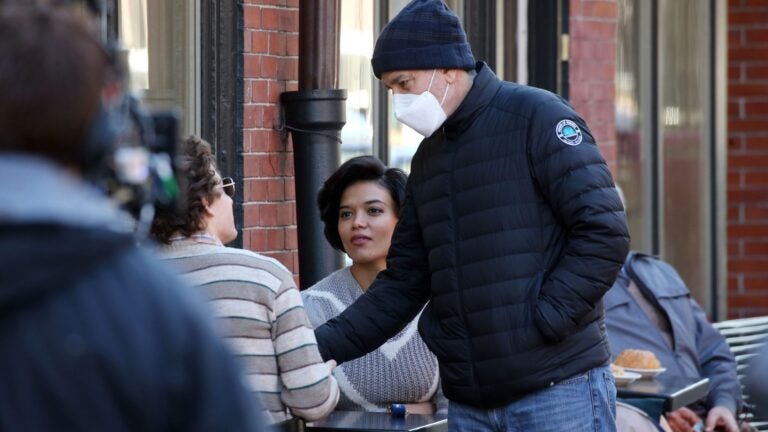 George Clooney got an early start to his Wednesday in Boston as he directed scenes for his upcoming movie, "The Tender Bar."
Filming for the drama began in the South End by 7 a.m., with Clooney directing star Tye Sheridan ("Ready Player One") and other actors at a cafe scene filmed at the South End Buttery on Shawmut Avenue.
Based on the memoir of the same name by J.R. Moehringer, much of the movie's action takes place in the '80s, which meant plenty of period-appropriate attire. The scenes filmed Wednesday in the South End were set in New York City, with 1980s-era taxi cabs rolling around the block while sporting New York license plates and NYC decals.
"The Tender Bar" tells the story of Moehringer's childhood living on Long Island without a father, a New York disc jockey who disappeared before the author (played in the movie by Sheridan) could speak. Seeking a replacement father figure, Moehringer begins spending time at a bar owned by his uncle (played in the film by Ben Affleck), where the regulars welcome him as one of their own.
By late morning, filming moved nearby to restaurant Aquitaine, where a crowd gathered on Tremont Street to watch the action. By that point, Clooney and Sheridan were out of sight, but South End residents still got to watch extras in period-appropriate attire stroll back-and-forth in front of the restaurant.
Kalyn Ellison and Lizzie Callaway, who live just down the street from Aquitaine, heard about the filming after their roommate saw a sign in Aquitaine's window. The pair hoped to catch a glimpse of Clooney, Sheridan, or Affleck before work duties forced them back to their apartment.
"We're supposed to be on a meeting in like 30 minutes, but …" Callaway said, trailing off. "More like an hour, actually."
Sue-Ann, who lives on Shawmut Street, stopped by to watch filming while on a walk with her Corgi, Shirley.
"My daughter sent me a text like, 'George Clooney's in the neighborhood!' so here we are," she said.
At nearby Union Park, retro cars lined the street, with signs indicating that production vehicles would be parked there through Thursday. A production notice sent to residents indicated that additional scenes would be filmed in Union Park, with crews simulating rainfall for the shoot.
Crowds are out in full force in the South End for filming of George Clooney's THE TENDER BAR at Aquitaine. Lots of retro cars lining nearby Union Park as well. pic.twitter.com/oETfCPWUba

— Kevin Slane (@kslane) March 10, 2021
Since starting production in late February, "The Tender Bar" has filmed in Boston, Cambridge, Lowell, Lynn, and Watertown. Filming will continue until mid-April, and it's expected to take place in North Shore towns like Ipswich and Beverly, according to a source familiar with the production.
Fans hoping to catch a glimpse of Affleck may want to head to Beverly this week, where crews have begun setting up at local bar Jacob's Corner. The bar will likely stand in for Publicans, the Long Island watering hole from "The Tender Bar," where Affleck's character works.
In the novel, Moehringer wrote that his uncle Danny's bar was originally named Dickens, which is the name filmmakers painted on the side of Jacob's Corner earlier this week.
Grabbed coffee before heading back home to take a nap (hello occipital neuralgia) but saw the setup of a George Clooney film in my neighborhood! It's called "The Tender Bar" & they're transforming a local bar and creating a fake storefront. So cool. pic.twitter.com/dwImQ53ZDq

— Kate Porter (@katemeredithp) March 9, 2021
Besides Affleck and Sheridan, "The Tender Bar" will star Lily Rabe ("American Horror Story") as Moehringer's mother and Christopher Lloyd ("Back to the Future") as his grandfather. Rounding out the cast are Sondra James ("Joker"), Max Martini ("Sgt. Will Garner"), Michael Braun ("The Affair"), Matthew Delamater ("Castle Rock"), Max Casella ("The Marvelous Mrs. Maisel"), Rhenzy Feliz ("Marvel's Runaways"), Ivan Leung ("The Disappearance of Mrs. Wu"), Briana Middleton ("3:35 to Boston"), and newcomer Daniel Ranieri.
Get Boston.com's browser alerts:
Enable breaking news notifications straight to your internet browser.