Entertainment
5 local musicians are competing on 'American Idol' this season. Here's everything you need to know about them.
Many of them will be performing on the show for a second time this Sunday. Three of them have Berklee ties.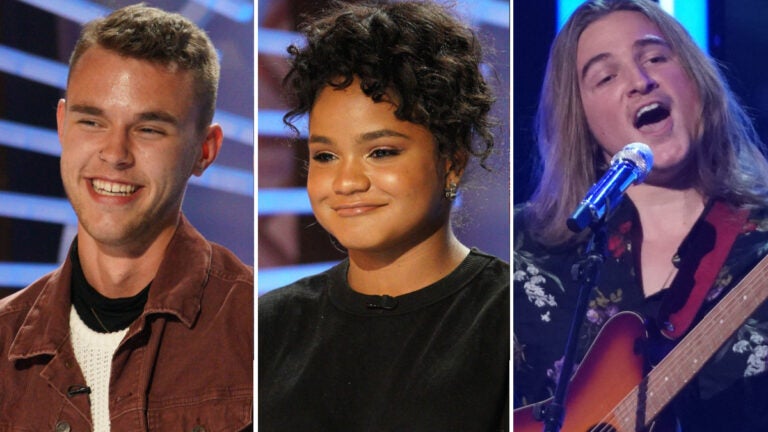 Boston may just be Hollywood East, if the latest season of "American Idol" is any indication.
The long-running singing competition show has five contestants with local ties who are vying to follow in the footsteps of Kelly Clarkson, Carrie Underwood, Jennifer Hudson, and other performers who kickstarted their careers on "Idol."
Three of them will be performing this Sunday at 9 p.m. on ABC, while others will show up in subsequent episodes of "Hollywood Week."
Here's everything you need to know about the five musicians with Massachusetts ties on "American Idol" season 19.
Amanda Mena
Of all the local contestants, Lynn resident Amanda Mena, 18, is the one you've most likely heard of before. Mena, who got her start performing at the Lynn Youth Center, was a runner-up on "America's Got Talent," and has performed at the Boston Pops 4th of July celebration, Boston's New Year's Eve festivities, and Fenway Park.
Mena got the judges' approval with her performance of "Golden Slumbers" by the Beatles.
"Growing up, 'American Idol' was close to my heart," Mena told Boston.com "It's a program I've been watching since I was started singing. Being able to be a part of it, to perform in front of Lionel Richie, Katy Perry, Luke Bryan, was just a huge thing for me."
Mena is Dominican, and along with her performances on "Idol," she has been releasing original songs like "El Destino," a dancehall-tinged duet aimed at a multilingual audience.
The singer, who will attend Berklee College of Music in the fall, cites Beyonce as one of her musical role models.
"Her music influenced me in a lot of situations," Mena said. "I love that she can be a powerful female in the music industry and shows how a singer can be sexy and powerful in an elegant way."
Beane
Before auditioning for "American Idol," 23-year-old Berklee grad Beane — real name Brennan Hepler — was stuck at home in his Brighton apartment, his regular jobs as a wedding singer and server at Club Passim on hold due to the pandemic.
"The best way I can connect with people is in-person, looking in their eyes, giving them hugs," Beane told Boston.com. "Having that taken away was sad."
In his free time, Beane began posting original songs and covers on his Instagram page, which led the show to pop into his DMs to ask about an audition.
The singer auditioned with Vulfpeck's "Wait for the Moment," but said that it was a performance of one of his originals, which wasn't aired for the public, that convinced the judges to give him a ticket to Hollywood.
During the audition, Lionel Richie called Beane a "modern-day Mr. Rogers" because of his cheery demeanor, but the singer said to expect a different, rock-based energy for his appearance on Sunday.
"My audition was so smile-y, the Mr. Rogers comparison, yada yada yada. That is a part of who I am, but us human beings are complex," Beane said. "So I thought, let me show them something else that they're not gonna expect at all."
Colin Jamieson
Like Mena, showbiz isn't a new profession for Boxford resident Colin Jamieson, 22. He was in multiple bands at a young age, including a boy band called Kik-It, in which Jamieson tried to emulate his musical idol, Justin Bieber.
Jamieson said that his focused pursuit of pop stardom didn't always endear him to classmates Masconomet Regional High School, but that didn't deter him.
"You go to school, the other kids, obviously, they had some things to say," Jamieson told Boston.com. "I had to stick up for myself a lot. That was a period of my life where I had to just believe in myself."
Jamieson, who auditioned with Billie Eilish's "Six Feet Under," says viewers can expect a rock/indie performance on Sunday, with his own personal spin. In the meantime, he's been focused more on musical production along with his singing career.
"Normally I'd be performing weddings and booking a year's worth of performances," Jamieson said. "As a part of the pandemic, I've been working more on production, working with music production software. So that's been a blessing in disguise."
Chloe Belsito
"American Idol" has so many contestants audition, it can't always air all of their initial performances. That's the case for Chloe Belsito, 17, of Sutton, who will appear as part of the show's Hollywood Week, but was not seen during the show's opening weeks of auditions.
"This was the best experience of my life, and I am so grateful for having the opportunity of performing in front of @katyperry @lionelrichie and @lukebryan," Belsito wrote on Instagram. "Again thank you all so much for joining me through this amazing journey. Stay tuned for Hollywood week."
Grace Kinstler
Berklee College of Music student Grace Kinstler, 20, wowed judges with her performances of Gladys Knight & The Pips's "Midnight Train to Georgia" and Aretha Franklin's "Natural Woman."
Judge Luke Bryan compared Kinstler's performance of Franklin's tune to previous "Idol" greats Kelly Clarkson and Jennifer Hudson, and said it was the first time that someone's song had moved him to tears during his four years as judge.
"I get brought to tears by stories and backgrounds of what people have been through and their struggles," Bryan said of Kinstler, who spoke about unexpectedly losing her father last year. "But this is the first time in four years that someone just singing made me cry."
Kinstler was one of few singers to have both of her audition songs aired, and the effusive praise she received seems to bode well for her "Idol" future.
Get Boston.com's browser alerts:
Enable breaking news notifications straight to your internet browser.