Entertainment
'American Idol' local singers: Grace Kinstler, Beane, Colin Jamieson make top 24
Lynn high schooler Amanda Mena made it through Hollywood Week, but she didn't make the cut.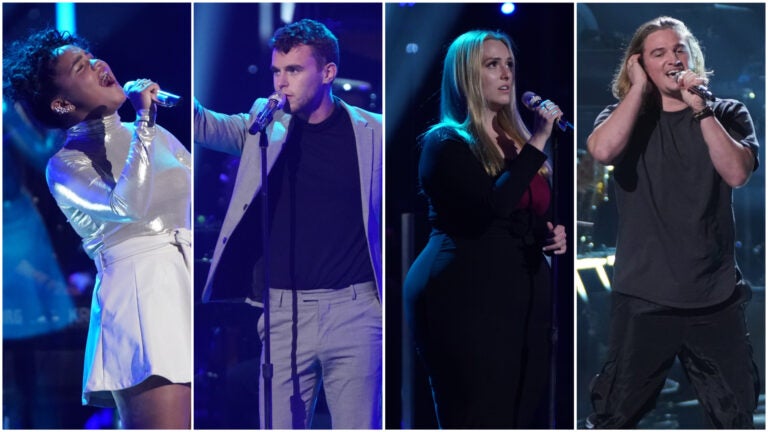 Four local singers competed for coveted spots as semifinalists on "American Idol" this week, and three made it through.
Grace Kinstler, Beane, and Colin Jamieson are still in the competition.
The three performers, along with Amanda Mena, made it through both previous rounds of Hollywood week and had one last showstopper performance to become one of the top 24 singers this season. Mena was the only one who didn't make the cut; the other three move on to All Star Duets and Solos next week.
The "final judgment" of Katy Perry, Lionel Richie, and Luke Bryan aired in two parts on Sunday and Monday. See how the Massachusetts musicians did during Showstopper Week below:
Grace Kinstler
Before her audition that made Luke Bryan cry, Berklee student Grace Kinstler shared her story of unexpectedly losing her father last year.
Weeks later, Kinstler dedicated her showstopper performance to him. She belted Demi Lovato's "Father," a song that pays homage to Lovato's late dad.
"The feeling of when my dad was gone was the most awful feeling I've ever felt in my life," Kinstler said during Monday's episode. "I feel like that's something that really has made me who I am today, and so I want to share that with the judges because I feel like it will help them know me a little bit more."
"I wish he was here so I could call him and tell him what's going on," she said through tears after the performance.
Luke Bryan and Katy Perry said it wasn't Kinstler's best performance on the show, and Perry implied that it wasn't the right song choice for such a powerful singer.
"Take all that pain, and use it," Perry said. "Let it be the fuel, get it out of you. Sing it out of you."
After her feedback, Perry told a flustered Kinstler that she made it into the top 24.
"You are worthy to be here," she told the singer before socially-distant air hugs.
Kinstler, a favorite to advance, sang a powerhouse duet of Brun Mars' "Grenade" alongside competitor Alyssa Wray last week that "blew off" Katy Perry's wig. (Wray was the first to secure a spot in the top 24 in Sunday's episode.)
Beane
If you're trying to move away from Mr. Rogers, try being Marvin Gaye.
Beane (real name Brennan Hepler), a Brighton resident and Berklee alum, has made an effort to show his versatility on "American Idol" after his Broadway-esque audition drew affectionate comparisons to the children's TV host from Lionel Richie. He tried out Elton John and Harry Styles during Hollywood week, but for his showstopper, the 23-year-old made his biggest pivot yet to the Prince of Soul himself.
Following Katy Perry's advice to "sing with diamonds in your eyes" — he made sure to add some stylish silver highlights — the singer drew a standing ovation from Perry and Luke Bryan after his rendition of Marvin Gaye's "What's Going On," which aired Sunday night.
"I think I sang the song from my soul and my heart," Beane said.
Lionel Richie gave him the good news in a video call after the performance — "Mr. Beane" will move on to the top 24.
"It's going to be a beautiful day in the neighborhood," Richie said.
It's a beautiful day in the neighborhood 🏡😊 @beanemusic #AmericanIdol pic.twitter.com/7Cb5T87XjV

— Lionel Richie (@LionelRichie) March 29, 2021
Colin Jamieson
The acoustic sensibilities of Boxford resident Colin Jamieson have impressed the judges since his "breathy" audition, but for his showstopper, he got Katy Perry headbanging with pop punk staple "Sugar We're Goin Down" by Fall Out Boy.
"I chose this song that wasn't the easy route for me," he said in Monday's episode.
Perry, who enjoyed Jamieson's rambunctious presence onstage, told the singer that the song was a big risk.
"Before last night, you weren't totally on everybody's radar," she told Jamieson. "We fought over you… And you won."
Before the showstopper that secured him a spot in the top 24, Jamieson reflected on his experiences in a local boy band and as a wedding singer.
"I was in [Kik-it, the boy band] for about five years… there were fan girls," he said. "There was an account called 'Colin's Booty.'"
I'd join a mosh pit at a @colinjamieson_ show 🤣 #AmericanIdol pic.twitter.com/wjZBvaBLpC

— Lionel Richie (@LionelRichie) March 30, 2021
Amanda Mena
Amanda Mena, an 18-year-old high school senior from Lynn, dazzled the judges in her initial audition and coasted through the two stages of Hollywood Week.
But her road to becoming the next American Idol ended Sunday. She went big with her showstopper — "All by Myself" by Celine Dion — but Katy Perry remarked that she wasn't sure if she could hear her artistry come out yet.
Mena was previously a semi-finalist on "America's Got Talent," and she'll be attending Berklee College of Music in the fall. Her final performance on "Idol" was not uploaded to the show's YouTube page.
.@LionelRichie this episode ☹️ #AmericanIdol pic.twitter.com/AO7pjkJBBH

— KATY PERRY (@katyperry) March 29, 2021
Get Boston.com's browser alerts:
Enable breaking news notifications straight to your internet browser.