Entertainment
'SNL' went all in on mocking Matt Gaetz
"Matt Gaetz, I'm not legally allowed to call you innocent or guilty," Fineman said. "So I'll just encourage everyone to judge him by his face."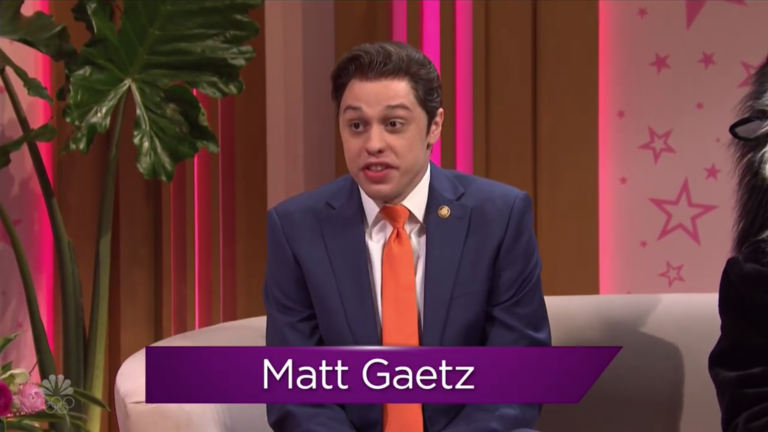 The allegations involving Florida congressman Matt Gaetz were front and center not once, but twice on the most recent episode of "Saturday Night Live."
The drubbing of Gaetz began with the cold open, in which cast member Pete Davidson played the embattled representative. Portraying Gaetz as an out-of-control horndog similar to Quagmire from "Family Guy,"  Davidson appeared as a guest on a talk show hosted by Britney Spears (Chloe Fineman) to respond to allegations that Gaetz violated federal sex trafficking laws.
After Spears (Fineman) rattled off a few of the allegations made against Gaetz — "You were dating a 17-year-old and brought her on trips across state lines, prostitutes say you took ecstasy and had sex with them in Florida hotel rooms, and your republican colleagues in congress say that you've showed them nude photos of women you were sleeping with" — she asked whether he was worried that the accusations might hurt his reelection chances.
"Weirdly in my district, they might help," Davidson (as Gaetz) said.
As the segment ended, Spears (Fineman) reached her verdict.
"Matt Gaetz, I'm not legally allowed to call you innocent or guilty," Fineman said. "So I'll just encourage everyone to judge him by his face."
In the second half of the show, "Weekend Update" hosts Colin Jost and Michael Che teamed up for more multiple segments at Gaetz's expense.
"Representative Matt Gaetz — who looks like a caricature artist drawing of me — is reportedly under investigation for an alleged sexual relationship with an underage girl," Jost said. "Because Gaetz believes that only voters should have to show ID."
Jost then expressed disbelief that the QAnon movement — a loose coalition of conspiracy theorists who believe that a cabal of elites is engaged in child sex trafficking — are skeptical of the allegations agains Gaetz, a staunch ally of Donald Trump.
"A sitting congressman is being accused of child trafficking and the QAnon people are suddenly like eh I need more evidence. That was your whole thing!" Jost said. "I mean come on, think about it: Matt Gaetz's girlfriend, she was allegedly 17. The 17th letter is Q. It all adds up!"
https://www.youtube.com/watch?v=5hoEQnH8KDI