Entertainment
'American Idol' local singers: Grace Kinstler, Colin Jamieson, Beane make top 16
Berklee student Anilee List didn't make the cut.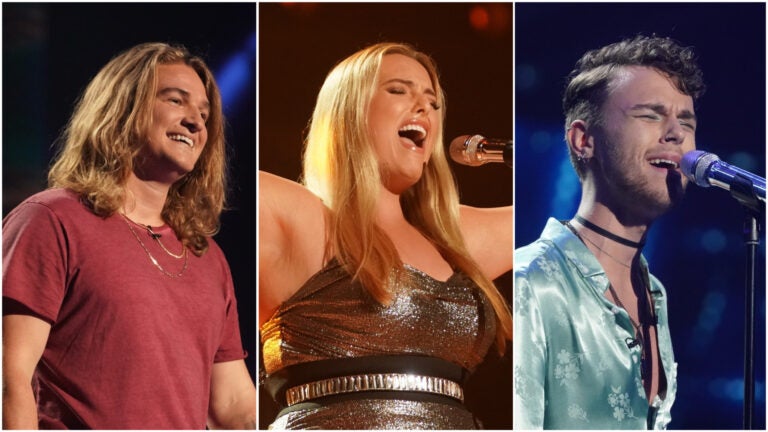 "American Idol" viewers voted for the first time on this season's finalists last week, and three local singers have made it to the top 16.
Grace Kinstler, Colin Jamieson, and Beane will progress in the competition, Sunday's episode revealed.
Berklee College of Music student Anilee List didn't get the votes she needed, and she'll be sent home.
The eliminations still have a long way to go: Viewers will vote to send four of the top 16 singers home Sunday, and the top 12 will be revealed during Monday's episode. They can vote for their favorite singers up to 30 times: Ten times each on the "American Idol" website, in the "American Idol" app (iOS, Android), or by texting contestants' numbers to 21523. Voting opened around 10 p.m. Eastern Sunday and closes at 6 a.m. Monday.
See Sunday's performances from Kinstler, Jamieson, and Beane below:
Grace Kinstler
"I was really scared coming into tonight," Grace Kinstler said after she made the top 16. "I was just so relieved."
The Berklee student, who has been a crowd favorite since her audition made judge Luke Bryan cry, had nothing to worry about. The powerhouse vocalist was a shoo-in to continue on "Idol," and her passionate performance of Sia's "Elastic Heart" proved it.
Katy Perry commended Kinstler for following the advice of Joss Stone, her mentor and duet partner last week.
"I think you're really starting to apply that note Joss gave you: Slow and steady wins the race, and at the end, sprint," Katy Perry said. "What you gave us at the end really filled us up, it gave us intrigue all the way through, and that is, I think, your ace."
"You are a force to be reckoned with," Lionel Richie said. "When I watch you perform, it's laser-sharp. You are so into your performance, but at the same time you have the ability to draw us into your performance… That's called a fabulous presentation."
"You just have a racecar thoroughbred voice," Luke Bryan told Kinstler. "It's so amazing, I just see so much promise in you."
Colin Jamieson
If Boxford resident Colin Jamieson is anything, he's a crowd-pleaser and a natural showman. His years as a boy band member and a wedding singer are apparent when he mugs for the camera and pumps up the studio audience, and his energy earned him a spot in the top 16.
Following a raucous pop punk performance last week, Jamieson turned to new wave with "Everybody Wants to Rule the World" by Tears for Fears. He delivered soaring vocals that he hadn't showcased previously.
"Honestly, last week you were throwing bows, you were being cray, I saw you on Warped Tour," Katy Perry said. "And today, a whole new side of you: You are an incredible vocalist."
The judges praised Jamieson's attitude and stage presence, which have become staples of his performances.
"You're out there, you're here, you're there, you're working the camera, and through all that, you can sing your butt off, man," Luke Bryan said. "Your first couple rounds, you were real breathy and we talked you out of all that, and now we're really hearing your voice go to these next levels that are surprising us."
"It's called show business, and you've learned if its all about television, play to that camera," Lionel Richie said. "But then I saw you do one other thing: You got comfortable, and let us see that you were having the time of your life on that stage. That is a winning combination."
Before Jamieson left the stage, the jokester mimed a baseball pitch and a mosh pit with host Ryan Seacrest.
"I can't mosh in my loafers, I'll fall," Ryan Seacrest joked.
You've made it to the top 16 @colinjamieson_ next goal is to mosh with @ryanseacrest 🤘🏼 #AmericanIdol pic.twitter.com/LCe3fvVVDL

— KATY PERRY (@katyperry) April 12, 2021
Beane
From channeling Marvin Gaye to duetting with Josh Groban, Berklee grad and Brighton resident Beane (real name Brennan Hepler) has coasted through the competition with emotion, vulnerability, and a Broadway-like stage presence.
The Club Passim server performed "Searching for a Feeling" by Thirdstory in a shimmery top matching his silver eyeshadow, a now-regular makeup choice inspired by a comment from Katy Perry to "sing with diamonds in his eyes."
"We just thought you were a friendly Mr. Rogers," Perry said in reference to his audition, "and now it's awesome to see all these shades of Beane and for you to take these risks. I love you, you know you've got my vote all the time."
"What America is telling us is, they want to be entertained," Luke Bryan said. "They want to smile and feel engaged with who they're watching through the TV, and that's how you reel us in. And then you're really able to back it up with amazing vocals."
"Understand that people falling in love with you is the game," Lionel Richie said.
Host Ryan Seacrest pointed out a sign from a fan in the studio audience — "Go Beane or Go Home" — and suggested a name for the singer's emerging fanbase: Beanie Babies.
.@beanemusic at one of his many meet n greets 🧸👑 #AmericanIdol pic.twitter.com/b3xviWmHjg

— KATY PERRY (@katyperry) April 12, 2021
Get Boston.com's browser alerts:
Enable breaking news notifications straight to your internet browser.