Entertainment
'SNL' recap: The best moments and funniest sketches from Carey Mulligan's episode
All the highlights and jokes from the Oscar-nominated actress's episode.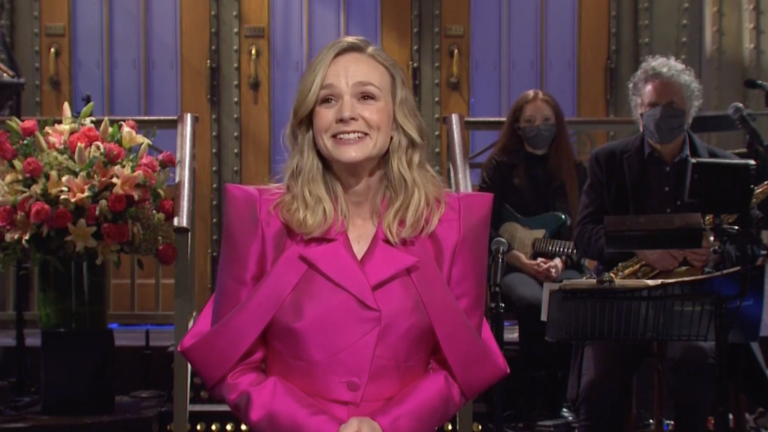 With the Academy Awards only two weeks away, "Saturday Night Live" has made a habit of booking Oscar hopefuls as hosts. Last week it was Best Supporting Actor nominee Daniel Kaluuya ("Judas and the Black Messiah"), and this week it was Best Actress hopeful Carey Mulligan ("Promising Young Woman").
Mulligan has never really shown any comedic chops in her roles, but the actress proved quite adept in one of the better episodes of the season. While rarely asked to perform outside of her comfort zone, the British actress nailed all of her cues and left all the right comedic pauses.
The writing felt stronger this week than previous episodes as well, with numerous standout sketches an above-average cold open, and a laugh-filled "Weekend Update" that batted .1000 with its desk guests.
Here are the top moments and funniest sketches from Carey Mulligan's episode of "Saturday Night Live."
Minnesota News Cold Open
In the topical cold open, a group of TV hosts for a Minnesota news channel discussed the Derek Chauvin case. Each time it seems like the hosts agree on the case, their cultural differences and lived experiences lead to a difference of opinion.
"Obviously it's an open-and-shut case," says the show's weatherman (Chris Redd). "That being said, he's a white cop in Minnesota, so I'm going to guess probation with pay, tops."
Carey Mulligan Monologue
After knocking out a couple jokes about "SNL" and its recent obsession with British hosts, Mulligan pulled out a surprise guest in the form of husband Marcus Mumford. Unfortunately, the Mumford & Sons frontman is a little too eager to steal the spotlight from his wife.
What's Wrong with This Picture
In a sketch we've seen before, a group of contestants (Aidy Bryant, Mulligan, Chris Redd) frustrate a game show host (Kenan Thompson) to no end as they continually guess incorrect answers about what's wrong with various cartoons.
IBS Medicine Ad
Not every host would give a thumbs-up for starring in a sketch as a woman with irritable bowel syndrome who destroys an elementary school bathroom, but Mulligan happily sits through a lecture from Aidy Bryant and Kenan Thompson as they search for the messy culprit.
Study Buddy
While Mulligan does a fine job as a middle school girl chasing her first crush, this sketch is a Kate McKinnon showcase. As middle school boy Josh, McKinnon is full of authentically awkward energy as he seeks blow-by-blow advice on how to navigate his first kiss from best friend Jason (Aidy Bryant).
Weird Little Flute
Kid Cudi has proven his comedic chops before as bandleader on IFC sketch show "Comedy Bang Bang," so it was nice to see the rapper join Pete Davidson and Chris Redd for this sketch, an ode to the flute riffs so common in many hip-hop songs. Former host Timothee Chalamet even shows up for a quick cameo.
Kid Cudi musical performance
Kid Cudi brought both style and substance to the stage of Studio 8H, though his fashion choices may end up being the biggest point of discussion around the (virtual) water cooler. The rapper, who has been open about past struggles with mental health and addiction, sported a Chris Farley shirt during his performance of "Tequila Shots," and donned a dress for his performance of "Sad People."
Weekend Update
First it was "drunk Tom Brady." Now, "Saturday Night Live" is skewering another Boston sports legend.
During "Weekend Update," anchor Michael Che and cast member Punkie Johnson skewered Pierce for getting fired by ESPN on Monday shortly after posting a racy Instagram video featuring scantily clad women twerking and what appeared to be copious marijuana use.
"Listen everybody, Paul Pierce is a saint," Johnson said while playing a stripper named Pineapple. "He gave us strippers jobs during a very tough time."
Also highlighting a solid "Weekend Update" was Bowen Yang playing the iceberg that sunk the Titanic, indignant that no one will move past that day or ask him about the new album he's promoting.
Star Trek Spinoff
For a show that has occasionally been accused of being too "woke" (whatever that means), "SNL" had no problem mercilessly skewering a certain type of simpering Gen Z/millennial caricature in this sketch. Aboard a Star Trek ship that is about to get sucked into a black hole, the vessel's captain (Beck Bennett) can't save anyone's lives until he addresses accusations of gaslighting and creating a toxic work environment for the younger crew members (Mulligan, Mikey Day, Chloe Fineman).
Lesbian Period Drama
With the Academy Awards only two weeks away, "SNL" parodied a classic type of Oscar bait with "Lesbian Period Drama," a send-up of the genre that has most recently included "Ammonite" and "Portrait of a Lady On Fire."
The War In Words: Bertie and Mary
In the best sketch of the night, a World War II soldier (Mikey Day) writes letters to his wife (Mulligan) back home, only to be confounded by her constant wrongheaded responses. Turns out overseas letters aren't the best medium for knock-knock jokes or telling your husband his parents are dead.
L'Eggs
What's the hottest new teen fashion trend? If you ask the new kids in school that look suspiciously like traveling saleswomen in their 50s, it's pantyhose. Against all odds, the hosiery-pushing duo (Mulligan, Aidy Bryant) end up getting some traction in this final sketch of the night.
Get Boston.com's browser alerts:
Enable breaking news notifications straight to your internet browser.