Entertainment
'American Idol' local singers: Grace Kinstler coasts to top 12, Beane saved by the judges
Colin Jamieson wasn't able to squeak through. (Also, Paula Abdul was there!)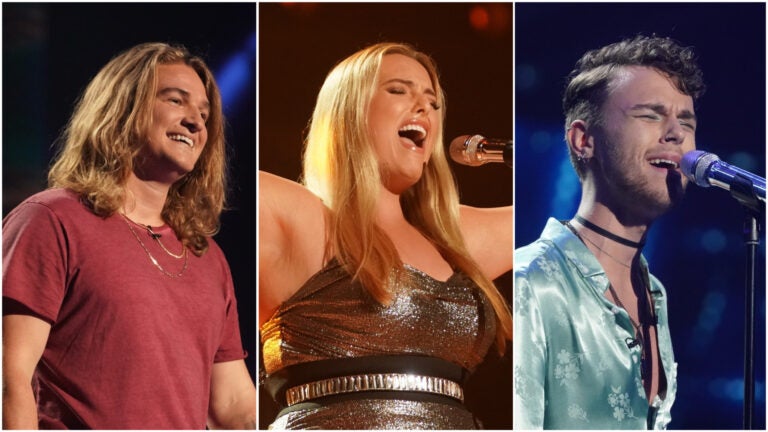 Of the three local singers remaining in "American Idol" for Monday's episode, one was voted by viewers to stay, one was saved by the judges, and one was sent home.
Grace Kinstler coasted into the next phase of the competition, but Beane and Colin Jamieson didn't make the cut right away. They were stuck in the danger zone alongside three other singers, whose only hope to continue was a last-minute rescue from the judges. They picked Beane and another singer, ending Jamieson's go at "Idol."
Sunday's episode unveiled the top 16, and viewers voted on their favorites overnight. The top 10 by audience vote and two wildcard choices from the judges make up the top 12 who will compete next week when viewers will be able to vote for the top 9 in real-time.
Speaking of judges: There was a major shakeup in the episode. Luke Bryan had to stay home for the taping — he tested positive for COVID-19 Monday morning — but he was replaced by a familiar face.
Paula Abdul, who served as part of the show's iconic initial trio of judges alongside Simon Cowell and Randy Jackson for the first eight seasons, filled the third chair for the results show. (There was a bit of a reunion, too: Jackson called in for a quick video call on host Ryan Seacrest's tablet. The ever-chaotic Abdul also called Cowell, her old on-screen rival, "the STD.")
Two queens hanging out during commercial break!

👑 @katyperry 💙 @PaulaAbdul 👑 pic.twitter.com/gZSyyL3vaA

— American Idol (@AmericanIdol) April 13, 2021
"There's never been a more uniquely qualified moment to celebrate inspiration," Abdul told the contestants at the start of the program. "It's insane how talented you all are — I feel like I'm watching the Grammy's category for Best New Artist."
"What did your mothers breastfeed you?!" she exclaimed near the end of the episode.
See how the local performers did below:
Colin Jamieson
Colin Jamieson of Boxford was the first to be sent to the danger zone. He sang "Waves" by Dean Lewis with his trademark breathiness.
"It's almost like a fight song," Jamieson said after he sang. "I want to have a fight song, like an anthem. Treat it like it's your last shot every single time."
The judges praised Jamieson's energy, a staple in his performances.
"I think you have grown so much right before our very eyes, and every time you come on this stage, it's like a celebration, it's always high energy and fun," Katy Perry said. "I think you've found your voice, you've found your spirit, you've found yourself."
"You put so much passion into your performances that it makes us smile," Paula Abdul said. "Your charisma is infectious… and you made me smile tonight."
The judges ultimately passed on Jamieson, sending him out alongside Alanis Sophia and Graham DeFranco. (Ryan Seacrest said at the start of the episode that Wyatt Pike dropped out of the competition, but he didn't give an explanation why.)
Beane
Brighton resident and Berklee grad Beane (real name: Brennan Hepler) soon joined Jamieson in the danger zone. Before he went, he crooned "Grow As We Go" by Ben Platt, leaving all the judges on their feet. They remarked on his growth throughout the competition.
"You were so relaxed, you were so calm, you grew into your artistry," Lionel Richie said, calling it a stellar performance.
"You've convinced me, I'm a card-carrying Beanie Baby fan," Katy Perry said. "The control on that song was so beautiful, and I think you're in the middle of a great growth, and I'm glad to have witnessed it."
"Everything about you is very special and unique, I think that you shine like a bright light," Paula Abdul said. "Everything in the way you dress, the way you handle yourself, and the way you sang that song was like a storyteller from beginning to the end."
Beane was the second save from the judges, landing him in the top 12 in a last-minute nail-biter. Madison Watkins was the first contestant saved by the judges. Katy Perry said the two choices were quick and unanimous.
Grace Kinstler
Berklee student Grace Kinstler, a favorite in the competition, was an easy audience pick for the top 12 — "America is reeeeeeeally happy you're here," Ryan Seacrest said — so the soprano vocalist was safe from the get-go. There wasn't much time for judge's comments after her sultry rendition of "Dangerous Woman" by Ariana Grande, but Lionel Richie's reaction said it all.
"It was an 'Oh my god' performance," he said. "I love what you did."
Alyssa Wray, Ava August, Caleb Kennedy, Casey Bishop, Cassandra Coleman, Chayce Beckham, Deshawn Goncalves, Hunter Metts, and Willie Spence made the top 12 through audience vote alongside Kinstler.
Get Boston.com's browser alerts:
Enable breaking news notifications straight to your internet browser.