Entertainment
'American Idol' local singers: Grace Kinstler opens with 'Happy,' Beane had 'the time of his life'
Berklee student Grace Kinstler is now in the top 10, but Berklee grad and Brighton resident Beane was voted out.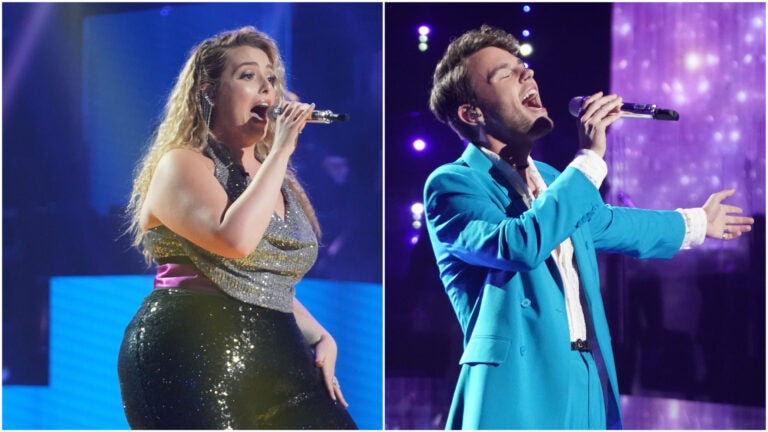 Massachusetts has had solid representation in this season of "American Idol," but now the delegation is down to one.
Sunday's episode, which was the first time viewers voted live coast-to-coast, featured Berklee student Grace Kinstler, Berklee grad and Brighton resident Brennan "Beane" Hepler, and 10 other hopefuls singing Oscar-nominated songs. Kinstler made it through, but Beane didn't make the cut. 
Kinstler opened the show with new wavy locks and a soulful interpretation of "Happy" by Pharrell Williams.
She sang with blue and yellow letters spelling "HAPPY" behind her… probably not an intentional tribute to Boston's pseudo-official colors from the Chicagoan, but we'll interpret it as a shout-out to the Hub anyway.
The pop song was a new direction for Kinstler, who has previously leaned on powerhouse anthems to show off her vocals. The judges praised her singing as always — "You can sing the telephone book!" Katy Perry exclaimed — but they seemed skeptical of the song choice for not playing to her strengths.
"I suggested to lock into more of those iconic songs," Perry said. "I'm just thinking about what kind of record you're going to make after "American Idol"… I'm trying to tap into who you are as an artist. You can sing anything, but what are you going to say?"
"You have so much bravado up there, you took so much confidence, and you have all of that vocal ability," Luke Bryan said. "We're going to start challenging you to really lock into who you are as an artist." (Bryan returned to the judges' table after a COVID-19 diagnosis kept him at home last week.)
"Identity is what we're looking for in terms of who you're going to be," Lionel Richie said.
Kinstler's song choice didn't stop her from moving forward, though — in fact, she was the first person to secure a spot in the top 10.
Later in the show, Beane opened with an acoustic guitar for "(I've Had) The Time of My Life" from "Dirty Dancing" before strutting around the stage in a fresh teal suit.
"I gotta be Baby, I have the curls," he joked to mentor Bobby Bones in a recorded segment. (Beane also revealed that he's actually deaf out of his right ear — he wears an earring there to signal his bad ear.)
Though Perry (a self-professed "Beanie Baby") praised his dance moves and said he was ready to go on tour, Beane couldn't pull enough audience favor to stick around, and he was sent home.
Alyssa Wray, Caleb Kennedy, Casey Bishop, Cassandra Coleman, Chayce Beckham, Deshawn Goncalves, Madison Watkins, and Willie Spence will join Kinstler in the top 10. Ava August and Madison Watkins were sent home alongside Beane.
Monday's episode will feature a very 2021 twist: Ten contestants from last season, which was derailed by the pandemic and forced finalists to perform from home, will return for comeback performances. One of 10 will get a second chance to continue in the current season, and the new top 10 will perform Sunday, May 2 after a two week break.
Get Boston.com's browser alerts:
Enable breaking news notifications straight to your internet browser.