Entertainment
9 local TikTok creators Boston.com readers have their eyes on 
From a local janitor to a talented fashionista on the rise, here's who readers say are the local TikTok accounts to follow.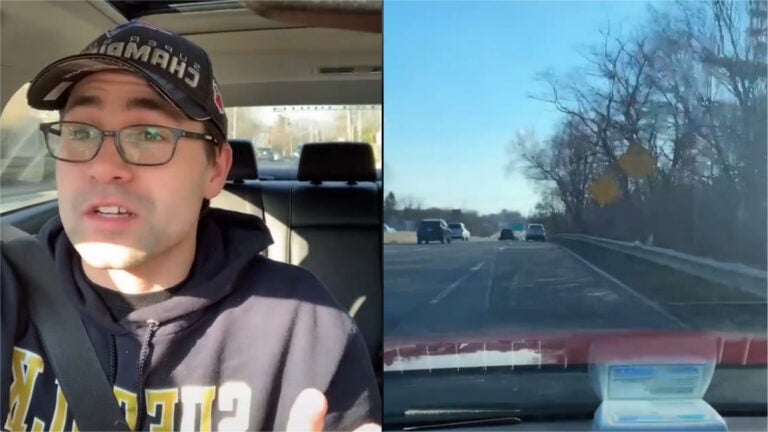 During the pandemic, TikTok, the popular video app, cultivated homes for all kinds of interests throughout New England.
You could virtually peruse trinkets at The Cambridge Antique Market alongside a local antique shopper. Some viewers at home found themselves filling in as crew members on a lobster boat, learning about what makes a certain catch a keeper from a fifth generation Maine lobsterman. Others found validation in watching a man from Peabody screech out his relatable road rage fury while driving. There's also just as many Massachusetts-themed TikTok videos out there that hit the spot. 
Last week, we asked readers to list which local TikTok creators they enjoyed following the most. The submissions highlighted some local comedy personalities that already amassed huge followings, and honed in on specific crafts such as janitorial work, the proper way to catch a bass, and putting together the perfect layered outfit. 
In no particular order, here's who's caught Boston.com readers' attention on TikTok. 
"Janitor with stamina James Cash a comedian from Worcester," one reader suggested. Jimmy Cash,  a local custodian with nearly 100K followers, takes his audience through the ins and outs of his job with humor. The comment section on his page is filled with the sentiment: "I don't know how I ended up on #janitortok but I am here for it." 
"He gives the best local non-biased news. Super informative and relevant every single day, he gives accurate reports that can't be found anywhere else. I highly recommend, this guy is the best!!" Sarah from Roslindale wrote of Evan George, who uses his @bostopianews account to recap the news in 60 second briefs. 
John Hanson uses his @soberjohny platform to discuss his own sobriety and recovery. He inspires others to reach out for help and provides local tips and resources.  
"@soberjohny…he's the vibe we all need," Lauren in South Boston wrote. 
@Logically.me came in through a reader recommendation and run by Adam in Concord, New Hampshire. Adam makes TikToks about topical issues in politics and also runs an account where he reads bedtime stories. 
"The Proper Massh*le, guys got a point," Phil in Manchester by the Sea wrote. Dalton DeLima is an EMT from Peabody known for capturing some of his hilarious time in traffic. Earlier this month, he spoke with Boston.com about how some rotaries particularly enrage him. 
The entertaining pair are verified artists on Spotify and amassed a loyal following so far on the app. Their fans like to point out that Kellan resembles a golden retriever in the comments. Do you see it? 
"Kellanandkevin is nominated. They are a Boston-based set of two roommates in their 20s who sing songs together in their apartment. Great singing/harmonies and a touch of humor. 1.2 million followers and 12 million likes," Jeff in Franklin wrote.
With nearly 60,000 followers, this local history teacher's lessons are reaching far beyond his high school classroom. 
"@365History is a local teacher who shares interesting historical tidbits. I love it because it shows how the platform can also be a place of learning. This account is always so happy when talking about the content too which is really nice," Lynne in Wakefield wrote.
This pair of close friends document trips out on the water and offer beginners their tips and tricks for fishing across New England. 
"Underground_anglers. Hilarious fishing duo fishing in MA," Mark Brennen in Quincy wrote. 
This fashion TikTokker went viral for putting coordinated looks together and creating icon-inspired outfits. For someone early in her studies, it's clear she's off to a solid start. 
"My daughter @oliveengcanty is from Boston and runs a fashion TikTok account that currently has about 280K followers. She will be off to Parsons in the fall to study fashion design. Check her out!" Andrea wrote.
Did we miss someone local you've been following lately? Share with us in the comments below. 
Get Boston.com's browser alerts:
Enable breaking news notifications straight to your internet browser.