Entertainment
Winthrop man denies making racist hand gesture on 'Jeopardy!' after 500-plus former contestants sign open letter
"I'm truly horrified with what has been posted about me on social media."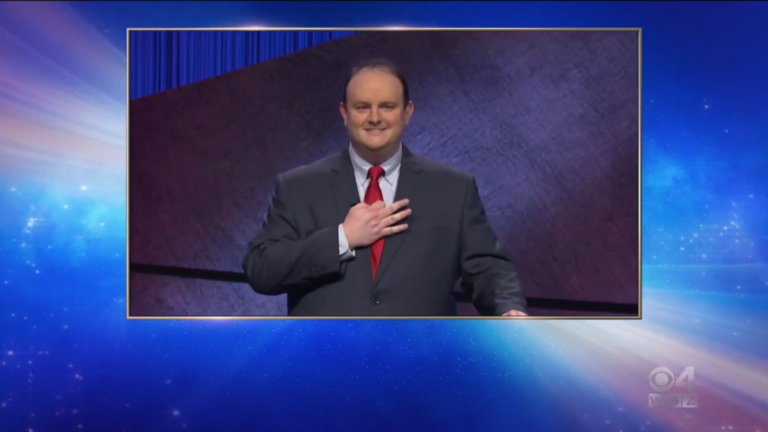 Winthrop resident Kelly Donohue recently enjoyed a four-day run on the beloved game show "Jeopardy!," winning three games and $80,601 thanks to several high-risk Daily Double bets and good command of the board.
However, the bank examiner's final appearance on the show Tuesday evening set off a social media firestorm, as accusations swirled that the contestant had made a racist hand gesture on camera.
At the beginning of Tuesday's show, Donohue held up three fingers, he says to signify the three games he had won on "Jeopardy!" heading into the match. Donohue held up one finger following his first win on Friday's show and two fingers at the start of Monday's episode.
Some people online, however, believed that Donohue's symbol resembled the "Okay" hand gesture. The gesture started as an inside joke on online imageboard 4chan to troll liberals and mainstream media into believing the gesture was a hate symbol but was later co-opted by white supremacists to actually symbolize white power. The gesture was officially designated a hate symbol by the Anti-Defamation League in 2019.
In a Facebook post viewed by Boston.com that is no longer visible, Donohue initially dismissed concerns about the symbol, saying "That's a 3. No more. No less," before later denying the accusations more adamantly. Donohue also deleted or made private his Facebook cover photo, an image of Frank Sinatra making a similar gesture.
On Wednesday night, as a handful of national media outlets began picking up the story, an open letter signed by more than 500 former "Jeopardy!" contestants criticized the show's producers for not editing Donohue's hand gesture out and re-recording the intro.
"This gesture was not a clear-cut symbol for the number three," the open letter read. "He held his thumb and forefinger together with his other three fingers extended and palm facing inward, and he tapped his chest. This, whether intentional or not, resembled very closely a gesture that has been coopted by white power groups, alt right groups, and an anti-government group that calls itself the Three Percenters."
The letter also criticized "Jeopardy!" for not editing out Donohue's correct response of "gypsy" to a clue, citing diversity style guides that say the term perpetuates harmful stereotypes about the Romani people.
"As people whose lives have been largely beneficially impacted by this show and its community, we really hope to see a statement and a disavowal of both of this week's events, and we would like to see "Jeopardy!" address Kelly's behavior," the letter read. "We know that contestants sign morals and ethics-related agreements when they prepare to appear on the show, and we would ask the production team to evaluate this situation within that framework."
Among the 500-plus former contestants who signed the letter were dozens of Massachusetts residents. One former "Jeopardy!" contestant who signed the letter and lives in the Boston area told Boston.com that after having seen how fastidious "Jeopardy" producers are about editing, they were surprised to see the gesture on air.
"When I was on the show, everyone involved was very careful with making sure nothing questionable or controversial slipped through the cracks," the contestant said. "For example, Alex Trebek once asked a fellow contestant what major company she worked for, and that company's name got edited off the air. Halfway through James [Holzhauer's] run, they made him stop writing shoutouts to family members during Final Jeopardy. They specifically told us not to wager numbers like $69 or $666 during Final as well. So regardless of the contestant's intent, I'm just surprised that Sony did not try to re-tape it or edit it out, and that they have been silent up to this point even as several articles and this open letter have all come out by now."
"Jeopardy!" representatives and Donohue had not responded to Boston.com requests for comment at the time of this article's publication.
On Thursday morning, Donohue did respond with a public statement on Facebook, stating that he deeply regretted the "terrible misunderstanding" and that he unequivocally condemns "white supremacy and racism of any kind."
"I'm truly horrified with what has been posted about me on social media," Donohue wrote. "I absolutely, unequivocally condemn white supremacy and racism of any kind. People who know me personally know that I am not a racist, but for the public at large it bears repeating: I am not a racist and I reject and condemn white supremacy and all forms of bigotry for the evil they are."
"It's shameful to me to think anyone would try to use the stage of Jeopardy! to advance or promote such a disgusting agenda," Donohue continued. "During the taping of my fourth episode, I was simply raising three fingers to mark my 3rd win. There was nothing more I was trying to indicate. I deeply regret this terrible misunderstanding. I never meant to hurt a soul and I assure you I am no friend of racists or white supremacists."
Get Boston.com's browser alerts:
Enable breaking news notifications straight to your internet browser.